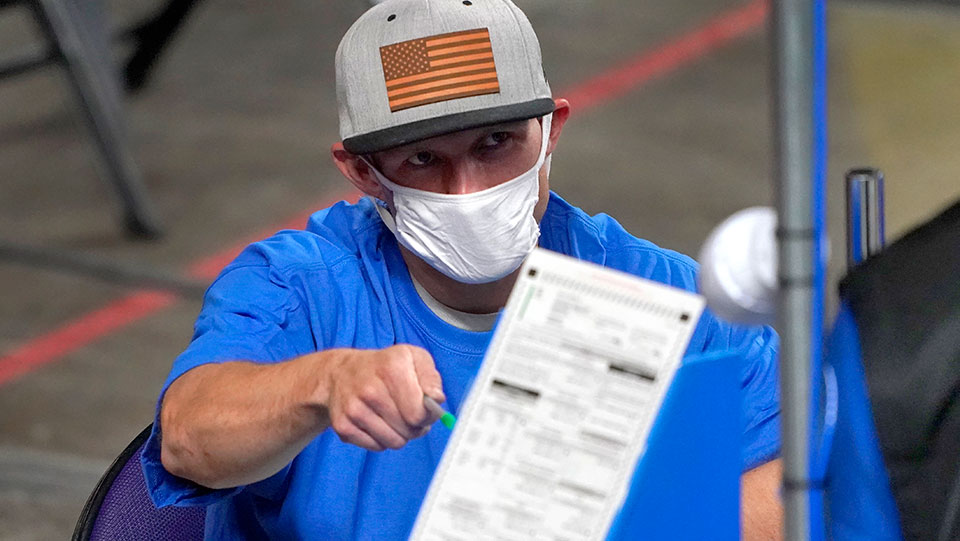 After recently having introduced 39 bills that restrict voters' rights in the Senate, Republican lawmakers from Michigan traveled to Arizona to "visit" the 2020 Election audit. What they're really up to is learning the means and methods of voter suppression.
Maricopa County is the site of the ballot count, where workers have already tallied over two million ballots by hand. The audit was ordered by Arizona Senate President and Republican Karen Fann and is being overseen by an unaccredited firm all for the sake of addressing supposed "voter doubts." The problem with this partisan-enacted audit? The election results were already audited and certified.
Arizona has a history of voter suppression, and recently the Republican legislature passed a law to limit the number of mailed ballots. Another, passed in 2016, makes it a felony for "anyone other than a family member, caregiver, or postal worker to collect and deliver ballots."
Other Republican lawmakers from across the nation have joined the audit, coming from states like Wisconsin, Oklahoma, Tennessee, Colorado, and Pennsylvania. Rep. Ron Hanks from Colorado went so far as to refuse to discuss his trip earlier this month. Recount and audit demands are popping up in other states, such as Georgia, where the legislature is run by Republicans.
With Michigan GOP lawmakers in Arizona, most notably Kristina Karamo, who is running for Secretary of State and gained attention for being a poll challenger in Detroit, one can expect the same push for recounts and claims of "voter fraud" to resurface in the future elections.
It also should be noted that the lawmakers who are making this pilgrimage are using it as an opportunity to fundraise for upcoming elections. This trivializes the audit further, showing it as a pure political power grab rather than a legitimate attempt to address any supposed voter concerns.
Some of the bills introduced by Michigan Republicans have been adjusted to make "proof of identity" somewhat more reasonable in the case of absentee ballots, but headway is still being made by the GOP on ID requirements for in-person voting. Instead of being able to sign an affidavit, voters must show picture identification at the polls, a measure which has been shown to restrict the ability to vote for people of color and the poor.
Michigan lawmakers are making progress on getting approval for some of these measures. One proposal, House Bill 4132, would make it a felony if someone "knowingly" filled out an absentee ballot with incorrect information. With voter fraud shown to be largely a myth time and again, such bills appear purely aimed at inflicting punitive measures rather than keeping elections honest.
The elections of the future will once again be fraught with obstacles and restrictions for the working class, Black and brown communities, and anyone voting by mail or without an ID. Using every tool they have at their disposal, Republican lawmakers in Michigan are trying their best to suppress the voting rights of those they fear most. Although Democratic Gov. Gretchen Whitmer has pledged to veto any of the voter suppression bills, the unfortunate reality is that GOP lawmakers in Michigan have the votes it will take to override a veto.