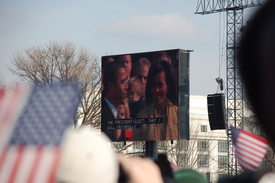 WARREN, Mich. — Inside the City Hall atrium in this working class suburb of Detroit, 250 autoworkers rallied Jan. 13 to save their jobs. Billed as "Stand Up for American Products and American Workers," the rally was called by Warren Mayor Jim Fouts at the behest of several autoworkers. Speakers included Ford worker Brian Pennebecke, UAW Local 1248 President Harvey Hawkins, whose local represents several thousand Chrysler workers at the Warren Stamping plant, several General Motors workers and autoworker Tammy Jones, who was recently transferred to a local Chrysler plant after her Huntsville, Ala., plant was closed.
Jones spoke about Alabama's GOP Sen. Richard Shelby, who led the fight in the Senate to deny the domestic auto industry a bridge loan unless it weakened the union with more takeaways.
" We know Senator Shelby," Jones said. "When he was running, he ran as a Democrat and asked for support from the UAW and the Steelworkers, and then he got in office and switched to be a Republican and now he wants to destroy our union."
Many of the speakers mentioned that the foreign "transplant" companies like Toyota have national health care in their home countries, which gives them an economic advantage. Speakers noted that President Obama has taken a pro-union position. Others called for renegotiating NAFTA and buying union-made American cars to save jobs.
—–
DETROIT — Interfaith Worker Justice of Metropolitan Detroit held a rally for justice for home child care workers here, Jan. 16 at Madonna Catholic Church.
There are 40,000 home child care workers in Michigan, organized by the UAW and AFSCME. The rally called on the state government to raise the hourly wage from the present $1.93 per hour.
Denise Willingham, an eight-year child care provider and a bargaining team member with Child Care Providers Together Michigan, noted that out of this abysmal wage, the child care providers have to provide food for the children they care for.
Rabbi Ernst Conrad of Temple Kol Ami, who fled Nazi Germany in 1938, estimated how much food could be provided for the children and decent wages and health care for the providers with just one day's spending on the war in Iraq.
Pastor John Pitts Jr. from Temple of Praise International Church in Taylor, who is president of the Interfaith Worker Justice chapter, spoke of the need for unity of all faiths with the labor movement to work together for justice for the child care workers and all workers.
IWJ is a network of people of faith that calls upon religious values to educate, organize and mobilize the religious community in the U.S. on issues and campaigns that will improve wages, benefits and conditions for workers and give voice to workers, especially workers in low-wage jobs.