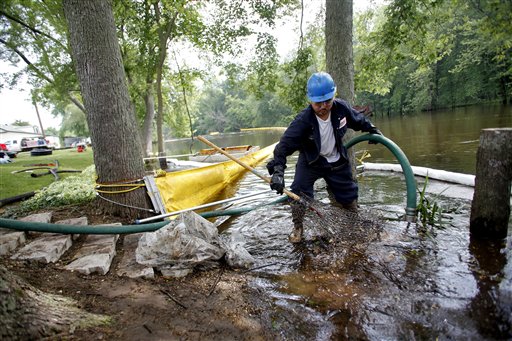 GRAND RAPIDS, Mich. – The company that owns a ruptured pipeline that has spilled more than 1 million gallons of oil into Southwest Michigan's Talmadge Creek and the Kalamazoo River was cited at least 30 times for safety violations by the federal Environmental Protection Agency since 2002.
In addition, the Pipeline and Hazardous Materials Safety Administration, a regulatory agency under the Department of Transportation, told the Associated Press that it has been pressing the company, Enbridge Energy Partners, to fix major corrosion problems in its pipeline system since last January.
According to the agency, Enbridge failed to fix more than 200 corrosion-related problems on the pipeline discovered in 2009 alone.
The massive Michigan spill occurred just months after federal regulators ordered pipeline companies, including Enbridge, to update their spill response plans, and after the company sought an extension from the government on dealing with its ongoing corrosion problems.
In a press conference Aug. 2, Enbridge executives refused to discuss causes of the massive spill and evaded reporters' questions about their plans to restart the pipeline.
The EPA ramped up its cleanup efforts with the provision of $13 million for the work. More than 200,000 feet of boom is on hand, and over 700 workers and volunteers have worked to capture more than 400,000 gallons of the spill, government officials said. Officials expressed concerns that potential flooding caused by expected rainstorms may increase the spread of the spill.
They expressed optimism that toxicity in the air has been reduced and that cleanup of water, land, and wildlife is continuing quickly.
Pipeline and Hazardous Materials Safety Administration officials said it is too early to say if the fracture in the pipeline that caused the spill corresponds with any of the more than 200 corrosion unresolved issues raised with Enbridge Energy Partners in the past year. They did say, however, that this is part of their ongoing investigation.
The oil spill may have begun as early as 5:58 p.m. on July 25 when Enbridge employees received an alarm signaling a drop in pressure on their pipeline. After 9 p.m. residents in the Marshall, Mich., area phoned 9/11 call centers complaining about the smell of gas. Firefighters responded to the area but couldn't immediately discover the source of the odor. The following day, local energy company employees discovered the leak and alerted law enforcement officials.
The spill, which began on land and spread to the Talmadge Creek, has so far affected about 10 miles of the Kalamazoo River and some fear it may spill into Lake Michigan.
Photo: Raul Vervuzco of Eagle Services uses a suction hose to clean oil from atop the Kalamazoo River, July 28, in a containment area in Augusta, Mich. (AP/The Kalamazoo Gazette, Jonathon Gruenke)