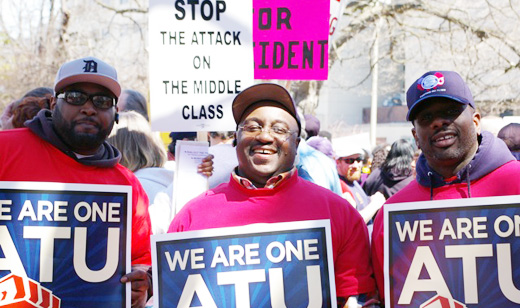 LANSING, Mich. (PAI) – Michigan's Protect Our Jobs coalition has gathered more than double the amount of signatures necessary to put a proposed state constitutional amendment enshrining union rights on the Nov. 6 ballot, organizers announced.
Now comes the hard part: Winning the electoral battle this year.
The coalition, which includes the state AFL-CIO, its construction unions, the Teamsters and other unions, was formed in early March and collected 684,286 signatures. The required number to put the issue on the ballot is 322,609.
The deadline to turn in any remaining petitions is July 9, and then the Michigan Department of State will check to make sure there are sufficient valid signatures.
Getting enough signatures was actually the easy part. The difficult part will be getting the supportive voters to go to the polls and asking them to ignore the negative ads directed at the ballot measure that are sure to come.
"We must remind our friends, neighbors, coworkers, and families of the important role that collective bargaining plays in creating and sustaining middle class jobs," said Michigan AFL-CIO President Karla Swift. "We must also prepare to counteract the corporate special interest money that is about to flood into our state to confuse the issue and defeat working families at the ballot box. Celebrate today and prepare for the next phase of organizing."
More than 85% of the petition signatures were collected by 41,000 volunteers.
The proposed Protect Our Jobs amendment would enshrine various union rights, and would add a section guaranteeing a right to "organize together to form, join or assist labor organizations, and to bargain collectively with a public or private employer."
It represents a preemptory effort by the state's unions to ward off legislation – floated by state Republican lawmakers – to institute a right-to-work law in Michigan.
The amendment would also prevent future anti-worker legislation. The state AFL-CIO counts some 95 separate anti-union proposals in the state's legislative hopper.
And the amendment, if approved, would overturn the state's emergency financial manager law as it pertains to collective bargaining, and negate a law that prevents taxpayer-financed project labor agreements (PLAs), among numerous others.
"We've very proud of the effort by building trades volunteers to collect petition signatures for the Protect Our Jobs coalition," said Patrick Devlin, secretary-treasurer of the Michigan Building and Construction Trades Council. "Like all the other unions in our state, our people came through in a big way. Until Election Day, this effort to educate voters is going to have to depend on union people power, because we're never going to match the corporate money that's going to be thrown around attempting to defeat this ballot proposal."
Michigan's neighboring states offer two divergent scenarios to indicate where this ballot issue could be headed.
In Ohio last November union power lead to the defeat of Issue 2 statewide, 61%-39%. That vote struck down Ohio Senate Bill 5, a GOP-enacted overhaul of Ohio's collective bargaining law that ended binding arbitration to settle contracts with public safety workers, banned strikes for other public workers, set payments for health insurance and pensions, and tipped the power balance in negotiations to government.
On the other hand, in Wisconsin this month, an effort to recall anti-union Republican Gov. Scott Walker failed 53%-46%.
Michigan Chamber of Commerce President Rick Studley has all but promised a battle by the state's business interests to fight the Protect Our Jobs initiative. "It's a mistake to think that the business community is going to sit on its hands," he said. "We'll fight fire with fire."
A lawsuit by business interests could also derail the ballot measure, before or after Election Day. And out-of-state money will likely be a factor. Outside groups from both sides in Wisconsin spent at least $60 million in Walker's recall, with Walker and his outside supporters outspending labor and Democratic challenger Tom Barrett 8-to-1.
"Labor is facing an uphill climb to sell this thing," wrote Lansing's Off The Record political reporter Tim Skubick. "First off this is not your granddaddy's labor movement in Michigan these days. Once the proverbial 800-pound gorilla, union ranks are thinner than they were 30 years ago. And public sentiment toward unions has also waned as Republicans have done a masterful job of casting the union folks as part of the problem and not the solution."
Marty Mulcahy is editor of The Building Tradesman.
Photo: Thousands of workers from across Michigan rallied in Lansing April 18, 2011, with a message for the Republican-controlled legislature: "We are the people – protect us, not the CEOs." PW