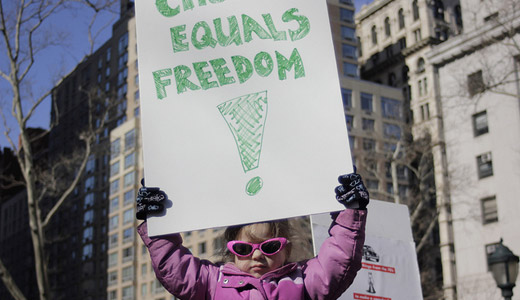 LANSING, Mich. – Keep them barefoot, pregnant and silent. Judging by legislation the Republican- and male-dominated Michigan House of Representatives has passed, that's their attitude toward women.
After state Reps Lisa Brown and Barb Byrum, both Democrats, courageously spoke out against anti-choice legislation passed Wednesday, Republican Speaker of the House Jase Bolger informed House Democrats that the two lawmakers would be prohibited from speaking during Thursday's legislative session on any and all issues.
What did Bolger use as a pretense to silence debate? On Wednesday Rep. Brown told anti-choice legislation's backers, "I'm flattered you're all so interested in my vagina." And Rep. Byrum was gaveled out of order when she protested Republicans' refusal to allow her to speak on her amendment to require proof that a man's life was in danger before he could have a vasectomy.
What has been ignored in Rep. Brown's testimony was her eloquent statement that, to ensure religious freedom, separation of church and state is necessary to keep one faith from infringing on the rights of another. She explained that in her Jewish faith, "therapeutic abortions, namely abortions performed in order to preserve the life of the mother, are not only permissible, but mandatory. The stage of pregnancy does not matter."
The Republican move to silence these representatives shocked many, as the chamber has heard colorful language – almost always from men – in the past.
In an email message, Michigan Senate Democratic leader Gretchen Whitmer wrote that the Republican bills are designed specifically to shut down women's health clinics that provide critical and life-saving services for thousands of women across Michigan.
Whitmer called the Republican actions offensive. She said, "Their actions yesterday took away our right to choose what's best for our own bodies. Now today, they've even taken away our right to voice our opposition to their actions."
Among other things, the bills would saddle health centers with unnecessary and burdensome licensing requirements if they perform abortions; ban abortion after 20 weeks with no exemptions for rape, incest, or fetal defects; and punish doctors who violate the vague and limited exemptions with at least 15 years in jail.
Planned Parenthood says its health centers are vital to the health care needs of women throughout the state, pointing out that 1 in 5 women will visit a Planned Parenthood health center in her lifetime. Only 10 percent of Planned Parenthood patients have private health insurance.
For 75 percent of Planned Parenthood patients in Michigan, an appointment at a Planned Parenthood health center is the only health care they will receive in a given year.
If ever there was a body that needed silencing, it's the Republicans in Lansing. Here's a checklist of what the Michigan legislature and its Republican leadership has accomplished in the last two years:
* attack collective bargaining, check;
* make workers compensation laws ineffective, check;
* raise taxes on poor and seniors, check;
* allow emergency dictators to replace elected officials, check;
* use voter suppression to limit those who vote, check;
* end cash assistance for 40,000 women and children, check.
These bills, and many others, are why Whitmer writes, "Women are paying attention, and come November, we will be voting."
Photo: Timothy Krause // CC 2.0