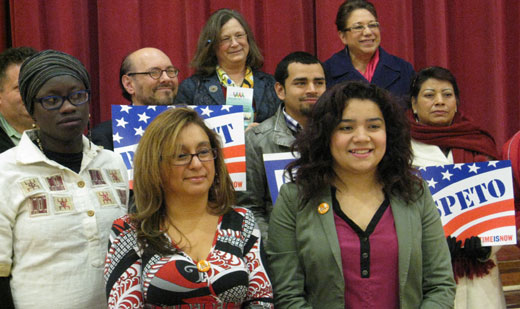 DETROIT – Cindy Garcia delivered a heartfelt plea on behalf of her husband as she fasted during the Feast of Our Lady of Guadalupe, Dec. 12. "We've lobbied, we've marched we've done everything we can to make sure my husband Jorge, who now faces deportation, stays where he belongs, with us," she said.
Garcia was one of more than 45 labor and immigrant rights activists across Michigan who undertook a 24 hour fast for citizenship and immigration reform. The fast started Wednesday evening and ended 24 hours later on Thursday evening.
Garcia said Jorge, now 35, was ten when he came to the United States. Her lobbying and marching took her, and the couples' two youngest children, ages eight and 11, to Washington and Capitol Hill where for several days there they participated in the ongoing fast for immigration reform.
Garcia, a member of United Auto Workers who works at Dearborn Truck Plant, spoke at a press conference Thursday at the International Institute in Detroit. The event was sponsored by Michigan United, a statewide coalition working for immigration reform.
She said a 24-hour fast is a "small sacrifice" to make this holiday season.
Too many holiday dinners will have "an empty place at the table," said Michigan United organizer Miriam Cuevas. She pointed out that every day Republican Speaker John Boehner and the House of Representatives refuse to act, 1100 immigrants are deported.
"This issue is personal. I am a dreamer," Cuevas said. She has temporary protection from deportation under the president's executive order called DACA, but she said, "every day and every hour I worry" about what will happen when the protection expires.
It's also a personal issue for Seydi Sarr, of the Senegalese Association of Michigan. Sarr and others fought and lost the deportation case of local Senegalese artist Michel Mendy. In 2010, he was shot while a bystander during a robbery. Instead of going after the robber, the police detained him and turned him over to Immigration and Custom Enforcement. Though he had been in the country since 1998, he was deported earlier this year
Adding to Sarr's concerns is the violence Mendy may encounter because he is gay. He is forced to live "in hiding" in his native Senegal, where being gay puts one's life at serious risk, she said.
The process of fasting turns direct action into social action, said Prasanna Vengadam, president of South Asian American Voices for Impact. The hoped for end result of that social action, a path to citizenship, would benefit the nation as a whole, she said. She made the point that immigrants add to and help modernize our nation's economy thereby making our nation stronger.
"You are giving up on America if you don't support immigration reform," she said.
What is the cost to our nation's economy? It means a "three trillion dollar loss" over the next ten years, said Raquel Garcia-Anderson, a Michigan United organizer. She said that's the estimate of what would be added to the economy from taxes, fees and more once people gain citizenship and emerge from an underground economy.
Tying it to the recent budget cuts to programs like unemployment compensation and food stamps, Garcia-Anderson said, "I get tired of hearing about austerity. Reform would not cost, it would be a money maker."
Photo: John Rummel/PW