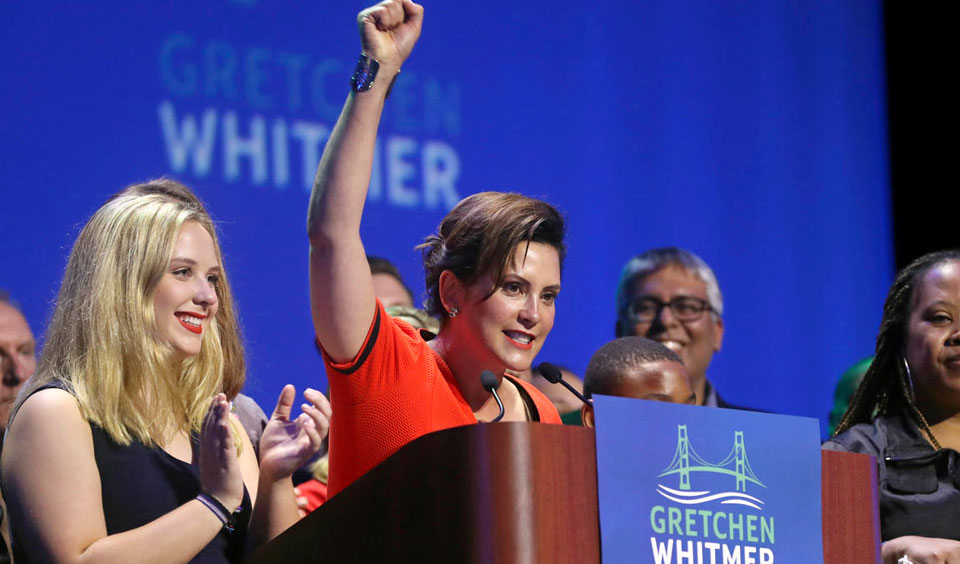 DETROIT – There was a lot to celebrate about for working people in Michigan on Wednesday morning after Democrats made an impressive showing in the 2018 elections.
When Donald Trump came to Michigan to campaign for Republican governor candidate Bill Schutte and a host of other right-wing candidates, he was hoping to capitalize on his narrow 10,000-vote victory in 2016. But Michigan voters weren't going to be fooled a second time.
Ray Charles 1961 chartbuster "Hit the Road Jack" came to me while I was at work the other morning thinking about Michigan voters and Trump. I couldn't get it out of my head, so I came up with this 2018 version:
Hit the road Don and don'tcha come back no more, no more, no more, no more,
Hit the road Don and don'tcha come back no more…
Oh Workers, Oh Workers you treat me so mean!
You're the meanest ole Workers I ever have seen!
I guess if you say so
I'll have to pack my bags and go…
I'll have to pack my bags and go...
In fact, it was nearly a clean sweep for working people and Democrats on Nov. 6. Gretchen Whitmer and Garlin Gilchrist won election for governor and lieutenant governor. Debbie Stabenow won re-election for senator. Dana Nessel captured the attorney general seat and Jocelyn Benson won for secretary of state. Two women flipped Republican congressional seats, Elissa Slotkin in the 8th CD and Haley Stevens in the 11th CD. In the race to succeed John Conyers in the 13th CD, Rashida Tlaib became one of two Muslim women elected to Congress. Democrat Megan Cavanagh won election to the State Supreme Court. Democrats picked up seats in both the State House and Senate although they failed to win a majority.
In addition, all three ballot initiatives were victorious. Proposal 1 legalized marijuana. Proposal 2 created a non-partisan commission to redraw election districts and end gerrymandering. Proposal 3 was called "Promote the Vote" and makes registering to vote automatic, restores straight-ticket voting and provides for audits to ensure accurate vote counts, among other improvements.
When you add in the ballot initiatives that were adopted by the state legislature several months ago to keep them off the ballot – a $12.00 state minimum wage by 2020 and an earned sick time proposal whereby all workers earn paid leave up to 9 days a year – there was a lot of progress made for working people. In the long run, Proposals 2 and 3 will have a huge impact on the political landscape in Michigan by creating greater access to voting and establishing logical and fair districts that will reflect the true voting patterns of people.
The win was made possible by a huge grassroots mobilization by the labor movement, grassroots activists and the campaigns' own volunteers. Both Proposals 2 and 3 independently organized their own campaigns adding to the margin of victory. The candidates themselves ran aggressive campaigns that focused on the issues of health care, rebuilding the infrastructure, education and fighting against the corrupting influence of corporate money.
There were a lot of high fives going around the state Wednesday morning. But there was also an eye toward 2020 and getting another shot at Donald Trump.