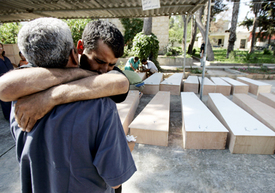 U.S., Israel block peace efforts for Lebanon, Gaza
His body riddled with shrapnel, Wissam Abdullah, 14, spoke from his hospital bed in the southern Lebanese port city of Sidon. Wissam is one of the few survivors of an Israeli bombing attack that killed most of his extended family as they fled the Lebanese border village of Marwaheen July 15.
"We were 24 people in a truck," he told a reporter from Deutsche Presse-Agentur, the German news agency. "The ones who survived are me, my father and my sister, who is now fighting for her life.
"The shell directly hit our truck, and I suddenly saw that most of the people had flown outside the truck and turned into shredded pieces of flesh and bones," he said.
Wissam's 7-year-old sister, who had a mangled and bleeding leg, cried out for help. "As I tried to reach her," he said, "an Israeli Apache helicopter came to finish off the rest of us, bombing us again.
"My little sister was killed, so were most of the rest of those who survived the first bombing," he said with tears pouring down his face. "Isn't this a war crime? Isn't it?"
Wissam is not alone. Twelve days after Israel launched a massive assault on wide swaths of Lebanon, at least 382 Lebanese — many of them women and children — were dead, thousands were injured, and at least 700,000 were displaced.
Thousands struggled to escape the ravages of U.S.-made warplanes, missiles, shells, bulldozers, guns and bombs, including, Lebanese doctors charged, white phosphorous and cluster bombs. The Bush administration rushed a new "emergency supply" of bombs to Israel one week into the conflict.
The relentless bombing was interrupted only briefly, when Condoleezza Rice, Bush's secretary of state, snuck into Beirut unannounced to meet with Lebanese Prime Minister Fouad Siniora, Parliament Speaker Nabih Berri and, at the U.S. Embassy, leaders of the pro-U.S. March 14 movement.
Just before Rice's visit, Sinora, a U.S. ally, had said Lebanon was being "forced to its knees" and "cut into pieces." Noting the destruction of ports, airports, roads, power plants, residential buildings and factories, he said Israel was trying "to push Lebanon back 50 years."
He demanded a cease-fire, and said Israel must pay reparations to the Lebanese people, whose economy has sustained "unimaginable losses."
Rice's meeting with Berri was particularly icy. "I told Condoleezza Rice that the scale of destruction in Lebanon equals that of a nuclear bomb," Berri told al-Arabiya television.
Before her visit, Rice called the carnage unfolding in Lebanon "the birth pangs of a new Middle East." After her meetings, she reiterated the Bush administration's opposition to a cease-fire, despite worldwide appeals for one, including from U.S. allies like Saudi Arabia.
Israeli casualties also grew, but on a much smaller scale — a total of 37 killed, 15 of them civilians — as rockets from Hezbollah continued to hit Israel and as Israeli troops encountered fierce fighting from Hezbollah in southern Lebanon.
The Lebanese Communist Party dismissed U.S. and Israeli claims that the attack on Lebanon was a "war on terror," and charged the conflict was an "Israeli-American war" to advance the Bush administration's Greater Middle East Initiative, to install a subservient regime in Lebanon, to corner the region's water sources, and to distract world attention from the desperate situation facing the Palestinian people.
The party warned of efforts to split the Lebanese people along sectarian lines and called for a unified, national resistance to the invasion. In previous statements it cited the U.S. drive to dominate the region's oil reserves as the spur to U.S. actions in Iraq and elsewhere in the Mideast.
Antiwar demonstrations took place in many U.S. cities. About 3,000 marched in Chicago, many from the city's large Arab community, calling for an end to the Israeli war on Lebanon and Palestine and calling for an end to U.S. aid to Israel.
The National Council of Churches called for an end to the violence and for "an intensive diplomatic initiative for the cessation of hostilities." It was joined by leaders of Protestant, Orthodox, Anglican and Roman Catholic faithful.
Several U.S. Jewish groups also called for a cease-fire, including the San Francisco-based Jewish Voice for Peace, whose director of education and policy, Mitchell Plitnick, told the World: "It looks like the Bush administration has given Israel another week to operate with a free hand in Lebanon. A lot of damage can be done in a week."
Plitnick's group and others, including United for Peace and Justice, the U.S. Campaign to End the Israeli Occupation, the American-Arab Anti-Discrimination Committee and Partners for Peace, organized a national "call-in day" July 25 to Congress to support H Con Res 450, introduced by Rep. Dennis Kucinich (D-Ohio) with 23 co-sponsors. The measure calls upon the U.S. to pursue an "immediate cessation of violence" and "multi-party negotiations with no preconditions."
Greeting the bill, Plitnick said, "I think there is grassroots sentiment among the American people that disapproves of what Israel is doing in Lebanon."
He added: "We should also remember that Israel continues to pound on the Gaza Strip and to conduct military operations in the West Bank. The Palestinian issue is at the root of all of this and must be addressed."