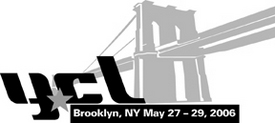 ST. LOUIS — On March 25-26 the Young Communist League hosted its first Midwest Regional Conference at Teamsters Hall here. YCL members and friends, old and new, came from all over the Midwest to discuss a draft action plan to be voted on at the group's national convention on May 27-29 in Brooklyn, N.Y.
Quincy Boyd, president of AFSCME Local 2730, greeted the audience. "This is a revolution we are all in," he said. "If there is anything I can do, just let me know."
The conference heard panel presentations on the three main points of the action plan: peace, jobs and education. Presenters included a number of the YCL's friends and allies, such as a member of Veterans for Peace.
Discussion revolved around how these issues affect youth, the different ways their voices can be heard, and how to take action on specific struggles. Student-labor solidarity was an important theme.
Skill-building sessions focused on how to counter military recruitment, build coalitions, raise funds and conduct orientation programs for new members. On the first evening, conference-goers attended a fundraising concert for the People's Weekly World.
Another important theme of the conference was the 2006 elections and how the YCL can mobilize the youth vote and otherwise participate in electoral politics. At the meeting's conclusion, many were eager to put their words into practice and help canvass for progressive candidates, like state Rep. John Bowman, who closed the meeting. The YCL helped Bowman get elected in 2004 during its Midwest elections project.
This directly related back to discussions on how to build the YCL and bring a strong delegation from the Midwest to the May convention.
One participant, Kristen Gann, 19, is a student at the University of Missouri–Columbia studying film and journalism. "I think you learn the most by meeting people, different clubs, and sharing ideas and experiences that people bring to it," she told the World.
Asad Ali, 28, came all the way from western Pennsylvania and was excited to take part in the conference. "I look forward to taking this all back to my club," he said. "It's great to meet national staff, PWW writers and people to help build strong relationships."
About the draft action plan, Ali said, "You can't really disagree with it." He said he is interested in how "different groups will utilize the action plan in their communities, to make changes in their part of the country."
Konrad Cukla is a high school student and a leader of the Milwaukee YCL club.
Pepe Lozano contributed to this story. For more information, visit www.yclusa.org/convention.