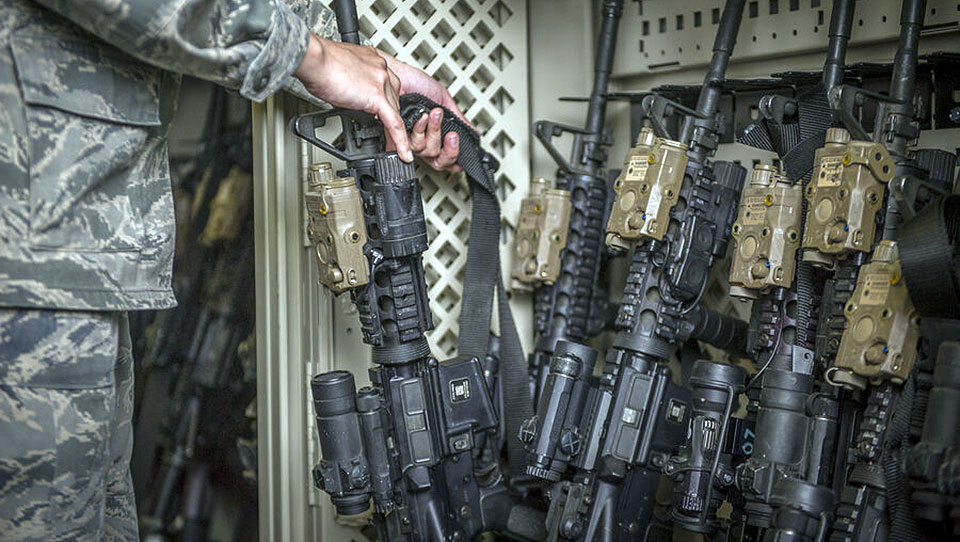 The Associated Press is reporting that thousands of U.S. military firearms are disappearing from Army, Navy, and Air Force stockpiles. In an article Tuesday, AP noted that at least 1,900 firearms were lost or stolen during the 2010s and that the press service is certain the figure is many times higher because the various branches of the armed services have been suppressing the release of such information.
The AP says government records covering the Army, Marine Corps, Navy, and Air Force show pistols, machine guns, shotguns, and automatic assault rifles have vanished from armories, supply warehouses, Navy warships, firing ranges, and other places where they were used, stored, or transported. These weapons of war disappeared because of unlocked doors, sleeping troops, a surveillance system that didn't record, break-ins, and other security lapses that, until now, have not been publicly reported, according to the AP.
Military explosives also were lost or stolen, including armor-piercing grenades.
Following publication of the AP investigation, Army Secretary Christine Wormuth told a hearing of the Senate Armed Services Committee that she would be "open to" new oversight on weapons accountability.
These reports come at a time when it is becoming clear that growing numbers of people in the military have become adherents of extreme right-wing views and with many actually playing active roles in white supremacist groups.
Some stolen military guns have found their way into the hands of street gang members and felons who have used them in violent crimes, but huge numbers of stolen weapons remain unaccounted for. They apparently can end up in the hands of right-wing extremists here at home and abroad.
>>>>>>>>>>>>> 
Jeff McCausland, a retired Army colonel and a former member of the National Security Council, wrote recently for THINK newsletter about Coast Guard Lieutenant Christopher Hasson, who spent five years in the Marine Corps and two years in the Army National Guard before entering the Coast Guard.
He was a self-described white nationalist and an admirer of Anders Breivik. Some 70 Norwegians, many of them immigrants, died at the hands of people admired by Hasson. You had in Hasson a military man who was a neo-fascist with access to military weapons as do so many other right-wing extremists. Although the military holds back on exposing these connections and we have no clear proof of them in many cases, the potential for deadly use of such connections, poses, at the very least, severe and potential danger to the lives of many people, not to mention a longer term threat to democracy.
<<<<<<<<<<<<< 
The ties between white supremacists and the military are not new.
Hasson conducted thousands of searches of neo-fascist websites on his computer and wrote his own "manifesto" calling for the establishment of a "white homeland." He circulated a list of Democratic lawmakers, judges, and media figures who he said had to be killed.
A 1998 Department of Defense study published in the THINK Newsletter found that leaders of far-right extremist groups encouraged young men and women to enlist in the military to gain access to weapons, military training, and other personnel prior to returning to civilian life.
The connections between far-right extremism and the military go way back in our history. The Ku Klux Klan itself was founded in 1866 by Confederate Civil War veterans.
The Klan held an open rally on a U.S. base in Vietnam following the 1968 murder of Dr. Martin Luther King, and Marines held regular Klan meetings in the 1970s at Camp Pendleton. In 1995, members of the 82nd Airborne Division founded a neo-Nazi group. In December of that year, two members of the group murdered a Black couple. The killers received life imprisonment, and 19 soldiers were dishonorably discharged.
Following the 9/11 attack on the World Trade Center and subsequent invasions of Afghanistan and Iraq, there has been growing evidence that military members and veterans have joined right-wing extremist groups when they come home if they are not already members of such groups when they arrive stateside. In 2010, for instance, a Marine Corps sniper team in Afghanistan posed for a picture with a Nazi flag.
Reports by the Southern Poverty Law Center say that the groups they were joining include the Fourth Reich, Aryan Nation, National Alliance, and the National Socialist Movement.
A 2009 Department of Homeland Security report warned that the combination of the election of the first African American president, a downturn in the economy, and an influx of unemployed vets returning from combat in Iraq and Afghanistan were potential flashpoints and that military personnel and veterans were being targeted by far-right extremist groups. The report created strong opposition from GOP lawmakers, and it was rescinded by the Obama administration.
Active and recent members of the military were also present among those attempting to overthrow the government in the attack on the Capitol on Jan. 6. All of this makes clearly unconscionable the GOP's scuttling of a Special Commission to investigate the Jan. 6 insurrection.
Nevertheless, the Congress of the United States must step up its oversight of where the military weapons are going, just as it must step up its investigation of all the connections between the military, U.S. lawmakers, and the neo-fascists in our midst. The survival of our democracy is at stake.
Material from AP and THINK newsletter contributed to this story.