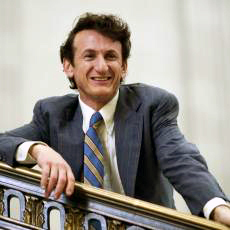 Movie Review
"Milk"
Directed by Gus Van Sant
2008 U.S., R, 128 min.
The fight for justice, the fight for equality, and the passion to stand up for hope and change were themes racing through my head after seeing "Milk," directed by Gus Van Sant. "Milk" is by far one of the best films in 2008, inspired by superb acting, superior directing and non-stop dramatic excellence that chronicles the political life of Harvey Milk, the first openly gay elected official. The film documents an important piece of American history, the rise of the gay liberation movement in San Francisco in the 1970s, which continues to have a profound impact in national politics.
In the film Sean Penn plays Milk, a pioneering gay community activist who was elected to the San Francisco Board of Supervisors in 1977. Penn's performance is pure genius and his wonderful craft brings heart and humanity to the life of Milk who is remembered as a hero in the gay community.
"My name is Harvey Milk, and I want to recruit you." These were the first words often said by Milk speaking to gay and straight audiences both in the film and in real life.
After serving office for one year Milk along with then-Mayor George Moscone were gunned down in City Hall by their troubled colleague, former Supervisor Dan White, who is played brilliantly by actor Josh Brolin.
The film begins in the early 1970's where Milk worked as a closeted-gay businessman in New York. He finds love and moves to San Francisco's Castro district where he and his partner Scott Smith (James Franco) open a camera shop.
Milk becomes a natural leader in the growing gay community and begins to organize gay activists and supporters against anti-gay prejudices practiced by some of the local businesses. Milk soon is dubbed the "Mayor of Castro Steet." At one point Milk teams up with the Teamsters union and together the union and the gay community successfully boycott Coors beer.
Later Milk decides to run for office and after two unsuccessful tries he finally wins. His determination and drive, not to mention the ups and downs of running a political campaign were beautifully captured in the film.
Back then there were no national gay rights' organizations and many psychiatrists labeled homosexuality a mental illness. At the time California State Sen. John Briggs pushed for a law, known as Proposition 6, that would have fired all gay public school teachers and their supporters. The California anti-gay referendum was part of a national crusade to repeal local anti-discrimination laws. Singer and Florida orange juice promoter Anita Bryant became the figure head of the anti-gay crusade. Expertly woven into the fabric of the film is the political context of the period with the rise of the religious right and its use of gay-bashing as part of its rise to power in this country. And like many historical films, its message is as much about today as it is about the late 1970s.
Milk always knew his activism would make him a target. Foretelling his fate he prepared a tape-recorded will and testament in the case of his premature death.
"If there should be an assassination, I would hope that five, ten, one hundred, a thousand would rise. I would like to see every gay lawyer, every gay architect come out…" said Milk.
"If a bullet should enter my brain, let that bullet destroy every closet door. I ask for the movement to continue. Because it's not about personal gain, not about ego, not about power… it's about the 'us's' out there. Not only gays, but the blacks, the Asians, the disabled, the seniors, the us's. Without hope, the us's give up. You gotta give'em hope… You gotta give'em hope."
Go see this movie, it's inspiring and you won't regret it.
plozano @pww.org