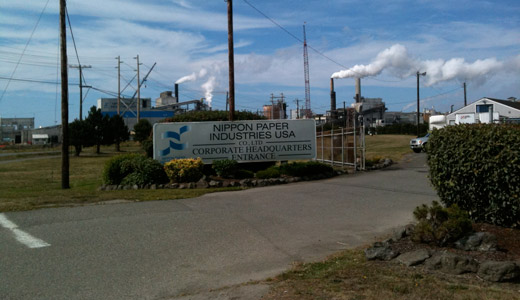 PORT ANGELES, Wash. – Building trades workers were hoping for desperately needed union-wage jobs when Nippon Corporation announced plans to build a $71 million biomass cogeneration plant at their paper mill here two years ago.
Crown Zellerbach once owned the mill, located west of Port Angeles at the base of Ediz Hook. Currently, the mill employs about 200 workers.
The cogeneration plant will replace several old boilers and generators, supplying steam and electric power to the mill. Slashings and other refuse from logging operations will fuel the plant.
Elected officials hailed it as a "green jobs, green energy" project worthy of the $2 million in federal funds and an additional $20 million in tax credits under President Obama's economic stimulus initiative.
Federal funding meant that the Davis-Bacon prevailing wage law would apply. Presumably, building trades workers, suffering double-digit unemployment here, would finally get jobs. Nippon hired J.H. Kelly, a union outfit from Longview, Wash., as one of the contractors, further evidence of Nippon's honorable intentions.
But then Nippon hired Factory Sales and Engineering (FSE) of Covington, La., to build the new boiler for the cogeneration plant. FSE brought in their own crew from Louisiana, Mississippi, and Texas, to do the work. So far, few, if any local workers have been hired.
And what about honoring Davis-Bacon? Lee Whetham, president of the Olympic Peninsula Building and Construction Trades Council, AFL-CIO, said he asked Barry "Hutch" Hutchins, FSE project manager, if FSE intends to honor Davis-Bacon "No, we have no intention of paying the prevailing wage for any of the trades," Hutchins told Whetham.
"He told me that directly to my face," Whetham said. "He said they are going to 'self-perform' and not pay the prevailing wage." Hutchins declined to comment on these allegations when queried by this reporter. Nippon has not returned calls.
According to Sam Woods a member of Local 46 of the International Brotherhood of Electrical Workers (IBEW), and now an activist in Clallam MoveOn, the FSE employees are being paid about $14.50 an hour. The prevailing wage for highly skilled building trades workers in Washington State is three times that.
Whetham informed Clallam County's two state representatives about FSE's brazen defiance of both state and federal prevailing wage laws. He was told that an aide was assigned to look into the matter but he is still waiting for an answer.
"I have been on a fact-finding mission ever since to make a final determination as to whether the workers are being paid the prevailing wage," Whetham said. "Both the federal and state prevailing laws apply but since the state's prevailing wage is higher than the federal, the state has to take the lead on enforcement.
"Everyone knows that wages in the south are cheaper. Contractors from the south move their crews onto a job site here; they pay their workers lower wages; they finish up a job and move on. It does nothing to help the local economy here. The federal government recognizes that this is a depressed area and yet they allow the jobs to go to out-of-state contractors."
So far, only ironworkers have sustained injury from failure of Nippon and FSE to pay the prevailing wage. Yet proving that the wage law has been violated is difficult for the unions unless the state and federal government open an investigation to bring the facts into the light of day.
Kyle Katzmann, a regional leader of IBEW in Bremerton, said it is not an isolated case. He cited several instances of both the federal and Washington State government winking at their own prevailing wage laws knowing they can get "more bang for the buck" if wages are kept low and more projects are completed from the same shrinking pot of taxpayer money.
Instead of approving the grant and loan directly to Nippon, the federal government directed the money to the Washington State Department of Commerce, which then approved the grant and loan to Nippon. Nippon and FSE now argue that the grant and loan are not subject to prevailing wage laws. But critics charge that the government, Nippon, and FSE are all conspiring in a form of legalized money laundering to circumvent the law.
Many residents of the North Olympic Peninsula held their fire when a coalition of environmental groups waged a struggle to block the biomass project. The residents reluctantly accepted the argument that sacrifices in air quality were necessary to increase jobs. But now workers are learning that they are gaining few if any jobs. And the jobs that are won pay cheap wages.
Anger is growing. Residents are discussing some form of mass protest to demand that the promises be kept – jobs that pay a living wage.
Photo: Environmentalists protesting planned power generation station. 350.org // CC 2.0