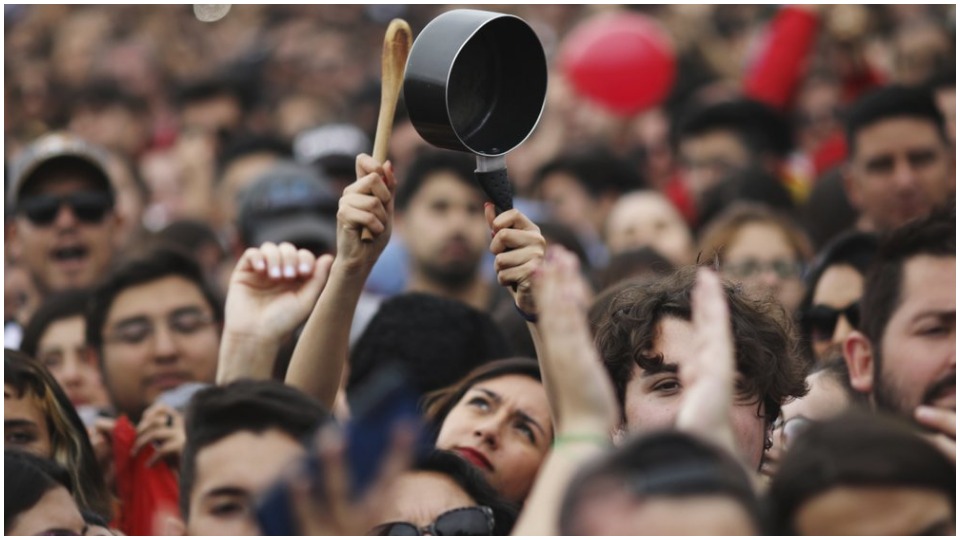 Chilean President Sebastian Piñera has claimed to have "heard the message" of a march of 1.2 million people against his government on Friday, offering protesters the resignations of all his ministers but not his own.
"The march we saw yesterday was a massive and peaceful march. We have all heard the message. We have all changed," he pleaded in a Saturday press conference. And today he announced that curfews imposed on the populace were being lifted.
He promised a "new Cabinet to confront these new demands and take charge of the new times" in the face of protests against low pay and attacks on pensions, schools, and health care by his neoliberal government. "I have put all my ministers on notice," he said, but did not mention the prominent demand that he himself step down.
Many protesters expressed skepticism about his concessions, following the president's earlier demonization of the protest movement. He claimed that Chile was "at war with a powerful enemy," defending police brutality on the grounds that "democracy not only has the right but the duty to defend itself using all instruments."
Protester Solana Ponferrada said: "Do you think over a million Chileans who marched asked for something other than your resignation? Do not be ironic. There are 19 dead due to the Piñera brutality." In fact, the Interior Ministry has now acknowledged the death toll at 20 people.
Piñera has conceded higher pensions and a higher minimum wage in a bid to satisfy demonstrators who form part of a wave of left-wing revolt across Latin America, which also forced Ecuadorean President Lenin Moreno to flee his capital and abandon IMF-recommended cuts earlier this month. And in Argentina on Sunday, left candidate Alberto Fernández scored a more than 20-point victory over right-wing incumbent President Mauricio Macri in elections there.
Chile's president also said he was looking at cutting water bills and motorway tolls, but demonstrator Pablo Rodriguez said the concessions "are a good start but are not sufficient."
Piñera's government responded to mass demonstrations with savage violence, in which aside from the 20 people killed, 3,162 were arrested—343 of them children—and 997 injured.
Morning Star