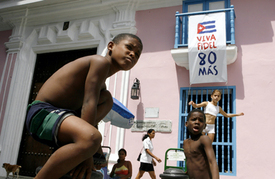 NEWS ANALYSIS
After Cuban President Fidel Castro announced his intestinal surgery and the orderly succession of power on July 31, millions responded, not only in Cuba but also around the world. Depending on their class point of view, they extended either words of solidarity or malice.
As first vice president of the Council of State, Defense Minister Raul Castro became president of the Council as provided for in Cuba's constitution. The U.S. media was rife with speculation about palace intrigue and a ruler's whim.
The Rev. Lucius Walker, longtime Cuba solidarity leader of Pastors for Peace, told the World, "That's the way a constitutional democracy works." It is important to point that out, he said.
Walker was appalled at the "shrill cries, silliness, callousness and insensitivity on the part of Cuban American right-wingers."
"We must keep an eye on Bush, who will use the situation to lie and connive," he said, adding that the solidarity movement needs to redouble its efforts.
Ignacio Meneses of the U.S.-Cuba Labor Exchange called upon the people of the U.S. to support Cuba by standing up for their own rights, particularly the right to travel to and learn from Cuba.
The Latin American Working Group organized a White House call-in demanding that President Bush respect Cuba's independence.
Governments, organizations and individuals from every quarter — and the Cuban Five from their U.S. prisons — deluged Havana with get-well messages. Cuba's Conference of Catholic Bishops called for prayers for Castro's recovery. The 14-nation Caribbean community Caricom said, "President Fidel Castro, our friend, will be in our prayers." Four hundred of the world's intellectuals, including eight Nobel Prize winners, extended well wishes for the president and called for "hands off Cuba."
Yet as if on cue, President Bush said the U.S. would support Cubans willing to "transition" Cuba back to a capitalist orientation. "We will support you in your effort to build a transitional government in Cuba," he said. Humanitarian aid would flow once "transition in the Cuban government" is a fact, he said.
That script is from the Bush administration's plan to undermine the Cuban Revolution. The first six months after Fidel Castro's "departure" is seen as crucial, Bush experts theorize.
While Cubans expressed their concern for the revolution's foremost leader, life remained normal with people going to work and about their everyday business.
"I will say that my health is stable, but it needs time," Castro said in a post-operative statement.
In contrast, right-wing Cuban Americans celebrated and danced in Miami on July 31. But their small numbers showed how much ground their rabid anti-Castro ideology has lost.
However, it does not take a large number of people to inflict damage, especially if you have the backing of the U.S. government. A coterie of Cuban American legislators lobbied the National Security Council Aug. 2 for the use of airplanes to bolster propaganda broadcasts to Cuba. The head of the paramilitary Comandos F-4 group, Rodolfo Frometa, told a Washington Post reporter, "I have wanted to kill Castro for a long time — I don't want him to die of natural causes."
Nevertheless, a spate of letters and opinion pieces in the U.S. press called for restraint in Washington and a changed approach to Cuba, indicating significant public opinion in favor of normal relations. In an Aug. 4 CNN poll, 62 percent of U.S. citizens surveyed want diplomatic relations with Cuba.
Peter Robbins of the Maine group Let Cuba Live told the World, "Fidel is the heart of the revolution. The revolution is emerging as an antidote to human folly around the globe. If it is true that the moral arc of the universe bends toward justice, then the revolution will survive."
Robbins added, "The arrests and convictions of the Cuban Five represent a diabolical and criminal abuse of the U.S. justice system. … The struggle to free the five must continue, both for humanitarian reasons and for the sake of this country's wayward soul."
atwhit@megalink.net