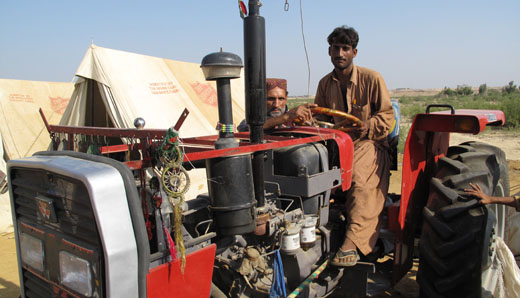 Pakistanis continue to face humanitarian hardships and large portions of the country's southern province of Sindh remain under water three months after severe flooding displaced millions, a humanitarian aid group reported this week.
According to Oxfam, more than a million people in the most affected region of Sindh are displaced, their homes damaged or destroyed. Tens of thousands of families, who had sheltered in schools and other buildings, are now being newly-displaced as schools re-open. Large areas of land are still under water and some communities remain surrounded by flood waters.
The remaining water threatens the effectiveness of the global aid effort, and government officials are predicting the water may not recede for six months.
Hidayat Siyal will not be able to return to her village in Bubak Union Council, Sindh, for months because of the water. She is staying at a relief camp in Jamshoro district.
"We are unemployed and have no money. Normally, we farm on our landlord's land and have got heavily into debt," she said. "It will take at least a year and a half before we can harvest. We should grow wheat next; but it is impossible to plant because of the floods. We are facing huge losses."
Oxfam also reported that international, amounting to only $1.7 billion in pledges, or little more than $40 per person, has been drying up. Meanwhile, reports of disease and malnutrition are on the rise.
There have already been 99 confirmed cases of cholera since the start of the floods. According to the United Nations, 10 million people are in need of immediate food assistance. The funding shortfall is so serious that existing regular food rations to 3.5 million people could be in jeopardy.
Tens of thousands of families, who had sheltered in schools and other buildings, are now being newly-displaced as schools re-open.
Mohamad Razi, 19, who is staying in a relief camp, said, "It's too flooded to go back home. The water is six feet high. No-one will be able to plant anything. We should be planting next month, but we will have to wait a year."
The flood will harm his livelihood for years to come, he said. He bought a tractor on credit and should pay back the loans in monthly installments. "I was hoping to may repayments after the harvest; but our crops were ruined and we wont be able to farm for quite a long time Maybe they will re-possess or tractor. It's a big disaster."
"The crisis is far from over. Parts of southern Sindh, the worst-hit area, still remain a disaster zone. When the world's attention was focused on Pakistan's flood victims there was a chance of seeing substantial aid being delivered. But as the worst of the flood waters have receded so has the promise of significant funding", said Neva Khan, Oxfam's director in Pakistan. "The UN emergency appeal is less than 40 per cent funded. Many of the world's richest countries are failing the flood victims, who are amongst the poorest and most vulnerable in the world."
Across the country nearly two million homes are damaged or destroyed and 7 million people do not have adequate shelter. With winter a few weeks away, there are fears that malnutrition rates, pneumonia and other respiratory infections will sharply increase.
Photo: Oxfam. Mohammad Razi, 19, says flooding will prevent him from planting crops, and as a result the tractor he bought on credit may be repossessed.