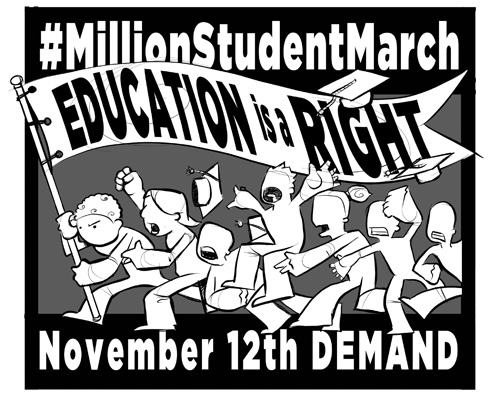 "High school, college, and graduate students, recent graduates, campus workers, former students, and often their parents and grandparents will pour out into the streets and attended rallies from one end of the country to the other Nov. 12 in a "national day of action" organized from the #MillionStudentMarch website.
They will demand tuition-free college, cancellation of outstanding student debts and a $15 minimum wage for campus workers.
Tens of thousands who can't attend physical marches or rallies can use social media to organize people around those issues and stage virtual protests.
According to the #MillionStudentMarch website, 58 percent of the $1 trillion owed in student loans are held by the poorest 23 percent of Americans; and while college administrative leaders often take home six-figure salaries, "many campus workers are paid poverty wages and are forced to rely on federal and local assistance."
The March was inspired by a comment presidential candidate Bernie Sanders made to Katie Couric of CBS News during a May 31 interview: "If a million young people march on Washington," Sanders said, "[and] they say…you better vote to deal with student debt. You better vote to make public universities and colleges tuition free, that's when it will happen."
Elan Axelback, a third-year student at Northeastern University in Boston is a key organizer of the Million Student March. Axelback described the nationwide movement as one with "calculated, strategic demands," working together with organized labor.
The movement has been working closely with the Fight for 15, a labor-backed group and with National Nurses United, the nation's largest union of nurses among many others.
Protestors are not under the illusion, however, according to Axelback, "that we'll march Nov. 12 and then we'll have 'Free College!' on the 13th;" rather, the organizers aim to be a "hopeful catalyst on the long road to real change."
Axelback says the #MillionStudentMarch will be the "indispensible first step" in reforming the student loan system. Freeing up all the money students now owe to banks, he said , "will create a huge, I mean, massive stimulus to the economy" after the recession. He cites the 16 percent under-employment rate as a major barrier to loan repayment and social mobility. He says higher education is a "total contradiction; as tuition has gone up, wages have gone down."
Axelback says the increasingly extreme right-wing control of local and federal governments results in cuts to public education and stagnant wages-creating what Axelback calls an "utterly catastrophic" economic outlook for past, current, and future college students.
The #MillionStudentMarch organizers point blame towards a myriad of complex economic forces, but can clearly identify "big banks," greedy university salaries, and a "government funded by corporations" as major parts of the seemingly insurmountable problem.
"The system of capitalism," Axelback said, "is incapable of providing people with an education" because "the neo-liberal banks and corporations who establish our government aren't interested in human beings, but in making a buck."
Find a #MillionStudentMarch in your area.
Note at end of story: People's World will be at the Chicago protest collecting photos of people announcing their outstanding student debt amount.
If you would like to submit your own photo protesting your student debt, use the social media hashtag #IAmNotALoan or email your submission to ELikins@PeoplesWorld.org.
Photo: Student March