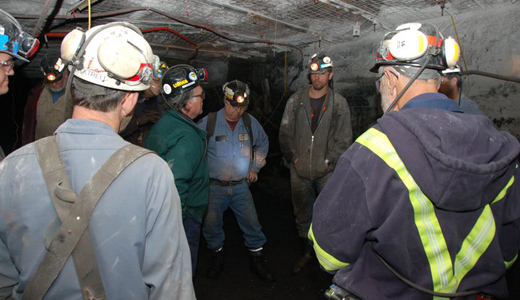 SHEPHERDSTOWN, W.Va. – Two mineworkers were killed late Monday after being trapped in a collapse in a coal mine in Wharton, W.Va., operated by the Patriot Coal Company. A spokeswoman for the U.S. Mine Safety and Health Administration, Amy Louviere, said in an email to the New York Times that the Brody No. 1 mine had a "ground failure." That is a term that federal safety experts say indicates that a mine roof lacked the support needed to prevent it from caving in. Eric D. Legg, 48, of Twilight, W.Va., and Gary P. Hensley, 46, of Chapmanville, W.Va., died in the incident, which occurred at approximately 8:47 p.m.
The West Virginia Office of Miners' Health, Safety and Training confirmed that a fatal incident had occurred Monday night at the Patriot Coal Brody No. 1 Mine in Boone County, south of Charleston, the state capital.
No additional injuries have been reported, and no miners were reported trapped. The killed miners' bodies have been recovered. Federal and state mine safety inspectors are conducting an investigation at the site. Preliminary indications are that the incident resulted from a coal outburst. An outburst is the sudden and violent ejection of coal, gas and rock from a coal face and surrounding strata in an underground coal mine. Preliminary reports from emergency medical technicians at the site indicate the mine's two side walls caved in.
The company said in an email that the two miners who died "were conducting retreat mining operations, in which pillars of coal supporting the roof are removed." Retreat operations are usually performed in mines whose coal deposits are largely played out.
United Mine Workers of America Communications Director Phil Smith expressed heartfelt condolences and sympathy for the miners and their families but withheld further comment on the fatal incident until more is known. The mine is non-union.
St. Louis-based Patriot Coal Corp. has been the subject of a lengthy and bitter conflict over miners' pensions and health care. In a notorious scam, not uncommon in the coal industry, the company, in league with a bankruptcy judge, attempted to spin off all its valuable assets into a new company and escape its obligations to thousands of workers by wrapping a bankruptcy chain around them and, by a legal maneuver, throwing them on the scrap heap. UMWA President Cecil Roberts has personally suffered arrest numerous times in protest against this action by Patriot.
The New York Times reports that the Brody mine has a history of federal citations for safety violations, according to inspection reports on the safety and health administration website dating to January 2011. Federal officials notified Patriot in October that the mine exhibited "repeated violations of mandatory health or safety standards." Forty-six citations, including 16 in 2013 and 2014, were for unwarrantable failure to comply with safety rules, which the agency defines as "aggravated conduct constituting more than ordinary negligence." In the 12 months that ended Aug. 31, 2012, the mine was cited for more than 250 significant and substantial violations, meaning that they were reasonably likely to cause a serious injury.
The Charleston Gazette reported on Tuesday that federal audits in 2012 and 2013 uncovered 37 injuries to miners that the company did not report to federal safety officials. In addition, federal records show that the mine, which employs about 300 people, produced a million tons of coal last year, a substantial amount in a region that has been mined intensively for scores of years.
Patriot's executive vice president for operations, Mike Day said, "We express our deepest sympathies to Eric's and Gary's families, friends and co-workers." He promised: "We are fully cooperating with state and federal mine regulatory agencies to investigate this incident."
U.S. Senator Jay Rockefeller, D-W.Va., had a different tone. "Along with West Virginians everywhere, my prayers and deepest sympathies are with the families of the two coal miners we lost last night," the senator said. "We know that mining deaths and injuries are preventable, and last night's tragedy is particularly troubling given the operator's history of safety violations. Every step must be taken to make sure this operator – and all operators for that matter – are held accountable for the safety and health of their miners," .
The fatal incident comes at a moment of increased tension over mine safety worldwide, with the media filled with reports of nearly 300 Turkish miners killed by faulty air ventilation equipment. Turkish unions announced a one-day strike in protest. AFL-CIO President Richard Trumka, in a statement about the tragedy in Turkey, called it "a stark reminder of the danger workers face every day around the world due to corporate negligence and the failure of governments to protect their citizens." UMWA President Cecil Roberts said, "The magnitude of this tragedy is appalling. I see where the media is calling this an industrial 'accident,' but a disaster on this scale is no accident. This mine was clearly a bomb waiting to go off. There could not have been any regulatory enforcement or company oversight of what went on in that mine."
It is worth noting, for mine safety observers, that U.S. mining operations, while still dangerous, have far lower death rates than other countries for two reasons: first, higher wages incentivizes investments in safer and more productive mining technology; and second, the presence of union contracts and laws that penalize safety violations. Both of these are primarily the result of the century-long struggle of the United Mine Workers union in the nation's coalfields. In many countries, however, labor is so cheap that there is no incentive for corporations to invest in safer but more expensive technology, and companies have every excuse to substitute labor for capital and keep labor costs as close as possible to a subsistence level.
Photo: Union mine workers hold a meeting underground. UMWA Facebook page