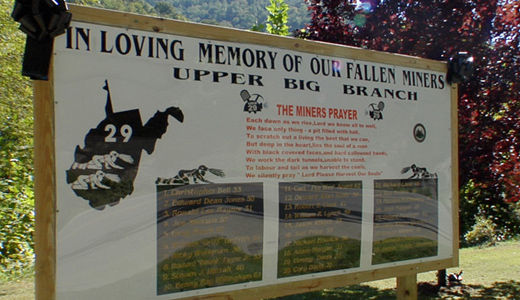 CHARLESTON, W. Va. (PAI) – The federal government rewrote its indictment of former Massey Energy CEO Don Blankenship for his role in the fatal Upper Big Branch mine explosion and disaster five years ago. The new indictment, announced Mar. 10, rolls two conspiracy counts into one and still leaves Blankenship facing up to 30 years in jail if convicted on all charges. The court will hold a preliminary hearing on Mar. 24 with trial starting Apr. 6.
But, even more importantly, U.S. District Judge Irene Berger, who is hearing the case, lifted the gag order she imposed last year on everybody involved, including the families of the 29 workers killed in the blast, their attorneys and Blankenship. That will let the survivors start telling prosecutors, and the media, about the explosion and its aftermath.
It will also let the families of the dead miners use their experience to testify before the GOP-run West Virginia legislature in its hearings on corporate-backed legislation to gut the state's mine safety laws and to enact a so-called right-to-work law.
The U.S. attorney for West Virginia indicted Blankenship last November on counts of violating mine safety and health laws, conspiracy to do so, impeding federal mine safety officials, making false statements to the Securities and Exchange Commission about the financial impact on Massey from lawsuits resulting from the UBB blast and securities fraud.
Investigations by the Mine Safety and Health Administration and the Mine Workers showed a pattern of unsafe conditions at UBB, and more importantly, a culture that put profits before safety at Massey. Blankenship ordered and fostered that emphasis, probers found.
But the gag order barred the families of the dead miners from publicly discussing the company's actions. Now they can do so, Berger ruled.
That's important because the legislature is pondering measures to gut state mine safety laws. The Mine Workers are campaigning against that bill and against right to work, too. The GOP controls the state senate 18-16 and the state house 64-36.
If it takes effect, "right to work" would let miners-and other workers-use any union's services without having to pay either dues or agency fees for them. That would cost UMW money it needs to be an advocate for non-union miners killed or injured in West Virginia, both in probes such as at Upper Big Branch and before the legislature.
State legislative action "to gut mine safety law puts miners at greater risk of severe injury or worse," the Mine Workers said in alerting their members to call their lawmakers.
Though the Upper Big Branch mine was non-union-as was the rest of Massey-UMW stepped in, using its mine safety expertise and at the families' request, to probe the 2010 blast and be a miners' advocate.
"The coal industry is saying the state needs to do this because West Virginia's mine safety and health law is more stringent than federal law. You bet it is, and for a very good reason," the union said.
"West Virginia is always at or near the top in the number of miners who are killed on the job every year, and we have more miners working in the dangerous underground environment than any other state. They need every single protection they can possibly have, especially those who work at nonunion mines and do not have the ability to speak up for themselves without fear of getting fired," the union added.
"As long as miners continue to die in West Virginia's mines, we need to be looking for ways to strengthen health and safety protections, not gut them. Have we forgotten the lessons of Sago, Aracoma and Upper Big Branch so soon? Are the lives and limbs of miners any less important today than they were last year, five years ago or 20 years ago? It would seem so, at least for some.
"This legislation is…about taking money out of the most advanced state safety and health requirements in America and putting it in the pockets of coal operators," UMW said.
"When safety standards are cut, miners die. It's that simple. Let's not get to that point. I strongly urge our legislators, before it's too late, to stop this bill," said UMW President Cecil Roberts.
Photo: PBS.org