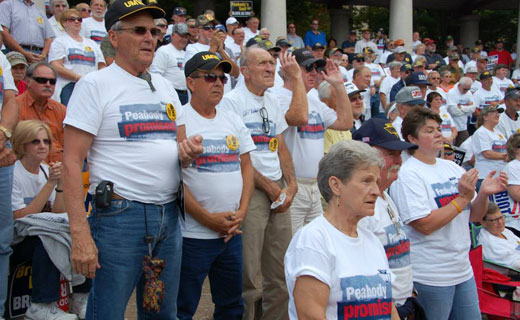 ST. LOUIS – "This is a struggle for all that is good and decent in our country," Steve Earle, United Mine Workers of America (UMWA) District 12 vice president, told nearly 2,000 mine workers, and their labor and community allies, as they rallied here on September 24 just steps away from Peabody Energy's national headquarters.
Earle said, "Corporate America has declared war on the working class."
The UMWA has been in a struggle with Peabody Energy – and its shoot-off companies Arch Coal, Heritage Coal, and Patriot Coal – since Patriot declared bankruptcy last year in an attempt to shed health care and pension obligations owed to thousands of mineworkers.
In mid-August union mine workers ratified a new contract with Patriot Coal covering 1,800 miners. The five year contract restores all but $1 an hour in wage cuts; some company imposed wage cuts neared $8 an hour for some job classifications.
The new contract also increases mine workers' pay by 50 cents anhour annually starting in 2015 and eliminates monthly premiums for health care coverage.
Most importantly, especially for the aging union membership, the contract caps annual out-of-pocket health care expenses at $1,600 down from $4,000 and life insurance, vision, dental, accidental death and dismemberment insurance have all been restored.
Patriot Coal had received approval from a bankruptcy judge in July to impose more severe cuts. However, due to overwhelming community support for the mineworkers it chose to instead negotiate new terms with the union.
Unfortunately though, the settlement with Patriot only covers a fraction of the nearly 20,000 mineworkers who have worked for Peabody Energy, the world's largest and most profitable coal company, Arch Coal or Heritage Coal – all Peabody shoot-offs – which is why the UMWA has continued to protest outside of Peabody's national headquarters here in St. Louis.
UMWA international president, Cecil E. Roberts, said in a press release after the August settlement, "Make no mistake: Peabody Energy and Arch Coal created this problem. They made the promise of lifetime health care to our members, and we will continue our efforts to hold them to their word."
Claude Cummins, Communications Workers' Union of America (CWA) District 6 vice president, connected his unions – and all union members – self-interest in this struggle when he said to the assembled activists, "The issues you face today we'll face tomorrow. And somebody else will face them after that. We're not going to stand for it."
He added, "We'll fight until hell freezes over and then we'll fight on the ice."
Cummins, representing 63,000 CWA members in Texas, Oklahoma, Kansas, Arkansas and Missouri, also sent a warning to elected officials. "If you don't stand with us" when it is time to protect retiree benefits then "we're not going to stand with you."
Coalition of Black Trade Unionists (CBTU) international president, Terry Melvin, also addressed the crowds, declaring, "I stand shoulder to shoulder with you because I am today a mineworker. I've never been in a mine, but I am a mineworker. And I will not stand down. I will stand by your side until the end of this. We are one."
Melvin added, "We may have come in different ships, but we're all in the same boat now. We're in a war. This is a war, an assault on workers and unions across this country."
St. Louis CWA Local 6300 and the St. Louis chapter of CBTU both brought large contingents to the September 24 rally to show support for the mineworkers.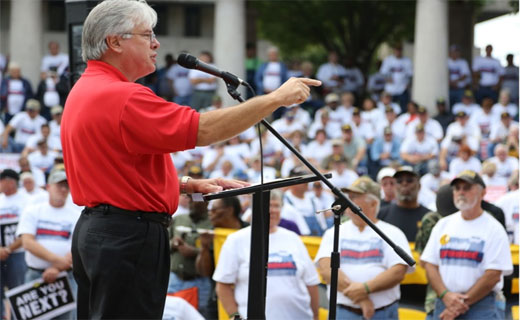 Waiving his hand out to the crowd the Rev. John Stratton said, "Christ walked among us. He wasn't a CEO or an executive. He was a worker from a rural town. I am standing with The Christ in my midst."
Stratton talked about the Biblical parable The Sheep and the Goat found in Matthew, where Jesus says "What you have done unto the least of me you have done unto me."
In the parable the sheep are blessed because they took care of the hungry, the thirsty and the homeless, while the goats are sent into eternal hell-fire because "what you did not do for the least of these, you did not do for me."
Stratton called Peabody's CEO's "goats in three-piece suites."
He added, "Goats eat everything, your garden, your trash, the shirt off of your back. Goats are never satisfied. Their thirst can never be quenched. And these goats over at Peabody are eating your health care and pension. There will be a reckoning."
Mike Louis, secretary-treasurer of the Missouri AFL-CIO, also addressed the crowd. He said, "This is the Show Me State, but you're showing us, you're showing the state what standing together is all about."
Louis called Peabody "corporate pirates" and added "this fight is far from over. Crumbs are not good enough for the UMWA. You determine when you've gotten a fair shake. Not until then is this over."
UMWA international president, Cecil E. Roberts, ended the rally with a call to arms. He said, "We may not be the biggest union in the country. But," he added, looking up at Peabody's headquarters just across the street, "It's not the size of the dog in the fight. It's the size of the fight in the dog."
Roberts called on "every single union in the United States to stand up with us" and "turn America around. Start the spark that we need in America."
"The door is wide-open. We want, we need you in our movement," Roberts concluded before he and 14 other mineworkers and supporters were arrested as part of their non-violent civil disobedience outside of Peabody Energy.
1st Photo: Fairness at Patriot Facebook page
2nd Photo: Mike Louis, Missouri AFL-CIO secretary treasurer. Courtesy of Gary Otten