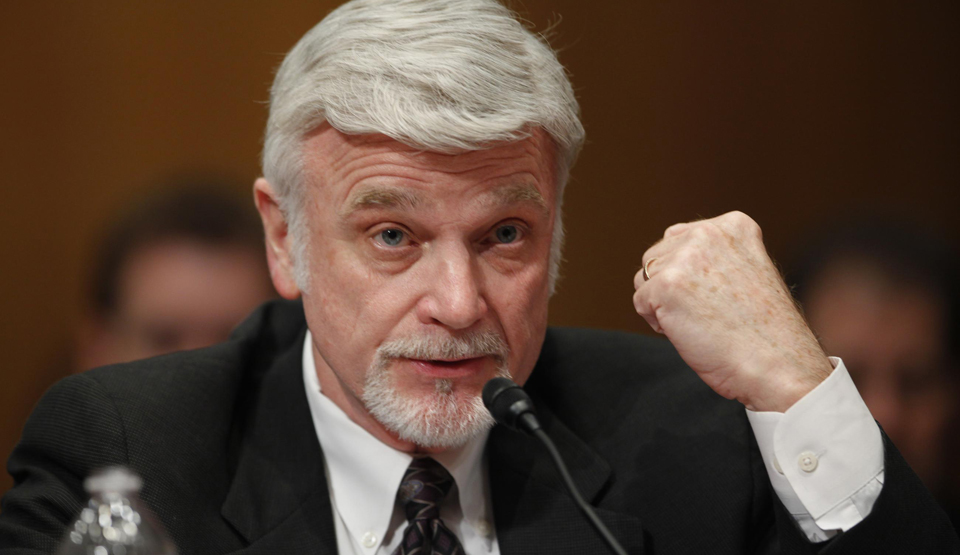 WASHINGTON—Mine Workers President Cecil Roberts is urging quick House passage of two pieces of legislation, HR934 and HR935, to protect the solvency of federally promised miners' pension funds. The House Natural Resources Committee approved both on Oct. 23. The Mine Workers lobbied hard for the pensions.
The measures, by House Education and Labor Committee Chairman Bobby Scott, D-Va., and by Rep. David McKinley, R-W. Va., whose district includes many coal mines, miners and retirees, aim to ensure the two pension plans, one created in 1947 and the other in 1974, don't run out of money.
Legendary Mine Workers President John L. Lewis and Democratic President Harry S Truman created the older plan, while Congress approved the more-recent one.
The catch is both depend on revenues from coal companies, which send a pennies-per-ton tax to the pension funds. But coal production has been declining and the 2008-2009 crash put many of the companies into bankruptcy court, where they could shed the pensions.
As coal mines are increasingly mechanized, there are fewer active miners and far more – and more-sickly – retirees and survivors for pensions or health care plans to cover. Health care plans covering 22,000 active miners face a financial crunch, too, McKinley says.
"This is a tremendous first step for our retirees whose pensions and health care are under threat," Roberts said. "We have been fighting to move this pension legislation forward for nearly a decade in the House. Today's vote is the culmination of a lot of hard work and action by our members and our allies on Capitol Hill."
Without the two bills, UMWA says pensions – often as little as $400 a month – for 100,000 retired miners or their beneficiaries – would disappear, along with the health care coverage. McKinley predicted the pensions would run out of cash in 2022.
"When the recession started" and the coal firms went broke, "people said 'You can't do anything about that because of the law,'" Roberts told the National Consumers League the night before the House panel vote. "But we started challenging that."
"They said 'You are never getting anything from the Republicans," but we got it," a temporary federal extension of pension coverage. One of the two bills the House panel passed provides another extension.
"Coal miners are among America's hardest working people. They risk their health and put their lives on the line each day. Thank you to @NRDEms for voting to advance the Health Benefits for Miners Act and standing with our nation's coal miners," Scott tweeted.  McKinley agreed, and authored a bipartisan letter to House Speaker Nancy Pelosi, D-Calif., seeking quick action on the two measures.