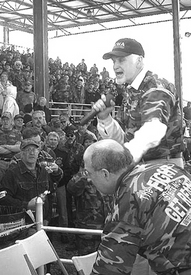 PITTSBURGH — At a time when strikes are measured in months, concessions are the beginning of negotiations, and it takes years for new union members to get the company to talk to them, coal miners at Foundation Coal Co. look like they will beat the odds. It was Pennsylvania and Illinois miners' rock solid unity that forced Foundation to sign what has been called, a national non-give-back contract with the United Mine Workers of America (UMWA) in just eight days.
"The strength and solidarity displayed by our members over this past week has been simply outstanding," said UMWA President Cecil Roberts. "It was clear to all concerned that they were sticking together and were not going to back down. I commend them, their families and their communities for their tremendous unity and sense of common purpose."
Miners returned to work April 13. Details of the new contract have not been released until the UMWA has an opportunity to discuss the agreement with miners. Miners will then vote on the contract.
In a press release, Roberts said the contract brings UMWA members at Foundation into the national agreement signed earlier with the Bituminous Coal Operators Association. That five-year agreement provides for a 4 percent raise per year, maintains health care with no reductions of benefits or co-pays, and secures retiree benefits and health care.
The day 1,800 miners rallied in Waynesburg, Pa., Foundation Coal announced it was closing its Wabash Mine in Illinois. While no collective bargaining anywhere has been able to halt a closing, keeping Wabash miners in the UMWA family enabled the union to cushion the blow.
"We have also negotiated a significant severance package in terms of pay and future retiree benefits for the miners at the Wabash mine," Roberts said. "One very important part of the agreement with Wabash will give those miners rights to jobs at Cumberland and Emerald (in Pennsylvania) as positions come open, which is likely to happen very rapidly. If Wabash or any other company comes in and mines that block of coal, they will do it with UMWA members, with the 2007 national agreement in place."
Known as successorship, the part of the contract mandating that Wabash coal will be mined by union miners is key. Since the 1980s, then-President Ronald Reagan's National Labor Relations Board decision allowing coal companies to close mines and re-open them nonunion has created havoc in the coal fields. Some observers charge that the government attack on the UMWA's rights has contributed to the decline in mine safety, while production and profits have skyrocketed.
Curtis Macklin, a Pittsburgh small businessman, hailed the agreement. "This is a great day. Those coal companies oughta give the miners anything they want. Think about what they do. Those men should never have to strike to get what's coming to them. Corporate greed — that's a terrible, terrible thing. But sounds like the miners won this round," he said. Macklin's family worked in the mines near Pittsburgh.
dwinebr696 @ aol.com