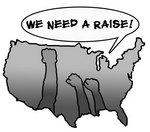 A variety of progressive, issue-oriented forces are at work in the Ohio elections, trying to build a political movement capable of ousting the ultra-right from control of state government in November.
Industrial unions, for example, are focusing on health care, trade and pensions; peace groups on the Iraq war; retirees on Social Security, pensions and Medicare; civil rights groups on issues of equality, fairness and immigrant rights; and farmers on trade, price supports and an end to corporate farming. Several groups are focusing on ensuring an accurate and protected vote count, particularly in the wake of voting problems in 2004 and in last month's primary.
In one of the most significant issue-oriented projects, the AFL-CIO and Ohioans for a Fair Minimum Wage are campaigning for a Nov. 7 ballot initiative that would raise the minimum wage to $6.85 an hour with an annual cost-of-living escalator.
For 16 years Ohio's minimum wage languished at $4.25 an hour, and only this January, when the Republican-controlled Legislature began to feel the heat of the current campaign, did the lawmakers raise it to the federal minimum, $5.15. While the GOP may have hoped to blunt the drive with this maneuver, it failed to do so. Petitioners have already gathered about 250,000 signatures, half of their goal. The filing deadline is Aug. 9.
Supporters point out that raising the minimum wage is something that would benefit all workers, union and nonunion. An increase would boost economic activity by increasing the purchasing power of millions of workers, as evidenced in the states that have already done so. This benefits small business and farmers, and creates more jobs, they say.
The minimum-wage coalition is circulating petitions in every part of the state, gathering signatures door-to-door and at shopping centers, county fairs, campaign rallies and town meetings. In addition to the AFL-CIO, groups like ACORN and America Votes are deeply involved.
The Ohio Democratic Party has urged its county organizations to help in the petition drive. The minimum wage issue has been mentioned in most campaign rallies and town hall meetings held for Democratic candidates.
Rep. Ted Strickland, the Democratic candidate for governor, supports raising the minimum wage, saying, "It's the right thing to do."
"When people work," he said, "they should be compensated for that work."
By contrast, Ken Blackwell, the Republican gubernatorial candidate, opposes the plan. "I think the … initiative is an ill conceived idea," he told reporters. "It would probably drive out capital investment and job creation."
Blackwell, an arch-conservative African American, has been going around the state meeting with leaders of the religious right, preaching the evils of abortion and gay marriage. With support of right-wing anti-tax organizations, he campaigned for a ballot initiative to freeze state spending. This was too much for his business backers, who forced him to accept a "modified" plan with plenty of loopholes for corporate welfare.
Labor is supporting a full slate of candidates, including Strickland. Rep. Sherrod Brown is running for U.S. Senate, emphasizing the issues of trade and jobs. Both he and Strickland have very favorable voting records on worker issues in Congress.
Several Democratic candidates for Congress are running with labor's support, including Betty Sutton in the 13th District (Lorain), Mary Joy Kilroy in the 15th CD (Columbus) and Charlie Wilson in the 6th CD (Steubenville). Marc Dann, who is running for Ohio attorney general, has denounced corruption in state government. These and other labor-backed campaigns, many of them for local office, are getting into full swing.
This is the first time in the memory of many veterans of Ohio's election campaigns that there has been such a high level of labor and constituent groups unity around a set of candidates, including unity within the Democratic Party. This bodes well for the outcome in November, they say.
TOWN HALL May 2 – Confronting the COVID Economy: Women Fight Back