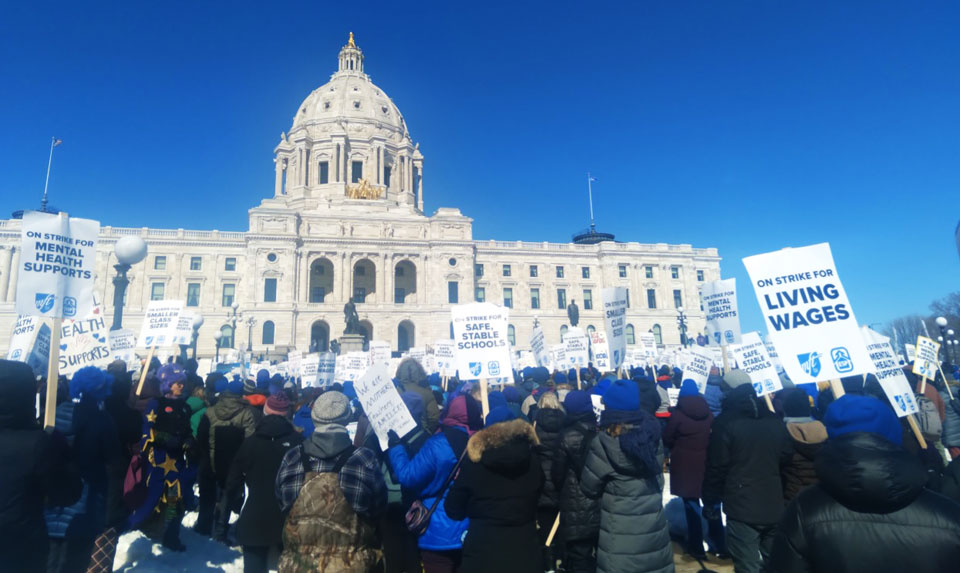 MINNEAPOLIS—For Rebecca Pera, a former Twin Cities-area teacher, now parent of a 14-year-old city middle school student, the Minneapolis teachers' and support staffers' strike, whose picket line she joined when the workers were forced to walk out in early March, "reverberates far beyond Minneapolis."
And that's not just her opinion, that's her ex-colleagues, the other teachers, speaking, too, Pera adds.
Pera is one of thousands of Minneapolis residents who have joined the members of AFT (Teachers) Local 59, on the picket lines every day since the school board and school bosses forced its 4,000 teachers and education support professionals (ESPs) to strike.
Key issues include higher pay for the support staffers and starting teachers. Pera tells the story of a former colleague, teaching English as a second language, who has to take second and third jobs to make ends meet.
But class and ideology are involved, too, she said in a telephone interview—and that's what makes the Minneapolis confrontation nationally important. It's a case, she says "of maintaining strong public"—she emphasized the word—"schools all across the country."
Pera explained there "is so much militancy" among the teachers, staffers, and supporters on the picket line because they're battling "the corporatization" of the schools. In the Twin Cities, the Minneapolis Foundation, whom she terms "large corporations which determine public policy," are leading that push.
"This is about highlighting we need to oppose that status quo," Pera adds. "They're seeing public education through the lens of the corporate free market—and the kids are bearing the burden."
Corporatization in various forms has threatened schools for years, she explained. Former GOP Gov. Arne Carlson imported teacher candidates from Teach For America, an ostensibly non-partisan, but business-backed and anti-union teacher training consortium. Carlson also pushed taxpayer-paid vouchers for parents of private school kids, she said. And Minneapolis isn't the only district to suffer
The most-infamous graduate of Teach For America was Michelle Rhee, hired by former Washington, D.C., Mayor Adrian Fenty in 2007 as chancellor to "clean up" the public schools in the Nation's Capital. Pictured, stern and scowling, on the cover of Time wielding a broom, Rhee made teachers—and specifically the Washington Teachers Union, AFT Local 2–her scapegoat.
The result was constant tension between the union and D.C. parents on one side and Rhee and her administrators on the other. Fenty lost a re-election bid in 2010, due in part to the conflict over Rhee. She saw the handwriting on the wall and quit before new Mayor Vincent Gray could fire her. But D.C. still has mayoral control of the city schools.
Firing didn't stop Rhee. She took her anti-teacher anti-union war to Michigan, with the loud verbal and financial backing of GOP big giver Elizabeth "Betsy' DeVos, later the GOP Trump regime's Education Secretary.
And, of course, former Chicago Mayor Rahm Emanuel antagonized the city's communities of color by renaming Chicago's schools chancellor as a "CEO" and closing 56 schools, all in Black and brown neighborhoods.
Emanuel's CEO also shorted support services, such as counseling, nurses, and school libraries. The Chicago Teachers Union, AFT Local 1, had to strike for weeks against  Emanuel's schemes—and community support was widespread.
"These pro-privatization and anti-teacher forces are really scary," commented Pera, "It's not good for the kids," the former English as a second language and primary grade teacher adds.
Local 59 notes the starting pay for support staffers, the ESPs, in Minneapolis is $24,000 yearly. The city's living wage ordinance said a family of four needed $34,450 to survive in Minneapolis in 2021, and that was without health insurance.
The school district's got the cash—some $250 million in federal funds for pandemic relief–to pay for the salaries and services the teachers and staffers want. And Minnesota is sitting on a $9.3 billion budget surplus, its ninth straight year of black ink.
But the board won't pay the staffers and the teachers enough, and it doesn't want to augment the services, Local 59 says. The top service the teachers and staffers demand: Increased mental health counseling for kids traumatized by the combination of two years of distance learning due to the coronavirus pandemic, and police murders of unarmed Black men George Floyd, Daunte Wright, and Amir Locke.
"What the ESPs are looking for—and the teachers are supporting them—is a living wage," AFT President Randi Weingarten declared in a video of the first union rally downtown. "How can you support a family on $24,000 a year?"
The board's stand is "driving families out of this (school) district," added Local 59 President Greta Callahan. It's also impoverishing the ESPs. "I've worked at McDonald's, you know, just to subsidize my income," said Hope Hartwig-Boswell, an ESP with a Ph.D.
The students, including Pera's son, Hank Pera Cole, have been out on the picket line with their teachers and parents, too.
"My teachers are cool!" the middle school student texted. "The district is being abusive because my teachers are asking for better pay and smaller class sizes and the district isn't listening to them. I want to see my teachers on the picket lines this week!"