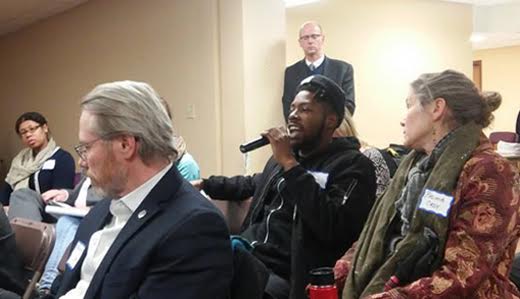 MINNEAPOLIS (PAI) – After a pause for a city-mandated study, Minneapolis has resumed its march towards enacting a paid sick and family leave law.
When the campaign succeeds, it will join dozens of cities nationwide along with five states – the latest was Vermont – to give workers paid sick and family leave, even as the Republican-run U.S. Congress refuses to consider it.
The Minneapolis Labor Review reported the city's Workplace Regulations Partnership Group, created last October, held 14 listening sessions on the proposal, pushed by Fightfor15 and the city's unions and Mayor Betsy Hodges.
The partnership group, even after hearing repeated business opposition not just to paid sick leave but to the entire local Working Families Agenda, voted for paid sick leave in late March, with only one "no" vote.
The found that "estimates suggest that between one-third to one-half of Minneapolis residents do not have access to paid sick time, with those residents more likely to be women, people of color, and concentrated among lower-wage earners, working less than full-time."
Its recommendations for the Minneapolis ordinance include:
All workers – full-time, part-time, and temporary- who work at least 80 hours in a year should be eligible to earn sick time;
For businesses with four or more employees, sick time would be paid;
Sick time would be unpaid at "micro-employers" with three or fewer workers;
Workers would earn one hour of sick time for every 30 hours worked;
Workers could earn 48 hours per year and hold up to 80 hours in a "bank;" and
The policy would not apply to workers whose jobs offer benefits that meet or exceed these standards. Many union contracts have more-generous paid leave benefits.
"We're excited and feel strongly about the recommendations we're putting forward," said Chelsie Glaubitz Gabiou, president of the Minneapolis Regional Labor Federation, who served on the partnership group.
"It was a process that involved listening to hundreds of workers and employers and tough negotiations among stakeholders," she added.
Though union members generally receive paid sick time as part of their contracts with employers, Glaubitz Gabiou said the federation backed the group's recommendations because "In this time of the changing nature of work, it's particularly important we show all workers ­- including low-income workers – that the labor movement has your back.
"Hopefully, this will inspire more workers to think about forming unions in their own workplaces."
Meanwhile, in Vermont
Gov. Peter Shumlin (D) signed the Green Mountain State's paid sick leave law on March 9. It will aid some 60,000 workers. The campaign for paid sick leave took 10 years. For large employers, the law will take effect next year.
Vermont's law says employees who work at least 18 hours a week will accrue three days of paid sick leave starting in 2017, rising to five days in 2019. Employers with five or fewer employees will come under the law in 2018. Temps and teenaged workers can't take sick leave. Reactionary retailers forced the legislature to omit the teenagers, who were included in earlier versions of the measure.
A fact sheet distributed by paid leave backers said Vermont's law will aid workers, notably those in lower-paying jobs, who don't already receive the benefit, including restaurant and day care workers.
Shumlin called the new law "consistent with Vermonters' values" and a public health improvement. He pointed out that, nevertheless, "It's still tough to make ends meet at the lower end of the pay scale. If you also have to choose between being sick and losing your job, it's a double hardship."
With the new law, workers would not have to "make the tough choice between going to work or losing your job," the governor added. Nationwide, the Centers for Disease Control reports food service workers must make that choice – and they go to work sick (12 percent of food workers said they had worked when they were sick with vomiting or diarrhea).
The American Federation of Teachers, which represents workers in Vermont hospitals and universities, pushed for the paid sick leave law. It was also part of the bargaining platform for the Vermont Federation of Nurses and Health Professionals, an AFT sector.
So did the Vermont Businesses for Social Responsibility, which represents more progressive companies. As usual, the so-called National Retail Federation – represented by its Vermont affiliate – battled long and hard against paid sick leave.
President Barack Obama hailed the Vermont law and used Shumlin's signing to again urge the GOP-run Congress to pass a national paid sick leave law. "Until Congress acts, I urge other states to follow Vermont's lead. And I'll continue to do everything I can as president to support working families – because it's the right thing to do to give everyone a fair shot to get ahead," he said.
"This action means thousands of families will no longer have to choose between losing income and taking care of a sick child. It's a choice no one should have to make."
But while they won in Vermont and progressed in Minneapolis, advocates of paid sick leave suffered one possible setback: In Washington, D.C., Mayor Muriel Bowser (D), in her State of the District 2016 address, endorsed the $15 minimum wage – but omitted paid sick leave. A paid sick leave measure has been pending before the City Council. Her omission puzzled workers and their supporters.
Steve Share of the Minneapolis Labor Review contributed material for this story.
Photo: Community organizations like NOC organized, mobilized, and strategized to pass earned sick and safe time across Minneapolis. Neighborhoods Organizing for Change.