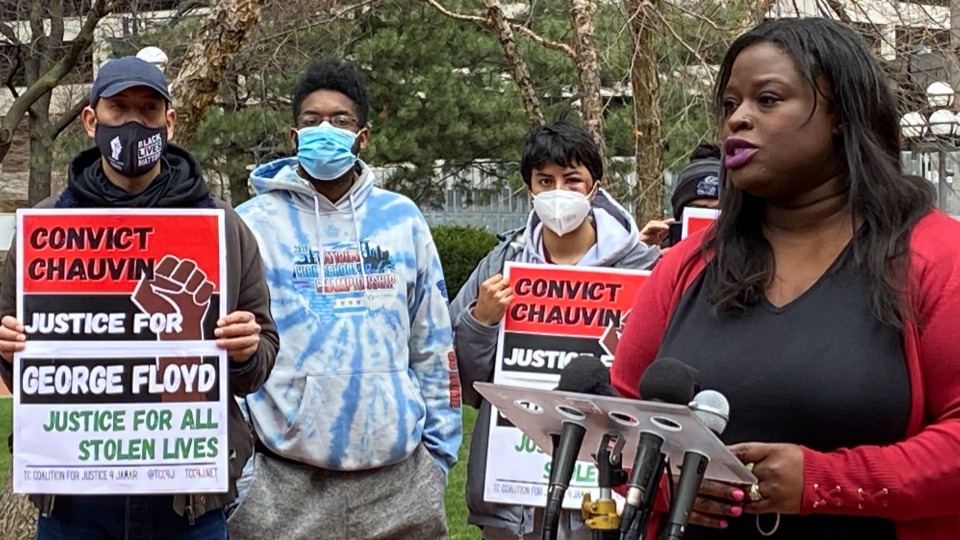 BROOKLYN CENTER, Minn. — At a press conference on Thursday activists demanded Democratic-Farmer-Labor Gov.Tim Walz end his administration's use of fascist, police-state like tactics to sweep protesters off the streets in Brooklyn Center, the city where Daunte Wright was killed.
Attorney and civil rights activist, Nekima Levy Armstrong, demanded the immediate removal of John Harrington, the Gov.Walz appointee that heads the state's Department of Public Safety. "It does not matter, that he is Black," she said referring to Harrington. "He cannot hide behind his race and think that we are going to ignore the brutality that he has ordered. He has established a joint task force that is a terror force against Black people, brown people, indigenous people."
Nightly officers from a consortium of area law enforcement agencies in the northwest suburbs descend on the area outside the city police building to enforce the curfew. Dressed in high-tech combat and swat team gear they sweep along the streets as they launch tear gas and flashbang grenades ahead of them.  Residents report the gasses seep into nearby apartment buildings and homes and the grenades frighten their children.
The neighborhood surrounding the police building includes apartment buildings and homes predominantly occupied by people of color. The City of Brooklyn Center is majority people of color. "If those homes had been inhabited by white, affluent families, we would have not seen what we are seeing today," said Jaylani Hussein, Executive Director of the Minnesota chapter of the Council on American-Islamic Relations (CAIR-MN).
The city's first Black mayor, Mike Elliott, in an interview with local media criticized the tactics employed. "Gassing in my opinion is not a humane way of policing." Since his statement law enforcement has reportedly pulled back on its use of tear gas.
Coalition members recalled some of the police terror tactics used against peaceful protesters standing firm in exercising their First Amendment rights.
Protesters arrested for violating curfew are subjected to a 36-hour hold, a provision in Minnesota law typically used in DWI arrests. Some were sent to jail with injuries from rubber bullets.
Levy-Armstrong visited one jail and described the ordeal of a trans person and several of their friends. They ran to their car as they saw others running from the police. Even as they were attempting to leave the area three police officers approached the car. Instead of allowing them to leave the officers proceeded to drag the trans person out of the car and cuff and arrest them.
Michelle Gross of Communities United Against Police Brutality (CUAPB) told of a woman who lives in an apartment across the street from the police station. The woman came outside her home in her bathrobe to ask the police to stop using flashbangs and excessive force because of the impacts on her and her children. Officers then arrested her in her bathrobe instead of addressing her concerns.
Victor Ramirez, an immigration rights activist, who was at the press conference, was hit with a rubber bullet that just missed his left eye yet fractured bones of the eye socket. He said he was just "standing there, showing solidarity for black brothers and sisters," when the bullet struck him.
Following Ramirez, Levy-Armstrong had a message for journalists in Minnesota from outside of the country. "Many of you may have thought that what happened with Derek Chauvin's lynching of George Floyd in broad daylight was an anomaly, but these are the types of incidents and abuses that we have been talking about for years. Minnesota is not an oasis of progressivism, it is the Jim Crow North and often people deliver racism, white supremacy, and police brutality, with a smile."
"Navigators" no friends of the people
D.J. Hooker, from the Twin Cities Coalition for Justice for Jamar Clark, spoke about his experience speaking at protests. He charged that the so-called street navigators paid by the City of Minneapolis have been disrupting protests.  "Unfortunately, a lot of these people are Black, because that's what the agents of the state do." adding that "All skinfolk ain't kinfolk."  They get paid $15 – $20 an hour, yet even if you work with them they "don't care about you."
He recalled several confrontations with the "navigators." One time they disconnected his microphone from the sound system after they told him what he was saying was "not allowed." Another time a navigator stood in front of his face to disrupt his speaking. Hooker took a few steps back in an attempt to deescalate the situation only to find another navigator pressing against his back.
The coalition laid out a series of immediate demands as well as long sought after systemic change.
Stop the attacks on protests.
No more curfews.
Drop all charges on protesters and release those in custody.
Stop the City of Minneapolis street navigators program from disrupting protests.
Johnathon McClellan, president of the Minnesota Justice Coalition, comprised of about a dozen organizations fighting police violence summarized some of the groups' legislative goals.
They call for ending qualified immunity, establishing police professional liability insurance, strengthening civilian oversight, prohibiting police only responses to mental health calls, extending the statute of limitations on wrongful death at the hands of law enforcement, creating an independent investigatory and prosecutorial body to handle police killings and police misconduct, reopening all the cases of police murders across the state, granting access to body cam footage within 48 hours and ending no-knock warrants.
His messages to legislators: "We gave you a roadmap, we drafted the bills, we testified in hearings. Now do your job."  He challenged legislators and Gov. Walz to "get on the right side of history or you can be swept up in the dustbin of history. Either way, justice will be done. We are not going back. This is not a moment, I'll say that again, this is not a moment. It's a movement."
McClellan ended with a pointed message to the governor. "Governor Walz we're tired of the lip service jump into this fight with both feet."
Levy-Armstrong spared few words in challenging the DFL establishment. "We want to put the DFL on notice. You can no longer hide behind your status as Democrats, whether you are Joe Biden and Kamala Harris in the White House, or whether you are local DFL here in the state of Minnesota. Step up to the plate, stop taking our votes for granted, hold police officers accountable. You are in large part responsible for how they have been allowed to get away with this reign of terror against Black, Brown, and Indigenous bodies for so many years." To the Republican Party, she said, "We already know what you're about. You had a white supremacist in the White House representing your values."
Coalition members contacted Gov. Walz this week to protest the police tactics and violence deployed in Brooklyn Center.
Gov. Walz responded by saying he thought "the use of those chemical weapons and those munitions have been judicious" reported Levy-Armstrong. "And so my response was, with all due respect, Gov. Walz should take his ass in front of the Brooklyn Center police station with rubber bullets and flashbang grenades, and then he can see whether he thinks that the use of those weapons has been judicious, it has not."
The escalation by state and local officials and law enforcement has been planned for months in anticipation of the trial of Derek Chauvin which is expected to go to the jury on Monday. Millions of dollars have been spent to erect barriers, fencing, and string razor wire around public buildings and police departments in Minneapolis. The state is spending millions in salaries to deploy National Guard troops, sheriff department deputies, and state patrol officers. Guard troops are stationed along the major streets of Minneapolis every two blocks standing by their troop carriers and jeeps.
It appears from the voices at the news conference that Gov. Walz has chosen to stand on the wrong side of history to get reelected in a state that is 85 percent white, instead of stand with those on the side of justice.