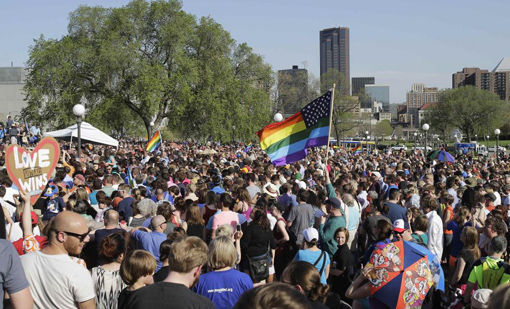 In a historic weekend for the LGBTQ community, Minnesotans dressed in their colorful outfits last weekend and prepared for days filled with love and celebration.
On Friday, June 26, the Supreme Court ruled 5-4 in favor of marriage equality. "Love Wins" became a national hashtag connecting millions of people from all over the world who supported the big win in the U.S. All over the country people celebrated. This made Pride celebrations into one of the biggest national celebrations of love. Love wins.
The fact that a hashtag can connect us instantly is a wonderful thing, however it also forces you to see that there are still people who do not know how to react to the SCOTUS decision.
For years now religious groups, churches and individual believers, have evolved from the prehistoric concept of loving God and have come to terms with the open heartedness that love is all about all people. We are moved by love; love for our family and friends, for our careers or jobs, the organizations, churches and groups of which we are a part and, most importantly, for ourselves.
Loving the people we are, respecting our bodies and our identities, that's what pride is about.
In Minnesota the weekend began with a Pride festival in Loring Park. There were overoy over 100 booths of entertainment, food, local businesses, community outreach, and religious groups and churches.
There were bands playing a variety of sounds in different parts of the park, as well as face painters and art. People waited in the middle of the park to take pictures by the #Take Pride national sign. Families, lovers, and friends, all enjoyed the happiness that filled the park. The music was still playing once the sun began to set, and people began departing the celebration, to prepare for the next big day.
The parade had already commenced when the sun started shinning brightly, reflecting and making glass buildings into a colorful array. Quickly the numbers started escalating, and suddenly there was never a gap between bodies. Everyone was together we were one community.
Onlookers chanted, sang and clapped as floats passed by. Over 150,000 people gathered at Hennepin Avenue in downtown Minneapolis to be a part of this incredible win. All kinds of people were part of the parade; again I saw many churches, businesses, organizations, schools, even the AFL-CIO and Black Lives Matter were present.
The love was there, and individually we recorded the moment, and connected our gathering with the rest of the country, by using the now so popular hashtags used in social media. The #TakePride and #LoveWins hashtags were some of the ones used nationally, and they are about more than just uniting us. They have become an evolution of Iinternet and communication, which is not far from revolution. As we instantly post our memoirs of the celebration and tie it with a national hashtag, the world responds, and they say; "I'm here too, and this is my celebration, this is how I support #Love internationally." We are awakened, we are learning, we are changing, and now we expect greatness together.
As the sun was setting, and the parade and festival ended, just a few blocks down, awaited a food truck festival to help fill the emptiness caused by the end of an amazing celebration. Local Midwestern food, was on the menu, and we were all eager to indulge. Minnesotans were proud of who they were, accepting identities and love open heartedly. During this historic event for Americans, we were an example of love and pride.
Photo: Rally for LGBT rights in St. Paul, Minnesota. | Jim Mone/AP