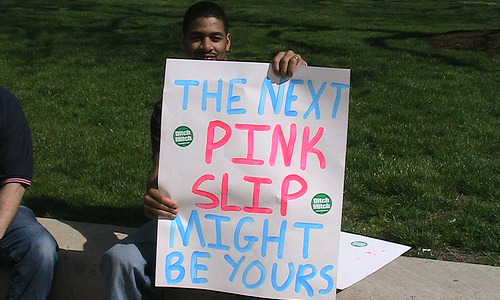 MINNEAPOLIS (PAI) – When Democratic President Barack Obama convenes a White House forum Dec. 3 to consider ways to create jobs, he should ponder a program that worked successfully for Minnesota in the 1980s, a noted labor economist says.
The Minnesota Emergency Employment Development program, known by its acronym, MEED, was in place from 1983-1989. About 45,000 people enrolled in the program, which provided a wage subsidy of up to $4 per hour ($10 in 2008 dollars) for employers to hire new workers, many of whom were low-skilled or among the long-term unemployed.
Following their MEED experience, more than 20,000 of those workers succeeded in staying on with their employer or finding other permanent, unsubsidized employment, according to a report by the Corporation for Enterprise Development.
MEED was "one of the most innovative employment programs done anywhere in the U.S. in the last 50 years and it deserves to be revived," said Timothy Bartik, senior economist for the W.E. Upjohn Institute for Employment Research. Bartik spoke recently at a program in Minneapolis on "The Jobless Pandemic: Prescription for a Cure," organized by several organizations including the JOBS NOW Coalition.
Most economists believe that while the recession has ended, employment will remain flat for the next two years. Bartik has been researching various options to address this "jobless recovery." He has championed a job creation tax credit to spur growth, but said that alone would not be enough. "It needs to be complemented by something that targets the group with the severest employment problems" – a program such as MEED, he said.
The situation for many unemployed workers is dire, said Jane Samargia, executive director of HIRED, a Twin Cities-area community organization that helps disadvantaged people and other job seekers prepare for and obtain employment. Her comments could easily be repeated by other community groups nationwide that aid the jobless – including food banks, who see huge increases in hungry jobless families.
"It can now take 18 months or longer to find employment, if at all," Samargia said. "There's a lot of disillusionment out in our community about the American dream." Programs such as HIRED have been so overwhelmed they've been forced to turn away thousands who need their help. And it's difficult to find employers who are offering jobs, she said.
Cierra Adams, a young woman who participated in the "Connections to Work" program sponsored by Project for Pride in Living, is one of the lucky ones. She now works as an office assistant for Northpoint Health and Wellness Center. Her job was created with the help of a wage subsidy. "The position was only supposed to last three months, but I treated it as an audition and got the part," Adams said.
Wage-subsidy programs – such as MEED 20 years ago – provide valuable work experience for participants and contribute to a more-trained workforce, Bartik said. They also provide incentives for businesses to create jobs – sorely needed today because of tight credit markets.
MEED was very cost-effective compared to other job creation strategies, Bartik said. In today's dollars, it would cost $33,541 to create a job through MEED, compared to the $112,000 cost of jobs created under the recently passed federal stimulus program or the $145,000 cost of indirectly spurring employment through tax cuts.
MEED also compares favorably to the $28,000 cost to create one job through a job creation tax credit and the $32,000 cost of a new government public service job.
Unlike other strategies, MEED keeps on giving, Bartik noted. Many employers retain workers after the wage subsidy ends and expand their hiring. And every increase in the training level of the workforce also encourages business growth. These developments are paralleled by a decline in the need for food stamps and other social services.
By the 10th year of the program, MEED actually makes money for the government, Bartik added. "This program keeps on increasing employment year after year," Bartik said. "The bottom line argument for this program is that it works."
Jim Glowacki couldn't agree more. Twenty-five years ago, he was struggling to start his own business on the recession-wracked Iron Range in far northern Minnesota. With the help of MEED, he hired his first employee. Today JPG Communications has several offices and employs 20 fulltime staff. "From an employer's perspective, the program helped share the risk," Glowacki said. "Today I would strongly support the program." Two Minnesota state Democratic legislators want to resurrect MEED.
For a program like MEED to succeed on a national scale, the federal government would need to spend $30 billion to create 1 million job slots with a wage subsidy of $10 per hour, Bartik said. If continued for 10 years, nearly 2.3 million jobs would be created in the final year, with the cost dropping from $33,541 per job to $13,056.
Bartik said he did not know if Obama will consider wage subsidy programs when making job creation proposals to Congress. "Now is the time for people to make the case" for programs like MEED, he said.
Photo: http://www.flickr.com/photos/labor2008/ / CC BY 2.0