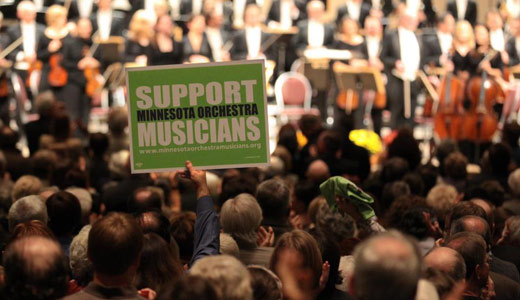 In cities across the country this holiday season, theaters will be packed for performances of the Christmas classic ballet, the "Nutcracker Suite"-in many cases performed by dancers of the Musical Artists (AGMA). Symphony halls will be full as orchestra musicians-many who are members of American Federation of Musicians of the United States and Canada (AFM)-fill the air with holiday-themed concerts.
But in Minneapolis and St. Paul, Minn., the home concert halls of Minnesota Orchestra and the St. Paul Chamber Orchestra will be dark. The world-class musicians of both highly honored orchestras have been locked out since October. The management of both orchestras is demanding massive pay cuts-as much as 50%-and other harmful new provisions.
But the AFM musicians of both orchestras are making sure Twin Cities' music lovers won't go empty-eared this holiday season.
The locked-out Musicians of the Minnesota Orchestra will perform two "Ode to Joy-Special Holiday Concerts" Dec. 15 and 16 at the Ted Mann Concert Hall on the University of Minnesota campus. Both shows sold out quickly, but standing room-only tickets may still be available. Find out more information.
On Dec. 2, the former music director of the St. Paul Chamber Orchestra, Pinchas Zukerman, returned to lead the musicians in an all-Mozart benefit concert and another former music director High Wolf has offered to conduct a Dec. 21 benefit performance of Handel's "Messiah."
AFM's International Conference of Symphony and Opera Musicians has established relief funds for musicians of both orchestras. Donations for the Minnesota Orchestra can be sent to Minnesota Orchestra Members; c/o Jason Arkis; 3916 Joppa Ave., South; St. Louis Park, MN 55416. For the St. Paul Chamber Orchestra, send donations to: Carole Mason Smith; 2190 Carter Ave.; St. Paul, MN 55108.
Here's a list of the nation's AFM symphony orchestras. Here are the ballet and other dance companies where the dancers are AGMA members.
This article and accompanying photos originally appeared in the AFL-CIO blog. The main photo appeared at the Facebook page.