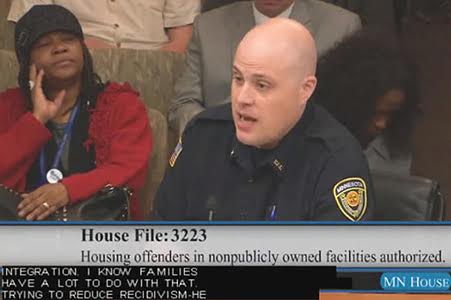 ST. PAUL, Minn. (PAI and Workday Minnesota) – Issues of race, poverty, and justice bubbled to the surface in an emotional hearing in late March over legislation to re-open a privately run state prison for profit in Appleton, Minn.
After several protesters disrupted the proceedings, the chair of the House Public Safety and Crime Prevention Policy and Finance Committee recessed the meeting to clear the room.
In the end, with 10 Republican committee members voting in favor and seven Democratic-Farmer-Labor (DFL) members voting against, the committee approved HR3223 and sent it the Minnesota House Ways and Means Committee.
While businesses rallied to the side of the private prison firm, Corrections Corporation of America (CCA), which wants to reopen the Prairie Correction Facility in Appleton, workers have a sharply different view of the matter. They oppose privatizing prisons for profit.
So do Minnesota officials, including its corrections commissioner, Tom Roy.
Private for-profit prisons and how firms that run them have been controversial for years. The AFL-CIO first opposed them at its 2001 convention, and AFSCME, as well as non-profit groups, have issued reports documenting numerous abuses at the facilities nationwide.
"The AFL-CIO remains committed to criminal justice reform, through pushing for an end to the private prison system and advocating for the restoration of voting rights for returning citizens, among other things," federation President Richard Trumka said in November 2015.
AFSCME's report noted CCA and two other leading private prison firms "pour millions of dollars into the political campaigns" of state lawmakers, governors and judges "in hopes of advancing their agenda – establishing more private prisons and reducing the numbers of public ones." AFSCME and other unions have also uncovered abuses within the private prisons, such as inmate overcrowding and rotting food.
In Minnesota, the CCA-operated Prairie Correction Facility in Appleton closed in 2010. At one time, it employed more than 350 people and held about 1,600 inmates.
State Rep. Tim Miller, R-Prinsburg, introduced legislation to require Minnesota to contract with a private firm to lease and operate the facility. Prinsburg said a private prison would ease current overcrowding and create much-needed jobs in an economically depressed area.
"Thousands of businesses, most of them mom-and-pop, most of them family-owned, would benefit from this prison opening again," added Paul Raymo, the local Chamber of Commerce president.
But several groups lined up to oppose the plan, including AFSCME – which represents correctional officers-the religious coalition Isaiah and #BlackLivesMatter. They said more prisons are not the answer and that profit-making corporations should not run prisons.
"This isn't about the people of Appleton," said the Rev. Brian Herron of Zion Baptist Church. "We face the very same dilemma in north Minneapolis about unemployment…Why are we having discussions about building an economy off of black and brown bodies?" he asked.
Minneapolis NAACP President Nekima Levy Pounds said "I have not heard any discussion about the high unemployment in the inner-city communities that are actually fueling the incarceration rate." She urged solons to consider other proposals, such as probation reform.
Both Levy Pounds and Joe Broge, a corrections officer at Stillwater prison and an AFSCME member, cited problems at CCA-run facilities. "Doing business with CCA is like doing business with the devil, because their practices are diabolical," Levy Pounds said. "They have an absolutely abysmal record," added Broge.
The NAACP and AFSCME, along with a number of other organizations, including the Minnesota Public Employees Association, the Minnesota AFL-CIO and the Service Employees, are members of the Minnesota Coalition To Ban Private Prisons.
Broge said a prison in western Minnesota would make it difficult for most prisoners to receive visits from family members. "It's important that you stay connected to your communities" so that prisoners can become productive citizens when they are released, he said.
Some of the most emotional testimony came from people who criticized lawmakers for devoting millions to prisons – but nothing to help people of color who are struggling.
While Appleton faces an 8 percent unemployment rate, the jobless rate for African-Americans in Minnesota is 17 percent, said the Rev. Nazim Fakir of Isaiah. "Where are the $140 million programs?" to help that community, he asked. Some estimates say the state would spend $140 million over 6-10 years to pay for a private prison in Appleton.
"We lose people from drugs. We lose people from suicide," said Vanessa Taylor, a young woman from Hastings. "We have no counselors…You are tearing apart our communities. You are tearing apart our families."
State officials, speaking for Gov. Mark Dayton (D), also opposed the private prison plan.
"Prison expansion, a new building, is not on the Department of Corrections plate whatsoever," Corrections Commissioner Roy testified. "This is the most expensive option that is available.
"The notion that we incarcerate people for profit, for corporate profit, is, I think, the antithesis of America. We would not for a moment think about privatizing police. We would not for a moment think about privatizing courts. Why would we consider privatizing corrections?" he asked.
Photo: Joe Broge, a corrections officer at Stillwater prison, spoke against legislation that would reopen a for-profit prison. Photo captured from Minnesota House video. Workday Minnesota.