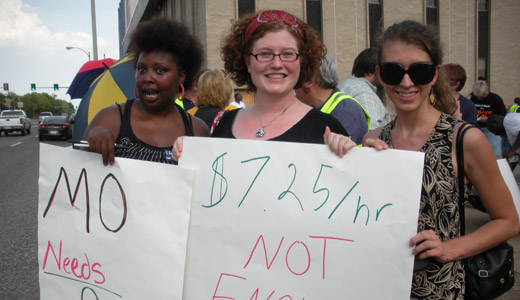 ST. LOUIS – "The labor movement and the faith community are joined at the hip," Father Richard Creason, pastor at Most Holy Trinity Church, told over 200 trade union, student, community and faith activists as they rallied outside of a local Applebee's restaurant here July 24.
"For me the faith community and the labor community have always been intertwined," Father Creason continued. "Today we want to lift up the wages of working people"
The rally focused on a Missouri ballot initiative to raise the state minimum wage from $7.25 hourly to $8.25 an hour, and brought attention to the nationwide campaign to raise the federal minimum wage to $9.80 hourly.
Currently, full-time minimum wage workers in the Show Me state make $290 a week and $15,080 a year before taxes, which is $7,000 below the poverty line for a family of four.
Participants rallied to encourage Republican U.S. Senate candidates Todd Akin, Sarah Steelman and John Brunner to join current democratic U.S. Senator Claire McCaskill in publicly supporting an increase in the minimum wage.
"There are only a few things that get me hot," St. Louis Central Labor Council president, Bob Soutier, told the assembled activists as they braved the 106-degree summer heat to support raising the minimum wage.
"On a nice cool day like this," he added jokingly, "I get hot when I hear people talking – people like Todd Akin, Sarah Steelman and John Brunner – who don't know what the hell they're talking about."
Soutier was referring to a recent interview the Republican candidates participated in in-which they all agreed that the minimum wage was too high, but not one of them could actually say what the current minimum wage is.
Soutier added, "All of organized labor stands behind this effort." The Saint Louis Central Labor Council represents over 200,000 union members in the greater Saint Louis area.
"I've been a home care worker serving seniors and people with disabilities for 20 years now," Val Gordon, said. "And I'm still living in poverty and struggling to make ends meet."
Gordon made $6.65 an hour in 2003 and "did not get a raise until 2009, when the minimum wage went up to $7.25 an hour."
Since 2009, Gordon has only received a $.13 raise.
Jamie Moody, a tipped employee, is currently making $3.63 an-hour, roughly half the minimum wage. She said, "Nobody should have to live like this. We're not savages. We're people. We deserve better."
According to Give Missourians A Raise, the statewide coalition that collected over 120,000 registered voters signatures to put the minimum wage increase on the November ballot, the CEO of Applebee's makes $1,282 an hour, $103,700 a week and $5,392,402 a year.
Additionally, the average Applebee's employee making minimum wage would have to work almost 2 hours to buy a burger and soda (around $11.59 plus tip) at Applebee's, while Applebee's CEA, Julia Stewart only has to work 16 seconds.
According to Reverend Audrey Hollis, "Increasing the minimum wage is a crucial step in our economic recovery."
Joe Wicks, another local restaurant worker who is currently working two jobs as a server and a bartender, couldn't agree with Hollis more. He said, "People like me who work for a living put money back into the economy. We spend everything we make, which helps get the economy going again."
Wicks added, "We're nothing but a number to them. They don't even know we exist."
Photo: Tony Pecinovsky/PW