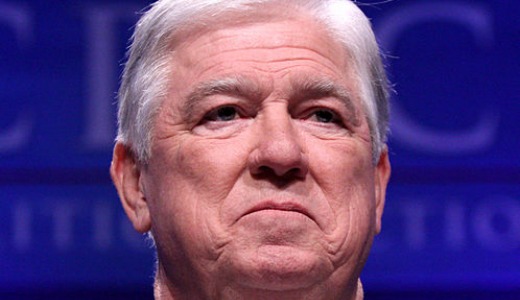 HATTIESBURG, Miss. – Haley Barbour, the Republican governor of Mississippi, announced yesterday that he will not be seeking his party's nomination for the presidency in 2012. A look at his record suggests he may have done the nation a favor by pulling out.
The 63-year-old former tobacco lobbyist and former leader of the Republican National Committee and Republican Governors Association explained that he didn't have the "absolute fire in the belly" required.
Fire or not, early polls haven't offered much good news to the governor. A McClatchy-Marist poll found that Barbour commanded about 1 percent support among the Republican primary electorate. The governor's announcement followed visits to the all-important primary states of New Hampshire, South Carolina and Iowa. Unfortunately for Barbour's rumored presidential ambitions, he consistently polled in the single digits among Republican primary voters.
Like most of the potential Republican nominees, Barbour has had a few recent gaffes. Granted, they haven't been nearly as controversial as Donald Trump's head-first dive into birther-ism or Michele Bachmann's string of historical fallacies, but they have made news. Barbour angered many civil rights activists when he praised the Citizens Councils (then known as the White Citizens Councils), a historically racist organization. One of this group's first actions, in 1955 in Barbour's hometown of Yazoo City, was to publish in an ad in the local newspaper the names of African Americans who signed a petition in favor of desegregation of public schools.
Additionally, Barbour has been on record as saying that he didn't believe that racism and racial tensions in Mississippi during the 1950s and '60s were that bad.
More recently Barbour has caught flack for stating, "There's nobody in Mississippi who does not have access to health care."
Contrary to the governor's statements, 18 percent of the state's populace lacks health insurance, preventing them from accessing primary medical care.
Barbour added, "One of the great problems in the conversation is the misimpression that if you don't have insurance, you don't get health care." His spokesman later said the governor was referring to hospital emergency room procedures, repeating George W. Bush's July 2007 gaffe in which Bush said that "people have access to health care … just go to an emergency room." While Gov. Barbour may be content with the status quo, Mississippians' lack of access to adequate medical care has led to the state suffering staggering medical disparities.
Perhaps Barbour, first elected governor in 2003, was hesitant in running on his track record within the state of Mississippi.
According to the Commonwealth Fund the state ranks last in terms of health care. In addition, the state ranks as the most obese in the nation: Over 30 percent of the state's adults and 22 percent of its children qualified as obese. In teenage pregnancy, Mississippi leads the nation, with a rate 60 percent higher than the national average.
According to the U.S. Census Bureau, Mississippi is also the nation's poorest state, with the lowest per capita income ($26,908 in 2006) of all states, and a 10.9 percent unemployment rate that is above the national average.
During Barbour's first term, he drastically reduced health coverage for 65,000 Mississippians who qualified for a Poverty-Level Aged and Disability (PLAD) program.
Perhaps in an ode to his days as a tobacco lobbyist, Barbour cut funding for the Campaign for Tobacco Free Kids, a successful tobacco prevention program.
With statistics like these, it may have been too hard for Barbour to find laurels upon which to rest.
Barbour's prolific career as a lobbyist in Washington likely would not have been too helpful either. An NBC/Wall Street Journal poll found that being a former lobbyist was seen by potential voters as the worst candidate attribute. In fact, according to that poll, being a lobbyist was seen as being worse than having multiple marriages, being a Fox News commentator, or a tea party leader.
It seems that running on a national stage, at least as president, was not to be for Barbour. Perhaps it was his poor name recognition among the all too important Republican electorate in the key first primary states that led to his decision. Maybe his résumé, which likely would have left a bad taste in too many mouths, tempered any fire in his belly. Either way, it appears that the southern governor will stay in Jackson, for now.
Image: Barbour photographed by Gage Skidmore