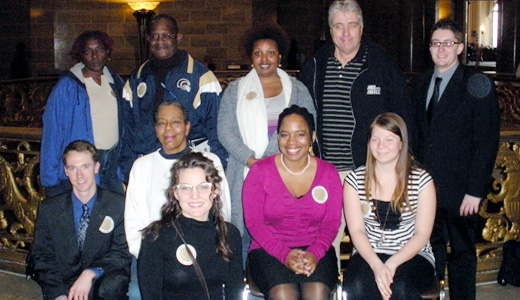 JEFFERSON CITY, Mo – "This is about workers in general, all workers – low-wage workers and union workers. This is about rewarding hard work that directly impacts the entire community and our economy," Clark Brown, a representative from the Service Employees International Union (SEIU), told the People's World here on February 23.
Brown, other SEIU members, and members of Missouri Jobs with Justice (JWJ) were lobbying Missouri legislators against HB 61 and SB 110, which would "prohibit the state minimum wage from exceeding the federal minimum wage."
To Brown, standing up for all workers is "part of our agenda, part of the labor movements' agenda."
In 2006 Missouri voters voted overwhelmingly to increase the state minimum wage, including an annual cost-of-living adjustment (COLA). Currently, nine other states have minimum wages that are tied to cost-of-living increases.
In fact, over 76 percent of Missourians voted in favor of the Increase – the highest approval of any minimum wage increase in the country – and every county in Missouri voted in favor of the initiative by at least a margin of 16 points.
The current minimum wage in Missouri is $7.25 per hour or $15,080 annually. The poverty level for a family of three in Missouri in 2010 was $18,310. It is estimated that 54,750 people work for the minimum wage in Missouri; of which 72 percent are adults 20 or older.
According to Brown, "everybody benefits from an increase in the minimum wage, through increased spending and an increased tax base, which means increased revenue for the state."
Additionally, a higher minimum wage "drives up our union contract wages," Brown added. "We want to bring up the bottom."
JWJ activist Charlie Edelen highlighted the Republicans hypocrisy, saying, "We are holding up the will of Missouri voters. We are protecting our state's worst-paid workers."
Missouri Republicans currently have majorities in both the House and Senate. They claim that the cost-of-living adjustment will drive away business, while ignoring the will of voters.
"COLA will have a negligible impact on business," Edelen added. "Businesses won't leave Missouri because the minimum wage is 20 cents higher."
Edelen continued, "Gas, groceries, rent – it all goes up. The cost-of-living adjustment keeps low-wage workers from falling further and further behind."
As JWJ activists and union members roamed the Capitol scheduling meetings with their representatives or just "pulling them off the floor" the fight-back mood was evident, as activists and representatives alike talked about the protests in the Wisconsin state capital.
State Representative Clem Smith (D-71), a former autoworker and current machinist, told the People's World, "We need to do what they are doing in Wisconsin here! So-called right-to-work legislation, the attempt to repeal child labor laws, English-only provisions and attacks on our minimum wage! They have gone too far. We have to stop them."
Brown added, "The right-wing extremists did not expect this kind of fightback. It is an amazing display of collective power and solidarity of all workers."
He concluded by saying the protests in Wisconsin, Ohio and Indiana "send a clear message to right-wing legislatures everywhere."
Members of the Missouri State Workers' Union (CWA 6355), United Food and Commercial Workers union (UFCW) Local 655, and the Missouri Immigrant and Refugee Advocates Coalition (MIRA) also lobbied.
Photo: Jobs with Justice activists at the Missouri Capitol. At the left, bottom
is Charlie Edelen. Tony Pecinovsky/PW.