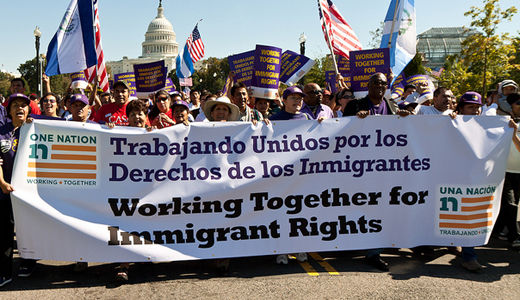 JEFFERSON CITY, Mo – "It's not enough not to do bad things. We have to do things that welcome immigrants to our state," Vanessa Crawford, executive director, Missouri Immigrant and Refugee Advocates (MIRA) coalition, told members and activists from all over Missouri as they prepared to lobby the legislature here on March 6 for immigrant rights.
The Missouri legislature, which is currently dominated by right-wing republicans, is debating a number of anti-immigrant bills in the House and Senate, including legislation Crawford calls "unconstitutional."
For example, MIRA opposes HB 275, which would require every employer in Missouri to enroll in the federal E-verify program.
According to the coalition, mandated E-verify is not-only counter-productive, it is cost prohibitive; costing the average Missouri employer $73 per-employee and the average small business employer an estimated $147 per-employee. Additionally, the coalition argues that E-verify is also often inaccurate; particularly affected are women who have changed their names due to marriage or divorce, and documented, work-authorized foreign born individuals.
"Often people just won't hire immigrants, documented or otherwise," Crawford said, "just to avoid the confusion and cost that E-verify would cause."
This bill, if passed into law, would also "put employers in jail even if they unknowingly hire an undocumented immigrant."
The coalition also opposes HB 575 and SB 267; these two bills would invalidate laws and contracts originating in other countries, potentially damaging marriage, divorce, child custody arrangements, and other matters based on religious and foreign law.
According to Crawford, these bills are "unnecessary and harmful, and create an environment of fear and mistrust."
Missouri is currently home to about 230,000 immigrants and refugees, 43 percent of whom are eligible to vote. Immigrants in Missouri generate over $652 million in taxes and are 60 percent more likely to start their own businesses than non-immigrants. Furthermore, it is estimated that undocumented immigrants pay more than $155 million in taxes here.
Simply put, laws that encourage immigration and welcome immigrants to the show-me-state are good for our economy, job growth and the creation of small business.
MIRA is also working on pro-immigrant bills that they hope will generate awareness about the positive economic contributions immigrants make to Missouri, and to our nation.
The first, SB 203, would repeal an anti-immigrant law passed in 2008 prohibiting undocumented immigrants from enrolling in state colleges and universities, and denying bail to immigrants 'suspected' of being undocumented. The impact of this law has fostered fear and mistrust between the immigrant community and police.
The second bill, SB 209, would grant in-state tuition to immigrants, allowing immigrant students who graduate from a Missouri high school to pay in-state college tuition.
According to the coalition, these students like their peers, reside-in and pay taxes to the state of Missouri, and deserve equal treatment and access to higher education.
"Politicians need to stop using anti-immigrant rhetoric for political reasons," Crawford added.
Nationally, a debate is raging about the future of immigration reform. Many, even some republicans acknowledge that the current immigration system is broken, and needs a complete overhaul.
As the results of the November elections demonstrated, immigrants are playing an increasingly important role in local and national politics.
In fact, according to a recent poll, Hispanic voters – the largest and fastest growing immigrant group – now consider immigration reform the top issue facing Congress and the president; 58 percent of Latino voters view immigration reform as the most important issue, while 38, 19, and 15 percent view job creation, health care and education respectfully as the most important issue.
There is optimism that a bi-partisan national immigration reform law – with a pathway to citizenship – will be passed this year, laying the ground-work for further gains.
Local and national pro-immigrant rights coalitions have an important role in making that happen.
Photo: Activists in Washington, D.C. march for immigrant rights. ep_jhu/Flickr