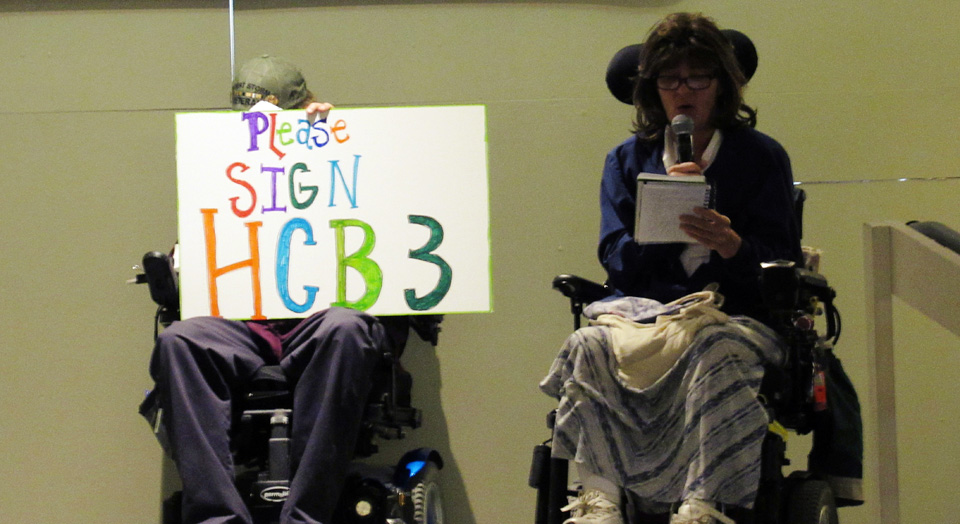 JEFFERSON CITY, Mo., June 7 — "We try to do everything we can to live a normal life, and they [politicians] are always looking for a way to take away our rights," said Debbie Dandridge, a disability rights activist with CTI (Coalition for Truth and Independence) and disabled person, as she and 30 other disability rights activists loaded up onto buses for a day of action at the state capitol Tuesday, June 6, 2017.
Their demand: Gov. Greitens signature on HCB 3—Funds for Vulnerable Senior Citizens
HCB 3, a bi-partisan budget bill would move money from special state funds to raise the $35.4 million needed to avoid cuts to in-home service care and nursing home care for people with disabilities.
The bill passed and was delivered to the Governor's desk May 22, 2017. The signature deadline is June 30, 2017, and the Governor's office remains silent.
If Greitens fails to sign the bill, over 8,000 people with disabilities will lose services such as help with bathing, cooking, and cleaning
"They seem to be keeping a tight lid on plans relating to HCB 3," said Cathy Brown, director of public policy and advocacy for Paraquad, a St. Louis nonprofit organization that advocates independent living for people with disabilities.
That silence terrifies those who would feel the impact of a veto.
At the Capitol rotunda, cries of, "What do we want? Independence! When do we want it? Now!" echoed through the marble halls, as people with disabilities and state lawmakers voiced their frustrations with Gov. Greitens inaction.
"The governor has a choice between people or numbers," said State Rep. Peter Merideth (D-78), "and people should always come first!"
At noon, activists and supporters chanted and marched up the rotunda steps, to the Governor's office, only to find the door locked and security present.
In a show of defiance, they covered Greitens door with yellow sticky notes demanding a signature, and sharing their personal concerns—their voices would not be silenced.
CTI, Paraquad, and other human rights/disability rights organizations have said they are dedicated to keeping pressure on the Governor until HCB 3 is signed into law.
"This is just wrong," said a tearful John Harris, who started using a wheelchair after suffering a spinal injury in a car accident in 1995. "We're people, we're not numbers. He needs to stop and look at each individual."
"We all have lives, families, children. And if he does these cuts, we'll be put in homes. We need the help that we're given."