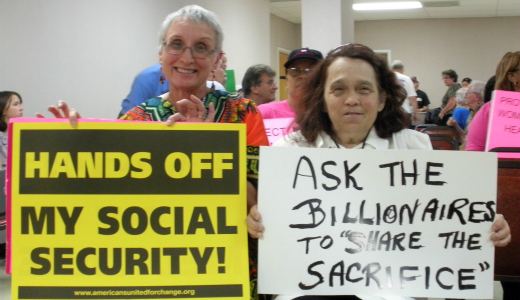 ST. LOUIS – "I am on Medicare, and Medicare is critical for me and over one million Missourians," Earlene Jones, a leader in the Alliance for Retired Americans, told nearly 100 community, senior and faith leaders as they braved the August heat here Aug. 24 demanding to speak with Rep. Todd Akin, R-Mo.
"We are here because congressional leaders are considering making changes to Social Security, Medicare and Medicaid, the lifeline of support for seniors," Jones, who is also a vice president of the Communication Workers' of America Local 6300, added.
Akin is a right-wing Republican who favors tax breaks for the rich and profitable corporations. He wants to balance the federal budget on the backs of working families by cutting Medicaid, Medicare and Social Security. (story continues after video)
Additionally, Akin has repeatedly refused to meet with constituents. After numerous phone calls, emails and in-person visits to Akin's offices, local community, senior and faith organizations called a town hall meeting at the United Food and Commercial Workers' Local 655 union hall, just two blocks from Akin's west county office.
Even though Akin is 'in district' during the congressional recess, he refused to meet with the assembled community, senior and faith leaders.
Standing in front of Akin's office, Rev. Krista Taves, said, "We sent forth an invitation with respect to meet with our representative and we have been treated as an enemy."
Apparently, Congressman Akin or one of his staff had requested police presence in order to keep constituents off of the office property. A half-dozen police cars greeted community, senior and faith leaders when they marched to Akin's office.
"We have been barred from his office," Rev. Taves continued. "Todd Akin is responsible to us and he has turned us away at the door. And he claims to be a Christian."
"He is ignoring the people, and he is ignoring his responsibility to our families. Missourians believe in taking care of our families and communities," Taves added.
"We want our kids to have health care. We want our seniors to retire with dignity, and be able to get the medical care they need. It is irresponsible to balance the national budget on the backs of children, retirees and the American middle class."
Congressional leaders return to Washington D.C. after the Labor Day holiday. Jobs and the national debt will likely be on the top of their priority lists. Constituents hope Rep. Akin gets the message: "Medicaid, Medicare and Social Security are off the table."
The town hall and rally were called by Jobs with Justice, Missouri Pro-Vote and the Alliance of Retired Americans.
Photo: Tony Pecinovsky/PW