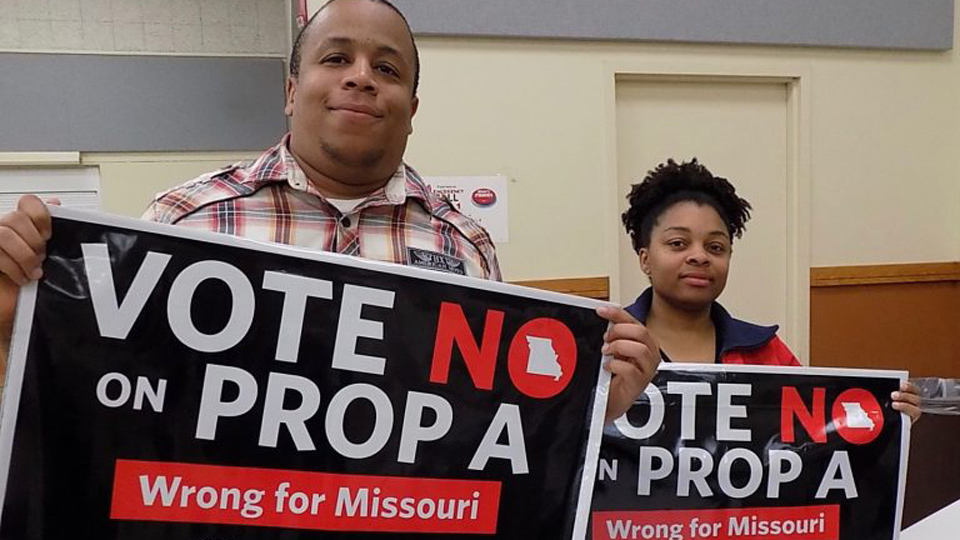 ST. LOUIS—-There's only about one fact that both sides can agree upon in Missouri's raging battle over a so-called "right to work" law: The Show Me State is "ground zero" in the radical right's national campaign against workers' rights and political power.
So say the friends of RTW, including out-of-state millionaires and the venal and vicious National Right to Work Committee, which has provided most of the funds to defend the GOP-enacted law.
So said AFL-CIO Secretary-Treasurer Liz Shuler, when she came to the state to keynote recent rallies against RTW.
She asked the crowd: "Everyone is wanting to write the labor movement's obituary. Are we going to let that happen?"
"NO!" they roared back.
The question is what will the voters say on August 7.
State "right to work" laws, enacted by Republican-run governments, are a product of the anti-worker 1947 GOP-passed Taft-Hartley Act.
That law let states enact RTW, which in turn bans unions, firms – and governments – in states from inserting requirements for workers to pay union membership dues, or even "agency fees" for basic services, into collective bargaining agreements.
Numerous studies show that when RTW laws are enacted wages go down, benefits go down, poverty goes up, education spending goes down and, contrary to business propaganda, there's not much company growth, or hiring, either.
In addition, unionization rates go down, union revenues go down, unions' ability to fight for all workers on such issues as job safety and raising the minimum wage goes down – and corporate clout goes up. Way up.
"The goal of RTW is to financially starve unions – which under federal law must represent all workers in a union shop whether they are dues-paying members or not – thereby limiting the union's ability to negotiate for and represent workers," the St. Louis Labor Tribune says.
The radical right GOP majority in the Missouri legislature approved RTW in 2017 and then-GOP Gov. Eric Greitens, who ran on a pro-RTW platform, eagerly signed it. But the state's unions and citizens groups – from civic associations to churches to civil rights groups – banded together in We Are Missouri to petition that law to a referendum.
They needed just over 100,000 signatures from registered voters in six of Missouri's eight congressional districts. They got 310,567 signatures, in all eight. Their success, by state law, put RTW on hold until the voters could decide the issue this August. If RTW passes, it starts August 28.
But the RTW foes' success so scared its sponsoring solons that they hurriedly jammed through separate legislation moving the referendum from this fall's general election in November to this summer's primary in August, hoping to take advantage of a lower turnout.
Missouri AFL-CIO President Mike Louis called that election date move "a devious ploy." Opinion polls so far show the trick hasn't worked.
The latest, by the Remington Research Group, was published July 10 in The Missouri Times. Of the 1,034 Missouri voters surveyed, 38 percent said they would vote "yes" (uphold right-to-work), 56 percent said they would vote "no" (repeal right-to-work), and 6 percent were undecided.
RTW foes, led by the labor movement and We Are Missouri, have been repeatedly making the point that RTW is bad for Missouri and – by extension – the nation.
"The hype from the so-called 'right-to-work' dark money lobby is that RTW creates jobs, but research shows that's not true at all," The St. Louis Labor Tribune reported. "It's another lie meant to deceive people into believing 'right-to-work' is good for them.
"The facts tell a different story."
"We researched the issue of JOBS –– which states are the most attractive and provide the most opportunity to find a job, and which are the WORST. To be clear: the job market in America is improving dramatically and unemployment, at least officially, is at its lowest since 2000.
"That's great on its surface, but the official numbers don't account for slack wage growth or people who are unemployed but have stopped looking for work due to inability to find a job that pays enough to survive. The key to those numbers is which states provide the most fertile 'hunting ground' for jobs in terms of wages and support services and which provide the least."
"The financial website WalletHub did a comparison, and the results were not surprising:
WORST STATES:
RTW – 15 of the 25 worst states for job hunting (60 percent) are RTW states.
WITHOUT RTW – Only 10 of the worst 25 states (40 percent) are without an RTW law.
BEST STATES
WITHOUT RTW – 13 of the 25 best states (52 percent) have NO RTW law, allowing workers to have far better job opportunities.
RTW – Only 12 of the 25 best states (48 percent) are RTW states."
"At 34th overall (17th worst) Missouri has little to brag about. RTW is supposed to improve job prospects for workers, according to the deceptive hype, but when you look at the numbers, that's simply not true," the Labor Tribune added.
"And when you look at the Missouri Legislature's other actions — cutting educational support, job training support, help for unemployed workers, making it harder to prove workplace discrimination —RTW can only make things worse. And as recent tax cuts for the 1 percent further drained funds for support services, we, the workers of Missouri, will get the shaft.
"Understanding that working families in RTW states take home an average of $8,740 LESS a year, the passage of Prop A (RTW) can only make matters worse.
"The evidence is clear, Prop. A (RTW) will not only fail to create jobs, drive down wages and benefits and make workplaces less safe, living under RTW threatens the well-being of you and your family.
"Missourians will have a chance Aug. 7 to defeat RTW by voting NO on PROP A, sending a clear message to Missouri lawmakers that we don't want to join the ranks of Mississippi, Alabama, Arkansas and other states where working people can't earn a fair return on their work and the wealthiest 1 percent and their corporate lobbyists use this anti-worker law to enrich themselves at the expense of workers and working families," the paper concluded.
Besides Shuler, other worker advocates and leaders have joined the fray against RTW.
State Rep. Doug Beck, D-Afton, a member of Plumbers and Pipefitters Local 562, said after the state House committee vote on RTW that it "is yet another effort to silence workers' voices."
"When you look at what happens to workers in RTW states, you see why we need to stand up and fight this issue by voting 'NO' on Proposition A when it comes up for a public vote later this year," he added.
When passing RTW law last year, Beck said then, the "legislative majority adamantly opposed letting voters decide the issue because they feared Missourians would defeat it. Now that it is slated for the Nov. 6 general election ballot anyway, they are terrified voter rejection of 'right-to-work' will cause collateral damage" to legislative candidates, the Labor Tribune reported. Beck spoke before lawmakers changed the RTW election date.
"We are confident Missourians will reject this blatant attempt to weaken worker rights."
"There's not a more important fight for workers in 2018 in the country than Missouri's RTW fight," said UFCW Local 655 President David Cook, applauding his membership's overwhelming – 86 percent-14 percent — support for a 50-cents-a week dues increase to beat RTW. And by an 82 percent-18 percent score, members of Electrical Workers (IBEW) Local 1 also OKd a temporary dues hike, of 1 percent of wages, to beat RTW.
And while RTW foes have people on their side, for once they may have money, too. Ballotpedia, compiling campaign finance figures nationwide, reported that as of March 30, $20 million had been donated in the Missouri RTW fight – three-fourths of it by workers and their allies opposing RTW.
The biggest donors on the anti-RTW side were $2.35 million from the Missouri AFL-CIO; $1 million
from the Teamsters, and $990,000 from Preserve Middle Class America, Inc.— a campaign finance committee registered to Jim Kabell, the president of the Missouri-Kansas-Nebraska Conference of Teamsters.
The biggest pro-RTW donor? A shady campaign finance group established by now-disgraced former Gov. Greitens. It gave $2 million to enact RTW.
The St. Louis Labor Tribune contributed material for this story
Like free stuff? So do we. Here at People's World, we believe strongly in the mission of keeping the labor and democratic movements informed so they are prepared for the struggle. But we need your help. While our content is free for readers (something we are proud of) it takes money — a lot of it — to produce and cover the stories you see in our pages. Only you, our readers and supporters, can keep us going. Only you can make sure we keep the news that matters free of paywalls and advertisements. If you enjoy reading People's World and the stories we bring you, support our work by becoming a $5 monthly sustainer today