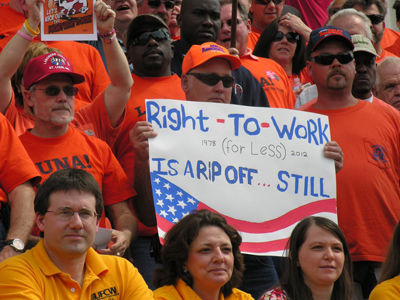 JEFFERSON CITY, Mo. (PAI)–Missouri unionists, businesses and officials mobilized in early March to try to stop a Republican and business-generated stampede to pass so-called "right to work" state legislation.
But though they packed the state senate Small Business Committee hearing room and offered hours of detailed testimony on the benefits of unionization and the harm such a law would cause, whether lawmakers listened is another matter.
Both houses of the state legislature are heavily Republican, and passage of such anti-worker anti-union laws, to strip unions of money they need to negotiate contracts and defend workers, is a key cause of the GOP and its right wing and business backers.
The St. Louis Labor Tribune reported the panel first gave the podium to sponsoring Sen. Dan Brown, R-Rolla, and Lieut. Gov. Peter Kinder (R). But they were followed by St. Louis Mayor Francis Slay (D), St. Louis and Kansas City pastors, several business owners and UFCW Local 655 members Theresa Hester and Lori Giannini, among 15 witnesses.
Slay said unions bring jobs to Missouri, noting Boeing's announcement that, after talks with his administration and local union leaders, it would add 2,000 jobs in St. Louis.
Giannini, who works at Schnuck's, a retail chain, told Missouri lawmakers that right-to-work would deprive workers of fairness on the job. She said a prior non-union employer, a real estate firm, fired her because another newly hired saleswoman gave the realtor an ultimatum to choose between the two women.
"Where do you think that went?" Giannini, the single mother of two children, asked.
Photo: Labor Tribune in Jefferson City, Missouri. Facebook.