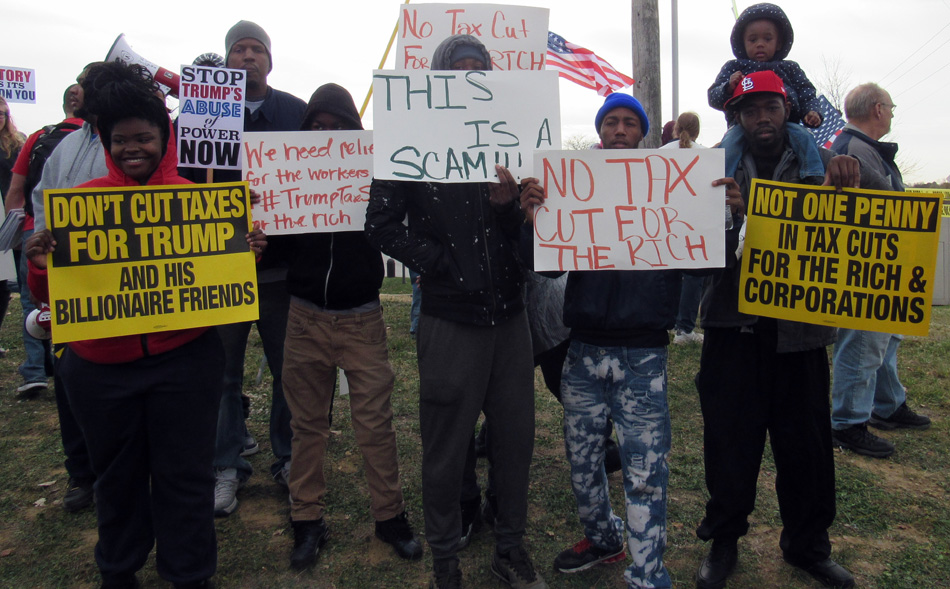 ST. CHARLES, Mo.—More than a hundred protesters greeted Donald Trump outside the St. Charles Convention Center yesterday afternoon when he arrived to promote the Republican tax cut plan. Trump flew into Missouri to pitch the supposed benefit of tax reform for middle-class working Americans. A new report from the Congressional Joint Committee on Taxation (JCT), however, shows that many American families won't pay significantly less under the Senate Republican tax bill.
Trump's appearance comes as the Senate is expected to vote on the tax bill as early as Thursday night.
"I'm out here today with Show Me $15 [the local Fight for $15 campaign] because what Trump is doing is wrong for working people," said Rodkita Hickman, campaign leader and fast food worker at London Wing House. "He doesn't really care about us; if he did he would support raising the minimum wage instead of keep us living paycheck to paycheck."
Carrying anti-Trump signs and chanting, protesters faced off with the several dozen Trump supporters across the street.
Wearing "Make America Great Again" hats, hoodies, and t-shirts while flying American and Blue Lives Matter flags, supporters could be heard chanting "Trump! Trump! Trump!" and "All lives matter."
Riot police moved protesters and supporters onto the sidewalk at 1:15 p.m. and taped off the presidential motorcade route. Air Force One touched down at St. Louis Lambert International Airport a short time later, and the president arrived at the convention center at 2:15 p.m.
Ascending a stage decorated with "Merry Christmas" signs, Trump announced that "We have a once-in-a-lifetime opportunity to restore American prosperity and reclaim America's destiny… But in order to achieve this bright and glowing future, the Senate must pass tax cuts and bring Main Street roaring back to life."
Addressing the invitation-only crowd of 1,000 supporters, Trump described the GOP tax plan as one that would help stimulate the economy by slashing the corporate tax rate from 35 percent to 20 percent and benefit small business owners who file as individuals.
"We must cut taxes, reduce our government burdens… If we do this, America will win again like never ever before," Trump said. "A vote to cut taxes is a vote to put America first…. High taxes, government regulations, and bad trade deals turned our main streets into empty ghost towns."
Yet, according to the JCT analysis, among the group designated middle class—families with incomes between $50,000 and $75,000—80 percent would get a tax cut of $100 or more in 2019, but 10 percent would pay about the same, and the remaining 10 percent would face a tax increase of $100 or more. Wealthier Americans, earning between $500,000 to $1 million, appear to get the biggest benefits.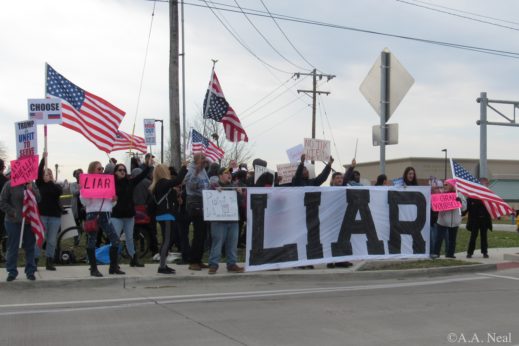 "Our focus is on helping the folks who work in the mailrooms and machine shops of America—the plumbers and the carpenters, the cops and the teachers, the truck drivers and the pipefitters … all of the people who give their best each and every day to take care of their family and the country they love," Trump claimed. "It is not enough for the middle class to keep getting by—we want them to start getting way ahead."
As the numbers from JCT, however, suggest Trump and the GOP's plan would do otherwise.
During his speech, Trump again dredged up the 2016 election by referencing Hillary Clinton, along with securing the nation's border and building his long-promised wall.
"This tax scam they have going through is absolutely going to ruin the country," said Jessica Motsinger, a Navy veteran, speaking to the local Belleville News-Democrat. "This is just absolute, naked stealing. This is a reverse Robin Hood of the worst order…. It's wrong to tax people twice on their hard-earned income, and they should not have to pay federal taxes on the taxes they already paid to state and local taxes."
With a vote expected on the Republican tax bill at any time, working people and union leaders are mobilizing and challenging Trump and republicans to "show us the money" and fulfill the administration's promise to working families.