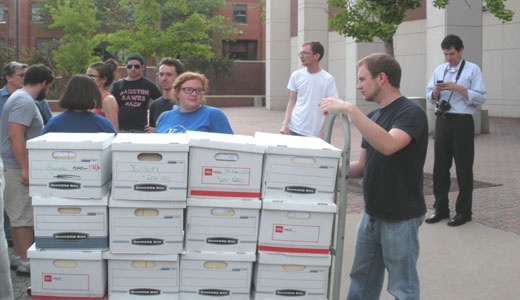 JEFFERSON CITY, Mo – Labor, community and faith allies, along with low-wage workers have something to be excited about here in the Show-Me-State.
Despite pro-industry obstruction, intimidation and harassment two statewide coalitions – Give Missourians A Raise and Missourians for Responsible Lending – delivered over 350,000 registered voters' signatures to the Secretary of State's office here Sunday, May 6, effectively qualifying two ballot initiatives to 1) raise Missouri's minimum wage and 2) cap pay-day loan interest rates.
While the Secretary of State's office still has to verify the signatures with current voter registration lists, local activists are optimistic that both initiatives will be likely be on the ballot this November which should help boost voter turn-out especially among working class families, people of color and youth.
The first initiative would raise Missouri's minimum wage from $7.25 an-hour to $8.25 an-hour. Additionally, the new minimum wage, which would take effect in 2013, would also include an annual cost-of-living adjustment and increase tipped employees' compensation from 50 percent of the minimum wage to 60 percent.
The second initiative would cap pay-day loan interest rates at 36 percent, the federal cap for all service-duty men and women. Currently, pay-day loan companies in Missouri charge up-to 1,900 percent with the average pay-day loan charge being around 450 percent. The average pay-day loan in Missouri is for $290.
Over 175,000 signatures were submitted to raise the minimum wage. Another 180,000 signatures were submitted to cap pay-day loan interest rates. Both initiatives need between 90,000 and 100,000 valid registered voters' signatures to qualify for the November ballot.
While a court ruling striking down the ballot title for the pay-day loan initiative has added some confusion to the ballot initiative process, many labor and community leaders are confident the pro-industry legal challenge will be overcome and Missouri's registered voters' voices will be heard this November.
"The thousands of Missourians involved with these campaigns are completely devoted to making sure voters have a chance to be heard in November. We expect all of the valid signatures submitted today to be counted," Rev. James Bryan, Treasurer of Missourians for Responsible Lending, said in a press statement.
"The payday lending industry and the hired guns working for their shadowy front group pulled out all the stops to protect their four hundred percent interest rates. They've threatened churches and faith leaders, lied to and harassed voters on the streets, and worked to disenfranchise the citizens who signed petitions – but we have prevailed," Bryan added.
According to Lara Granich, executive director for Missouri Job with Justice, the ballot initiatives have had to overcome more than just legal challenges.
In fact, two weeks before the petition signatures were due to be turned-in over 5,500 signatures were stolen from Matthew Patterson's car in Springfield, Missouri. The thief left Patterson's checkbook.
Patterson is the executive director of the Missouri Progressive Vote Coalition, one of the key partners collecting signatures in southwest Missouri.
However, the plan backfired on the pro-industry thugs. With-in hours of the theft hundreds of volunteers had mobilized to collect signatures in Springfield, collecting almost double the amount stolen within just a few days.
Additionally, pro-industry thugs repeatedly attempted to physically intimidate volunteers; they hoped to cause altercations that would turn public support away from the coalitions. They lied to the general public through misleading bill-boards and ads. They sent faith and clergy leaders false letters inferring that their tax-status could be jeopardized if volunteers from their congregations helped qualify the initiatives. And they circulated rival petitions to cap pay-day loans at 360 percent, instead of 36 percent.
The pro-industry Missourians for Equal Credit Opportunity collected over $1.2 million from undisclosed, out-of-state donors. Another pro-industry group Stand Up Missouri raised over $340,000 from finance companies.
Missourians for Responsible Lending and Give Missourians A Raise had just over $400,000 between both coalitions.
"As payday lending executives and other CEO's get richer, regular people in Missouri are struggling," Rev. Dr. James T. Morris, Treasurer of Give Missourians a Raise, said in a press statement.
"It's wrong to pay people less than $8 an hour and charge them 400 percent interest rates. These initiatives are important step forward to an economy that works for all of us."
The broad-based coalition that collected the required signatures are cautiously optimistic that both initiatives will be qualified. Additionally, they see the ballot initiative process here in Missouri as an offensive tool that union, community groups and their allies can use indefinitely to further a progressive agenda for Missouri's working families.
Two other ballot initiatives were also submitted to the Secretary of State's Office. The first would allow St. Louis City to take over the administration of the St. Louis Police Department. Currently the St. Louis Police Department is ran by the State. The other would increase cigarette taxes in Missouri from $.17 to $.93 per-pack.
Photo: Tony Pecinovsky/PW