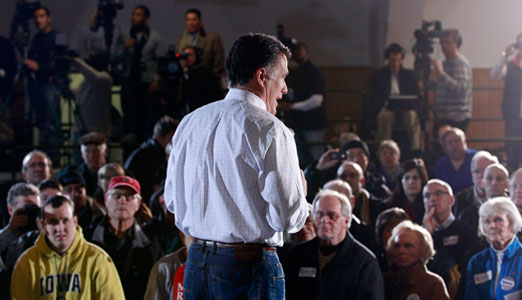 "I really feel he didn't care about the workers. It was all about profit before people," said Randy Johnson who worked in Marion, Indiana at American Pad and Paper Co. in the 1990's. He was talking about Mitt Romney who was then the CEO of Bain Capital, the outfit that had taken over Johnson's company and proceeded to lay off dozens of workers.
Johnson, who spoke at a rally in Iowa for President Obama this week, said, in a phone interview that Romney's company made tens of millions of dollars in profits from its "investment" in the paper manufacturer. The "investment" involved mass layoffs, liquidation of jobs and bankruptcy for Johnson's company.
Publicity concerning Romney's role as a job killer can potentially destroy what the former governor has used as his main claim to electability – the claim that he has years of experience as a job-creating businessman .
Romney has repeatedly claimed on the campaign trail that during his tenure at Bain he created over 100,000 jobs, claims that, at first, fact checkers, then laid off workers, and now major news outlets are calling false.
The Romney campaign, without addressing the actual charges by Johnson and others, dismissed the worker as a "crony" of Obama, who, the campaign claims, is employing a "kill Romney strategy" because the president is afraid to face the former governor in November.
Johnson noted that he and other workers have to come forward to expose Romney because his Republican opponents, due to their own support for the "1 percent," will not give voice to workers who lost their jobs because of Romney's role at Bain Capital.
Workers at the Marion paper factory actually went out on strike in July, 1994, soon after Ampad bought the facility. They balked at demands for cutbacks in wages, benefits and working conditions. Ampad, itself, had been purchased by Bain.
"Romney was the main man at Bain. Bain owned Ampad and they decided to close the plant," said Johnson who was a union activist then in Marion and who now is on staff with the Steelworkers in Pittsburgh.
The late Sen. Edward Kennedy condemned Romney in the fall of 1994 for his role in the destruction of jobs at the plant. At that time Romney was trying to unseat Kennedy in the race for the U.S. Senate seat in Massachusetts. "Romney never intended to give the Ampad workers a fair deal," said Joseph Faherty, who was then president of the Massachusetts AFL-CIO.
Romney's only response, at that time, was that he "felt "very sorry for the workers and their families" but that he couldn't, on the advice of lawyers, "get involved."
Johnson worked as a hanging file folder operator at the Indiana paper plant when, in 1994, it was bought by Ampad, which had already been acquired by Bain Capital.
Johnson described what happened after the sale: "They quickly fired every single employee. They walked the fired workers out of the building. Handing them applications as they left, telling the workers if they wanted to work for the new company, they were welcome to apply."
Johnson himself was hired back on night shift. He no longer had a pension, got reduced wages and benefits, had to pay half the health insurance costs as opposed to having to pay none before, and could be forced to work overtime. "Seniority didn't matter," Johnson said. "You could now be forced to go on whatever shift or whatever machine they wanted."
Just before Christmas that year, Romney's company announced that if workers didn't agree to its demands the plant would close. The workers rejected what the company called its last best and final offer by a 156-14 vote and on Feb. 15 the plant was shut down.
Johnson said people cried and that "families were devastated. In some cases, the husband and wife both worked there. They lost all their income. It doesn't get much worse than that."
And now it surfaces that Romney's drive for profits shattered lives in the other regions of the country, including the South and New England.
The Associated Press has reported that more than 20 years ago Romney's business venture arrived in Gaffney, South Carolina, saying it needed skilled workers to produce photo albums.
Four years later, the Holmes Burns Group Inc., the company controlled by Romney's Bain Capital LLC, shuttered the factory and laid off150 workers. Some of the jobs went to New Hampshire where they were lost again. Most were shipped overseas.
AP said their story contrasts sharply with Romney's claims of having been a job creator and that it shows, in fact, that Bain, headed by Romney, "wrung profits out of the company by slashing costs and trimming its workforce."
Apparently the candidate himself is starting to get worried. At last week's Republican debate Romney, speaking of President Obama, said: "He's going to come after me and say, you know, in businesses that you've invested in, they didn't all succeed. Some failed, some laid off people. And he'll be absolutely right. In the real world, some things don't make it."
Photo: Mitt Romney, mindful of how the job-killing former CEO of Hewiett-Pachard, Republican Carly Fiorina, lost her Senate bid in 2010 to Democrat Barbara Boxer, has been telling voters that complaints about his own job-killing past are the work of Obama "cronies." Charles Dharapak/AP