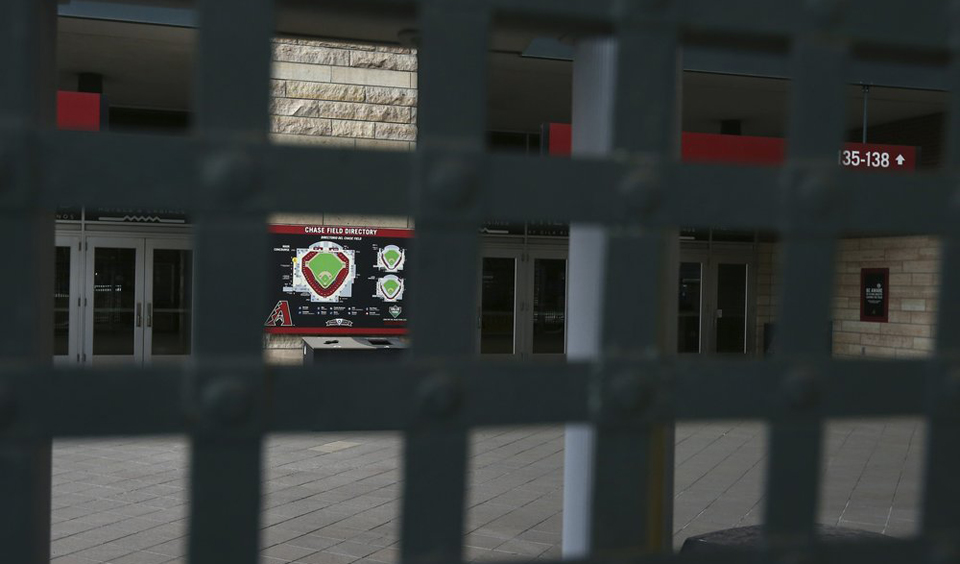 There was an air of emptiness Thursday. With the entire world amiss during the Covid-19 pandemic, yesterday seemed even stranger—if you're a baseball fan that is.
There were no crowds gathered at stadiums, no shimmering sunlight reflecting off players' sunglasses, and the fulfilling sounds of a wooden bat cracking, a ball sailing beyond second base, past the warning track, and into the stands, was not heard.
Major League Baseball's Opening Day, 2020 was not to be. With most sports coming to a grinding halt, the originally scheduled home opener for the Arizona Diamondbacks at Chase Field ("BOB" or Bank One Ballpark for those that remember) was called off.
Absent the live game (Opening Day at home), Thursday night was still enjoyable thanks to ESPN's game replay; there's something quite satisfying about watching Game 7 of the 2001 World Series, when a young expansion team beat the New York Yankees', 3-2.
And there will be baseball as each ball club will have one game replayed on MLB.com, YouTube, Twitter, and Facebook. Something to look forward to as we all stay at home to flatten the curve, as best we can.
Let's not dwell about the opening day that never was, though. Instead, let's focus on some positive baseball news.
On top of billionaires willing to sacrifice the lives of working people to "save the economy," front line workers are faced with daily daunting challenges—taking care of the sick, emptying the garbage bins, ensuring food and supplies are stocked—and are doing it without proper personal protective equipment. There's a global shortage of surgical face masks and gowns.
Luckily, with no baseball uniforms needing to be made for the foreseeable future, MLB and jersey maker Fanatics have partnered to manufacture hospital gowns and protective masks with the same fabric used to produce team uniforms, and they will cover all the costs associated with making, shipping, etc…
"We hope this effort can play a part in coming together as a community to help us through this challenging situation," MLB Commissioner Rob Manfred said in a statement.
Fanatics is estimated to produce up to one million masks and gowns and will distribute them throughout Pennsylvania, New Jersey, and New York.
Baseballs' labor relations Covid-19 update
With no scheduled start date, and the very real possibility the 2020 MLB season will be canceled, the players union and the league agreed to a deal which will preserve players' service time, in case the season is canceled because of the pandemic, and left open what a configured season schedule would look like.
Under the agreement, players won't challenge the loss of salaries if no games are played, and management will put forward $170 million in salary payments over two stages, and it does not need to be returned if the season is canceled.
The 17-page agreement was approved early Friday.
Other points in the agreement:
Management has the right to cut the amateur draft from 40 rounds to as little as five, and 20 in 2021.
Signing bonuses for undrafted players will be capped at $20,000 and not $10,000 as proposed by MLB earlier.
Signing bonuses may be deferred in both years, with 10% due within 30 days of each contract's approval and 45% on July 1 in each of the following two years.
All players who were eligible for salary arbitration last offseason will receive the same salaries in 2021 as they did in 2020.