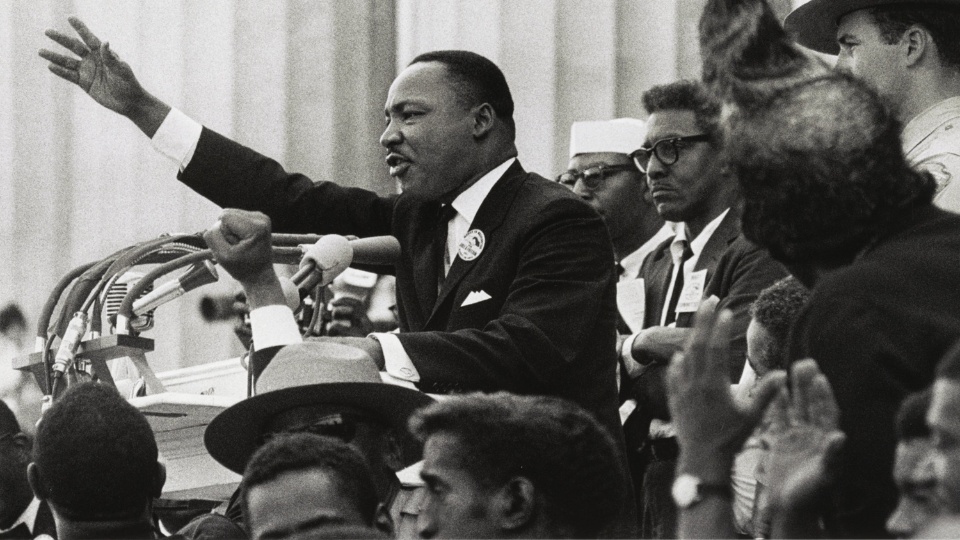 It is 60 years since the Aug. 28, 1963, March on Washington for Jobs and Freedom, where Rev. Martin Luther King gave his "I Have a Dream" speech. While much was won through the mass struggles that began in the 1940s with the labor-led "March on Washington Movement" organized by A. Philip Randolph and Bayard Rusting, and which culminated in the 1963 MLK-led march, those wins are being reversed today by an anti-people Supreme Court and ultra-right state houses.
This year's commemorative march is being convened by Rev. Al Sharpton, founder and president of the National Action Network; Martin Luther King, III, Board Chairman of the Drum Major Institute; and Arndrea Waters King, chairman and president of Drum Major Institute.
It is backed by a number of other civil rights and social justice organizations, including the NAACP, the Urban League, Asian Americans Advancing Justice (AAJC), the Anti-Defamation League, the National Council of Negro Women, UNIDOS, and more.
The march will take place on Aug. 26, 2023, in Washington at the Lincoln Memorial.
The official call pitches the march as "an opportunity to re-center and engage the movement" following a disastrous period that saw "continued erosion of our rights by legislators and courts across the country," particularly the Supreme Court.
The collaborative effort of the march organizers is centered on communities and young people, and like the original 1963 action, it will spotlight issues of civil rights abuses and discrimination.
"Our civil rights are under severe attack. There are mass efforts by some to assert control over us and our voting rights. Violence, intimidation, and attempts to erase our history are political tools that underestimate the power of the people," the organizers have declared.
They highlight the escalating number of hate crimes, more open hate speech, and instances of anti-Semitic and homophobic/transphobic attacks. "Join us to fight against white supremacy and disinformation and to uphold our collective values of freedom, equality, and justice," the call concludes.
Efforts are still underway to bring in support from organized labor; wider union participation may be crucial in expanding the breadth of the march and the number of people involved.
The 1963 March had major involvement by organized labor. Randolph, organizer of the Brotherhood of Sleeping Car Porters, and Rustin, who had earlier spearheaded the 1940s March on Washington Movement, were also key organizers in '63, along with Stanley Aronowitz of the Amalgamated Clothing Workers.
"The struggles Black and Brown Americans, particularly women and girls, faced 60 years ago are, in many ways, still prevalent today," said Arndrea Waters King of the Drum Major Institute. "Dr. King called on us all to work to eradicate the triple evils of racism, poverty, and violence by standing for peace, justice, and equity." She said that, as a mother, she is motivated to fight for her daughter, to "ensure her future, and the future of all young girls, is as bright as her grandfather dreamed."
This march is intended as a direct response to the growth of anti-democratic white supremacy and continuing racist police violence plaguing Black and brown communities.
This August's march in the nation's capital may shape up to be a mass people's protest against today's ongoing attack on democracy and the civil protections won through civil rights movements struggling to reshape the United States into a more just and equitable society over the decades.
Editor's Note: Please be aware that the Caucus of African American Leaders has a similar event, titled "60th Anniversary Celebration of the March on Washington." This event is on different days and locations than the event discussed in the article above.
We hope you appreciated this article. At 

People's World

, we believe news and information should be free and accessible to all, but we need your help. Our journalism is free of corporate influence and paywalls because we are totally reader-supported. Only you, our readers and supporters, make this possible. If you enjoy reading 

People's World

 and the stories we bring you, please 

support our work by donating or becoming a monthly sustainer today

. Thank you!