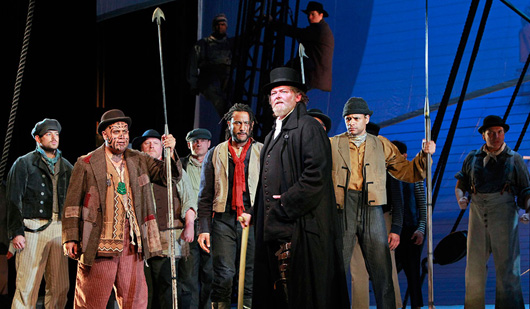 LOS ANGELES – In 2014 LA Opera presented Herman Melville's Billy Budd, as interpreted by composer Benjamin Britten and librettists E.M. Forster and Eric Crozier. Now the sea winds are blowing again at the Dorothy Chandler Pavilion with a mind-blowing production of an operatic adaptation of Melville's masterpiece Moby-Dick, surely one of the best operas I've ever seen and heard. The formidable projections by Elaine McCarthy, who has an opera background as well as a Broadway pedigree, Robert Brill's set visualizing the whaler the Pequod, Gavan Swift's deft lighting, the performance of Jake Heggie's music, singing and acting of Gene Scheer's libretto, with much dialogue taken from Melville's 1851 novel, combine to render a compelling retelling of the immortal literary classic in the operatic medium.
Under Leonard Foglia's attentive, imaginative direction these elements merge to express a powerful psychological drama published five years before Sigmund Freud's birth. During the 19th century, then as now, Americans roved the Earth seeking oil. Before electricity illumined us, whaling played a vital role in the oil industry, as lights were lit with oil drained from whale blubber aboard whaling ships that included assembly line-like factories. (The Dallas Opera, located in an oil capital. was one of the joint commissioners of this piece.) Although Melville, who actually was a whaler, goes in depth into cetology in his novel, Moby-Dick is arguably first and foremost – and foremast! – an allegory about human madness.
Fully embodying Captain Ahab's monomaniacal obsession to hunt down the great white whale who had previously amputated him, tenor Jay Hunter Morris (but, of course, from oil rich Texas) is perfect as the peg-legged psychopath. Morris imbues the 58-year-old skipper with a towering presence, as Ahab blithely disregards and discards his New Bedford employers' oily mandate, proceeding to use the ship and crew they've financed to pursue his personal vendetta against Moby-Dick at the watery ends of the Earth. "I am the darkness leaping out of light!" Ahab proclaims. The madman mesmerizes – and bribes with a gold doubloon – his sailors, charismatically enlisting them in his apocalyptic, psychotic cause in a scene suggesting a tyrant rallying his true believers at a war rally.
So far, so good – but librettist Scheer and composer Heggie's version of Melville's novel also raises questions. Not about the translation from one medium to another – as far as I am concerned, this work's conversion from literature to opera is smooth sailing. Some opera house purists may gripe about the new-fangled techniques of this opera's nimble, pneumatic, special effects-laden stagecraft, but the cinematic projections on scrims and screens, et al, are supplementary and complementary to the storytelling through orchestral music accompanying the singing and acting of about 40 live performers. There may be no horned helmets and brassy breastplates, but the theme is as Wagnerian as it gets, and represents 21st-century opera at its finest.
The problems are not about the opera's form but with its creators' taking of unauthorized liberties with the text by Melville, who having died in 1891, is obviously in no position to protect against or protest changes to his creation. When playwright Terrence McNally (who began the project with Heggie but later left it) conceived this rewrite, he set it completely at sea. Gone is the Spouter-Inn where Melville's narrator first encounters Queequeg (bass-baritone Musa Ngqungwana), along with the novel's other brief land-based portions. So the entire saga is set at sea, which is actually not a bad idea, and doesn't seem to alter Melville's original intent much.
But, arguably, not so with other textual changes. Ishmael, who seems to be Melville's alter ego, is introduced and referred to throughout as "Greenhorn" (tenor Joshua Guerrero), a reference to his being a whaling virgin (the novel identifies him as an experienced merchant marine, so not a nautical novice). In the opera Greenhorn first meets Queequeg aboard the Pequod, and instead of Melville's celebrated first sentence – "Call me Ishmael" (which Scheer cleverly uses to great effect later on) – when the curtain lifts, a Samoan chant is heard onstage uttered by Queequeg, accompanied by drumming. The words – "fune la," etc. – are projected onto the supertitles, but for some strange reason, unlike when audiences at the Dorothy Chandler attend other operatic performances, the Samoan is not translated. Why? Are ticket buyers supposed to be mind readers? I lived in Samoa for two years and have a Samoan daughter but I could only understand part of the chant – and inquiring minds want to know what the words mean.
In any case, Queequeg is probably the finest male Polynesian (although not necessarily Samoan – he says he comes from "Kokovoko," which is probably fictitious) character in Western fiction. Lately, the issue of "culturally correct casting" has been in the news, including in terms of indigenous roles. Ngqungwana does a good job with his singing and acting, portraying this "noble savage":Melville and Ishmael/ Greenhorn clearly hold this dead eye dick harpooner in high esteem. As Melville wrote: "Queequeg was George Washington cannibalistically developed."
In terms of appearance, Ngqungwana conveys the Kokovoko Polynesian prince's tattooed visage, body and hairdo. But he is probably way too overweight to convincingly play a harpooner (Guerrero is likewise too big to play a young sailor probably based on Melville's youthful self).
But the biggest question here is why was a South African cast to play a Pacific Islander? For those who may reply, well, there aren't any Polynesian opera singers, I have three words for you: Kiri Te Kanawa, the Maori soprano from Aotearoa/New Zealand. Is this a case of: If you've seen one dark-skinned character you've seen them all? Racially insensitive? Or is it that acting is all about pretending and make-believe so it doesn't matter? (Fun Fact of the review: In the 1956 John Huston screen version of Moby-Dick, Queequeg was portrayed by Galician actor Friedrich von Ledebur, who fought with the Austro-Hungarian cavalry during World War I.)
Even more questionable is the casting of Pip, a little Black boy who provides entertainment to the Pequod's crew, but is here played by soprano Jacqueline Echols. Don't get me wrong – Echols is in fine voice and acts well, but by casting a female as Pip the opera breaks the all-male world Melville created aboard his microcosmic Pequod.
Homoeroticism may be a theme of the saga. Ishmael and Queequeg are bunkmates in the novel and in the opera, aloft in the rigging, they sing a duet so loving that I almost shot up out of my seat and cried: "Hey you guys! Go get a berth!" The story also has many biblical allusions, with the names Ahab, Ishmael, Rachel, etc., derived from the Old Testament. (Although your guess is as good as mine as to where Melville conjured the moniker Queequeg up from.) But above all, this is a tale of maritime madness, as Melville literally plunges the depths of the unconscious mind to unfold his saga of insanity.
His 1851 metaphorical fable, alas, was way ahead of his time. After Melville's first novel was published in 1846, Typee, set in the Marquesas (between Tahiti and Hawaii in what is now French Polynesia), became an instant bestseller and the young New Yorker who had called a whaling ship his Harvard skyrocketed to the 19th-century equivalent of literati celebrity status. But 19th-century readers couldn't understand Moby-Dick, and the psychological theme and style of the story caused Melville to lose his readers. To support himself Melville worked as a U.S. Customs inspector in Manhattan. When Herman Melville died in 1891, the Great American Author was all but forgotten. But, presumably at night, as determined as his character Bartleby the Scrivener, the forgotten genius continued to write. In 1888 the undaunted scribbler began the philosophical Billy Budd (perhaps one could say that Benjamin Britten and his librettists "completed" it with their adaptation of Melville's novella).
I'm a huge Melville lover and in 1992, on the occasion of the 150th anniversary of his 1842 exploits in the Marquesas Islands, I reenacted Melville's exploits there for the Chicago Tribune. I jumped ship – the splendid passenger-freighter Aranui, which sails from Tahiti to the Marquesas – and lived at Taipivai, in Nuku Hiva, where Melville's first novel, that runaway bestseller Typee, took place.
Although LA Opera's Moby-Dick has some fishy alterations that may cause devout Melvilleans and Polynesians to raise their eyebrows, this should not deter viewers from experiencing it. With its state of the art special effects, this Moby-Dick is a tour-de-force. As the audience rose to their feet at the Oct. 31 premiere in the Dorothy Chandler, tears came to my eyes during the thunderous ovation: Melville may have been forgotten by the readers of his era but he is, happily, remembered now as the genius he was. Indeed, on Dec. 11 a new motion picture premieres about the dramatic real-life incident that inspired Moby-Dick, Ron Howard's In the Heart of the Sea, co-starring Thor's Chris Hemsworth and Ben Whishaw as Melville.
Like Ishmael, I can't wait to "quietly take to the ship" again to cast off "a damp, drizzly November in my soul," when I hopefully return to Tahiti in early 2016 aboard the all-new, fifth version of the cargo cruiser Aranui, with its muscular tattooed Polynesian sailors, so reminiscent of Queequeg. In the meantime, for landlubbers and lovers of opera, literature, spectacular spectacle and adventure on the high seas, LA Opera's Moby-Dick is a must-see, ear- and eye-popping extravaganza and work of art. It is, quite literally, a whale of a show.
Moby-Dick is being performed Nov. 7, 19 and 28 at 7:30 and Nov. 15 and 22 at 2:00 pm by LA Opera at the Dorothy Chandler Pavilion, 135 N. Grand Ave. For more info: (213)972-8001; www.laopera.com.
A short video clip can be seen here.
L.A.-based reviewer Ed Rampellco-authored "The Hawaii Movie and Television Book"(see: http://hawaiimtvbook.weebly.com/).
Photo: Jay Hunter Morris in a 2013 San Francisco Opera performance of "Moby-Dick." | Cory Weaver / San Francisco Opera