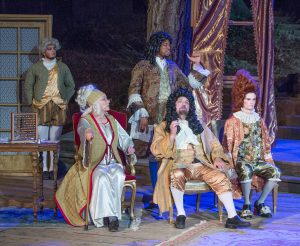 TOPANGA, Calif. – The Will Geer's Theatricum Botanicum (WGTB) production of Molière's 1673 The Imaginary Invalid is as lighthearted as its anti-slavery Tom is heavy. But that's not to say that this saucy romp is without its own socially serious subtext. In particular, the playwright/thespian – who suffered from tuberculosis – took on the medical profession in his final play. In addition to ridiculing quackery, there is also a strong dose of mockery of the high and mighty – and whether in 17th-century monarchical France, when Molière lived and Invalid is set, or in our own time with its highly stratified class system, one can never have enough ridiculing of the ruling élite.
Ellen Geer stars as Argan, the upper-class title character beset by all sorts of maladies – or is she, as the comedy's name suggests, a prima donna hypochondriac? (Molière's spoof, titled "Le Malade imaginaire" in French, is sometimes called The Hypochondriac, and in the original, Argan is a male, but Ms. Geer has successfully, seamlessly flipped the role.) Among her infinite (real or imagined) ailments is a severe case of flatulence. So in order to defray her medical expenses Argan connives to marry off her daughter Angelique (Willow Geer) to Claude Diafoirus, who is about to graduate from medical school and is the nephew of her personal physician, the bewigged Dr. Purgeon (as in "purge").
Both are total quacks, and Molière scores salient points as he skewers anti-science dolts, those precursors to today's climate change deniers and vaccination haters. As Purgeon, the suspect surgeon, the inestimable Alan Blumenfeld delivers yet another of his endless characterizations, that range from high tragedy to satire.
As Claude, Cameron Rose steals every scene he's in like a kleptomaniac on a Rodeo Drive shopping spree with Winona Ryder. He is so improbably, foppishly garbed and coiffed as a sort of 17th-century glam rocker off his rocker and clucks about as if he is part chicken. Methinks that Rose's Claude is among the funniest characterizations I have ever seen tread the boards. I am smiling as I scribble this – bravo, Mssr. Rose!
Jonathan Blandino is Beline, a conniving cad who romances the much older Argan in order to sponge off her and inherit her loot. The shape shifting Melora Marshall here incarnates Argan's far gone, much put upon servant Toinette, who spouts clever class-conscious dialogue, just as Beaumarchais' and Mozart's lower-class characters did in works of edgy anti-aristocratic awareness, such as The Marriage of Figaro.
As the angelic Angelique, lovely Willow Geer delivers one of those performances wherein as a highly trained stage actress (among L.A.'s finest), she can turn on a dime (or centime, as the case may be), modulating her voice, perfectly calibrating her delivery. Max Lawrence plays her true love (or lust) Cleante and although it is not commented upon onstage, theirs is an interracial romance. WGTB has always been a trendsetter in terms of nontraditional casting, from gender to ethnic to age conventions and beyond.
WGTB's two-act production of Invalid uses Constance Congdon's excellent adaptation of Molière's comédie-ballet. Marshall McDaniel provides lovely original music accentuating my favorite instrument, the harpsichord. Vicki Conrad's appropriately florid costuming captures France's 17th-century élan, from a scantily-clad, lingerie-wearing, stereotypically sexy French maid to Claude's outlandish garb. All of Invalid's imaginative, madcap merriment is ably orchestrated by the versatile Mary Jo DuPrey, who also directed last year's drama August: Osage County at WGTB.
Although I loved Invalid, I am unsure about its age appropriateness. In addition to innumerable jibes about breaking wind and puns on Claude's last name, Diafoirus (I leave this to your imagination), the scatological humor is joined by repeated references to sex. The word "intercourse" is joyously bandied about with its multiple meanings – and how do you define and explain these witticisms to a child? Given this play's ribald "immaturity" I imagine it's left best for mature audiences – but I suppose it's up to each parent/guardian to determine what that is for their young 'un. So heads up – thou hast been forewarned, Dear Reader.
At the age of only 51, poor Molière – there is a wonderful 2007 French biopic called Molière, helmed by Laurent Tirard – actually died after acting in The Imaginary Invalid. The longstanding superstition that green is bad luck for actors to wear is derived from the fact that this was the color Molière wore when he died, following his performance. Despite collapsing onstage while coughing and hemorrhaging, Molière insisted on completing the comedy, which may also be the origin of the motto "The show must go on!" But audiences need not be concerned – the only thing amphitheater-goers have to "worry" about at this show is the possibility of dying laughing.
From hoary old quackery to the vicissitudes of Obamacare, the medical profession and its providing (or not providing) of healthcare still merits well aimed barbs and lampoons, which maestro Molière hurls unerringly at his targets. Just imagine what Molière might have written had he witnessed the absurdity of 2016 America's health insurance insanity, which more often than not puts profit before people. As that old French saying goes, "Plus ça change, plus c'est la même chose" – "The more things change, the more they remain the same." But one thing that never changes is that a splendid time is guaranteed to all at Will Geer's Theatricum Botanicum.
The Imaginary Invalid is playing in repertory through Oct. 2 at Will Geer's Theatricum Botanicum, 1419 N. Topanga Canyon Blvd., Topanga, Calif. 90290. For repertory schedule and other information call (310) 455-3723 or see www.Theatricum.com.
Photo: left to right, Alexandre Wauthier, Ellen Geer, Max Lawrence, Alan Blumenfeld, Cameron Rose / Miriam Geer