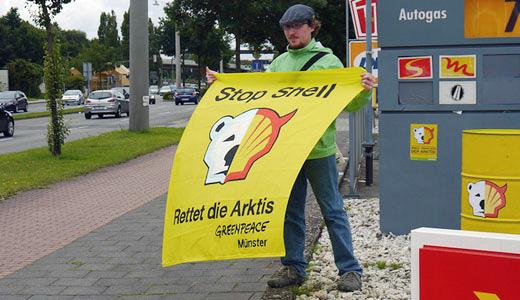 After months of pressure from outraged environmental groups, oil giant Shell has stopped all drilling in the sensitive Arctic – at least until the end of the year. After continuous struggle against corporate interference with the environment, activists view this as a major victory, and an example of what collective action can achieve.
Shell has chosen to halt its oil-drilling program after a dome used to clean up potential spills became damaged. The company had faced roadblocks previously, not least the fierce opposition of conscientious environmentalists, but also a huge chunk of sea ice that held up drilling in the Chukchi Sea Now, Shell's withdrawal may prove that Arctic drilling is a poorly devised, profit-driven, mistake-addled misadventure – and an expensive one, at that.
Though activists will once again face the threat of Arctic drilling in 2013, they are now supplied with a moment of relief. Optimists also note the effect this may have on other oil companies. Shell was expected to lead the charge in terms of the 'big Arctic oil rush.' Now, after feeding nearly $5 billion into what surely became an embarrassment for the corporation, other companies might think twice. Norwegian company Statoil, for example, said that it would wait to see Shell's progress before venturing into the Arctic. Shell's failure may dissuade them from moving forward.
Though the culprit for Shell's withdrawal was an equipment-related setback, Greenpeace took the opportunity to celebrate the strength of solidarity among activists.
"You did it," said Greenpeace in a statement. "For over six months, huge numbers of us have been pressuring Shell to stay out of the Arctic. This morning, company bosses announced they were scrapping their oil-drilling program for this year. It's a huge victory for people power."
"Shell has invested seven years of effort and spent the best part of $5 billion on its Arctic program," said Ben Ayliffe, Senior Arctic Campaigner at Greenpeace International. "We can now see what a monumentally reckless gamble this was. The company has nothing to show for it except a series of almost-farcical safety mishaps that has left its reputation in tatters. Investors must now be asking whether investing such vast sums of money trying to exploit the fragile Arctic is really worth it."
In addition to environmental groups, the dangers of Arctic drilling have also been highlighted by the likes of Paul McCartney, actress/singer Lucy Lawless, and actress Penelope Cruz.
But despite both the support and this brief reprieve, activists are quick to add that the fight will certainly continue.
"Nearly two million people from around the world have joined the Greenpeace campaign to 'Save the Arctic,' and keep it off-limits to oil companies," said Ayliffe. "Today's news is vindication for the effort they have put in confronting the oil giant in places as far apart as New Zealand and Edinburgh, but these millions will not stop until the whole of the pristine and unique Arctic is protected.
"As Arctic sea ice disappears at unheralded levels, it's clear that we need to act urgently to tackle climate change. Shell's setback in the far north should be the spur to positive action that the planet needs."
Photo: Though Shell has ceased Arctic operations for 2012, the protest continues – even internationally – as activists ready themselves for the next fight in 2013. Greenpeace/Flickr