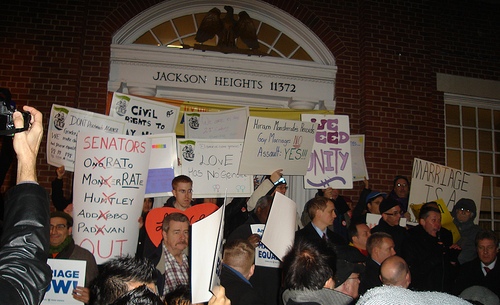 NEW YORK — "If you hate gay people, vote for me."
This disturbing message seems that it could very well be the campaign message of Hiram Monseratte, the former state senator who was booted from his post after he was found guilty of domestic violence charges and who is now running in a March 16 special election to win back his former position.
Monserrate is challenging Jose Peralta, currently a State Assembly member, for the seat in New York's 13th senatorial district, which includes Jackson Heights, East Elmhurst and Corona, all in Queens.
An unsigned non-union flier, distributed by supporters of Monserrate, referred to the ousted senator's election rival, State Assembly member Jose Peralta, as "the gay caballero." Further, the "community alert" said that Peralta is a "spokesperson for the gay community's [sic] in NYC," who are "dedicated to destroying our way of life."
On March 4, Monseratte held an anti-GLBT rally outside Peralta's office in Jackson Heights, Queens. Monseratte was the main speaker, along with Catholic and other clergy members.
Ricardo Reyes, a pastor of the El Elyon Christian Church in Corona, said, "I have seen a generation sunk down by the gay community … If we vote for a gay marriage situation, then we are sending our children to practice something against the Bible."
The rally was in part to target Fight Back NY, which Monserrate and his cohorts called a group of outsiders trying to infiltrate the neighborhood. But City Council member Daniel Dromm of Jackson Heights, took issue with the characterization of FBNY as well as Elyon's statements. He noted that "Jackson Heights holds the second largest gay pride parade outside the borough of Manhattan. We are a multicultural and multi-ethnic community and we do not support hate."
Aside from anti-gay bigots, Monserrate isn't getting much support. Peralta, his opponent has received endorsements from a diverse crowd: the AFL-CIO, Rev. Al Sharpton, New York Senators Chuck Schumer and Kirsten Gillibrand, virtually all of the City Council members in the 13th district, NARAL and Planned Parenthood, the Si Se Puede Democratic Club of Corona and numerous others.
According to Dennis Hughes, president of the New York State AFL-CIO, his organization "will coordinate a comprehensive get-out-the-vote effort, including mailings, phone banks and door-to-door visits to union members. I am confident that with labor's support, José Peralta will be elected." Hughes noted that Peralta has a 100 percent pro-labor voting record.
Hughes represents 2.5 million unionists overall, and more than 13,000 in the 13th district.
Also targeting Monserrate is President Obama's grassroots group, Organizing for America. Monserrate has angered them by using Obama's "Yes we can" campaign slogan and featuring Obama and OFA logos on campaign literature. According to OFA, Monserrate did not seek, and would not get, permission to use the logos.
A list of Monserrate supporters was not available as of this writing.
Photo: Last year protestors rallied against Hiram Monseratte, who promised he would vote "Yes" for the marriage equality bill, then ended up voting "No." http://www.flickr.com/photos/jmeng34/ / CC BY-NC 2.0