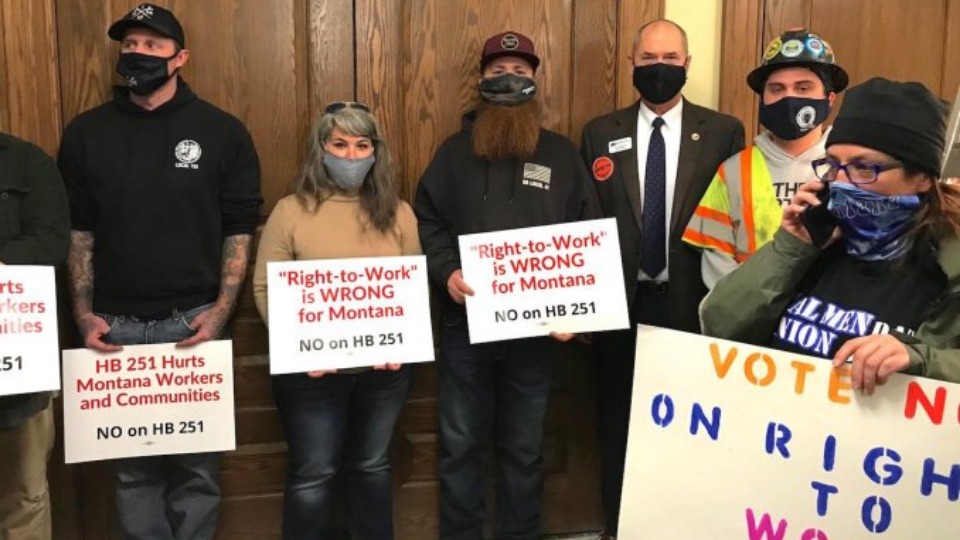 HELENA, Mont., and CHARLESTON, W. VA. (PAI)—The continuing drive by the corporate class and their right-wing GOP puppets to impose "right to work" around the U.S. took hits in Republican-run Montana and West Virginia on consecutive days in early March.
The bigger triumph for workers and their allies came in Montana. For its 50,000-member labor movement, battling RTW was a fight for life. In the Montana House, where Republicans hold a 67-33 majority, union foes wanted to pass a so-called "right to work" bill, banning any requirement that workers pay dues to the unions that represent them.
Twenty-seven states, mostly in the South and Midwest, have such laws, intended to weaken unions by starving them of resources. West Virginia, also GOP-dominated, is one of the 27. The laws let workers protected by union contracts and union services to get away without paying one red cent for them. And, Gov. Jim Justice, R-W. Va., admitted, RTW hasn't succeeded there in bringing in what its corporate backers predicted: Jobs and new people.
"So-called 'right to work' is wrong for Montana and will lead to lower wages, weaker local economies, and dangerous working conditions," Montana AFL-CIO President Al Ekblad tweeted the day before the vote.
As the vote neared, hundreds of union members packed the state Capitol's hallways in Helena for two days straight and filled the gallery when the vote was scheduled. On March 2, the bill, HB251, by first-year Rep. Caleb Hinkle, R-Belgrade, went down hard, 62-38, with 29 Republicans joining all 33 Democrats in voting "no."
"If you argue against the political speech of union workers on HB251 it is a safe assumption you are arguing for the special interest PACs from out of state promoting union-busting work on behalf of monied interests," Rep. Jessica Karjala, D-Billings, told colleagues.
"Politics is like football in that it's a contact activity. Hard work and SOLIDARITY paid off. Congratulations to the everyday wage earners of Montana," union supporter John Kretzschmar tweeted. "Vote out Caleb Hinkle. He needs to go away with his bill," Ben Schmidt added in another tweet.
In its mines and mills, Montana has a storied union past. Today, 12% of Montana workers are union-represented, more than the national average. Montana supporters of right to work say they plan to bring it up again in the 2023 legislative session.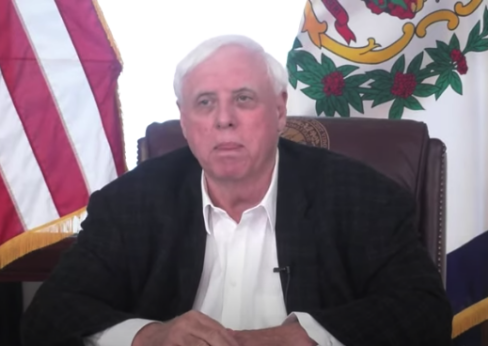 Over in the Mountaineer State, Justice, a billionaire who is West Virginia's wealthiest person, didn't call for repealing RTW. But in a town hall on March 3, he "ate crow" about it—and the rest of the corporate agenda he and the GOP legislative majority pushed through starting in 2010.
The video, posted on YouTube, shows a chagrined Justice, in coat and tie, seated at his desk in front of the state and national flags, enumerating the various policies, and saying they didn't work.
"Really and truly, let's just be brutally honest. We passed the right-to-work law in West Virginia. And we ran to the windows looking to see all the people that were going to come—and they didn't come. We got rid of prevailing wage. We changed our corporate taxes, and we've done a lot of different things. And we've run to the windows and they haven't come.
"We've absolutely built the field in a lot of different places thinking 'build the field and they'll come,' and they didn't come." One thing Justice didn't say: West Virginia lost people since the 2010 GOP takeover. It will likely lose one of its three U.S. House seats after census figures come out. West Virginia's 10.7% unionized, equal to the national union share.
Of course, fine words are one thing and repeal is another, so Justice didn't call for that. Instead, he pivoted to tout his latest business-attraction scheme, a new corporate tax cut.
Don McIntosh of the Northwest Labor Press contributed most of the Montana material for this story.