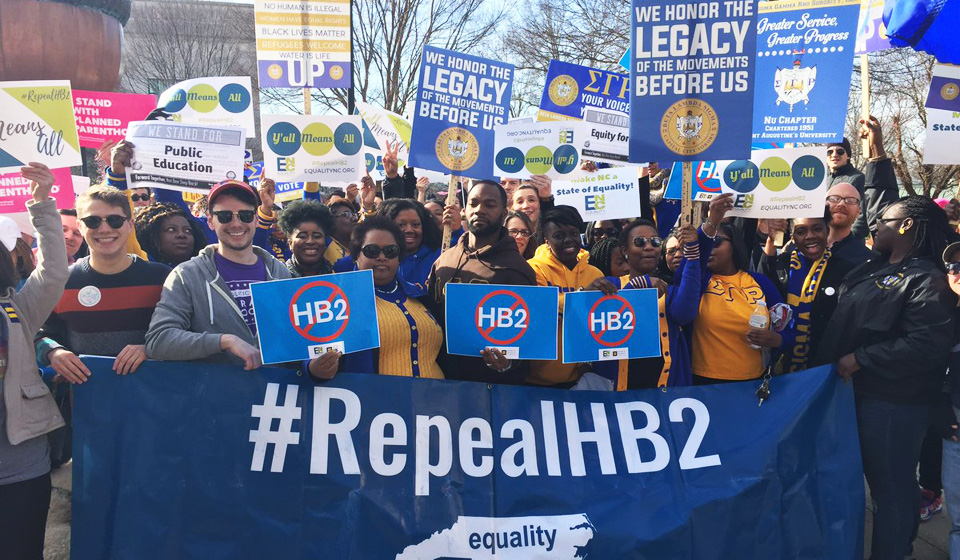 RALEIGH, N.C. — On a lovely, sunny mid-February day, thousands of people came to Raleigh Feb. 11 to let their voices be heard in the 11th Annual Moral March on Raleigh.
Concerns were as diverse as the people themselves, and ranged from opposition to the infamous HB2, to appeals to save the Affordable Care Act, to the Fight for 15. The greatest number of signs had something to do with dislike for Donald Trump and his policies.  Signs using Senator Mitch McConnell's statement "Nevertheless she persisted", about Elizabeth Warren's reading of Coretta Scott King's 1986 letter urging Congress to deny Jeff Sessions a judgeship, were very much in evidence as a rallying cry.
Chants of "This is what democracy looks like," "HB2 has got to go," and "Forward together, not one step back!" echoed back and forth between the marchers as they flowed along the route.
North Carolina NAACP President Rev. William Barber gave the keynote address, talking about his signature concerns for voting rights, economic and racial justice, and love for all people regardless of immigration status, gender, or sexual orientation. "Standing down is not an option," Rev. Barber said, exhorting the crowd to keep on resisting and promoting progressive values regardless of obstacles put in their path. "At times the only thing you can do is grit your teeth and stand your ground!"
In a surprise move, Rev. Barber held a phone up to the microphone and conversed with movement veteran Joan Baez, who then led the group in song from her distant location.
The Raleigh police do not provide estimates of crowd size. The North Carolina NAACP, which has organized the march since its beginning, estimated that there would be 20,000 marchers in their permit application. Some reporters during and after the action estimated attendance as high as 80,000. Perhaps a more reliable figure is based on noting that the area covered by marchers was equivalent to 2014's record march, which was thought to include something over 20,000. This tracks with People's World's admittedly unscientific observation, based on the width of the street, the length of the march, and the average number of people spread out over the street.
Any way you count, it was a lot of people.
As we rode the two hours' drive back to eastern North Carolina on the bus organized by the Craven County Chapter of the NAACP, the spirits were high and there was a sense of unity. Passing through Goldsboro, the bus driver pointed out the Greenleaf Christian Church, where Rev. Barber is pastor. It's an unassuming steeple house in a blue-collar neighborhood, not a palatial monument to the international fame of Rev. Barber. The mood on the bus, that had been jubilant, became pensive for a while, as the sight of this humble building reminded us of the sense of community and purpose in which we had taken part.
PW talked with people on the bus about their reaction to the march. Semaj, age 8, was especially enthusiastic about the signs he'd seen and the people he'd met. Semaj liked a sign that said "Build bridges, not walls." Asked what he thought that meant, he explained that walls keep us out of somewhere, but if you have a bridge "you can go anywhere in the universe." Right on, little brother.