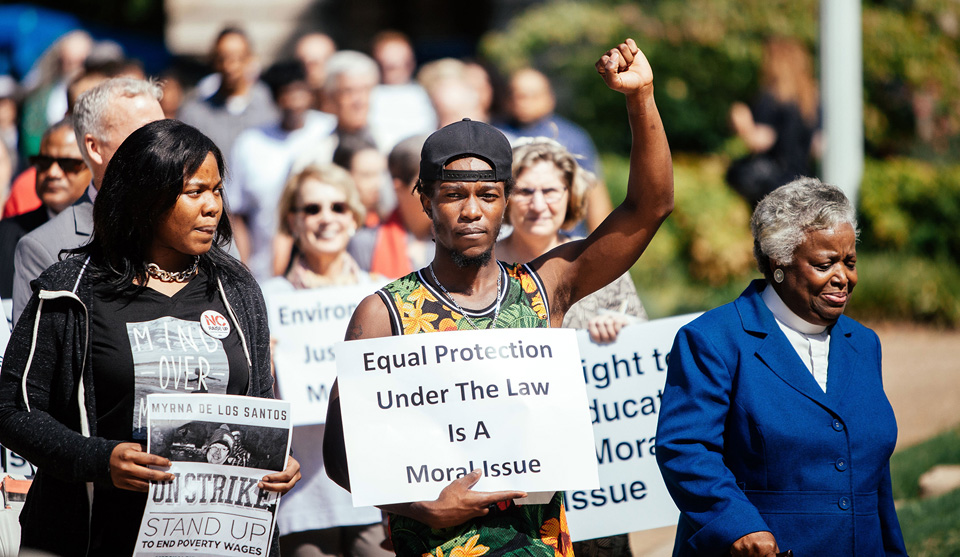 The voters of North Carolina have tossed out of office Governor Pat McCrory, a Republican who became nationally known for promoting legislation aimed at suppressing voters' rights, killing workers' rights and targeting members of the LGBTQ community for discrimination.
Last week, McCrory finally ceased his shenanigans and conceded defeat to Democrat Roy Cooper, North Carolina's attorney general. He is the first governor in North Carolina's history to lose a bid for re-election.
However, the Republican-controlled North Carolina House and Senate have not stopped their maneuvering. Yesterday, in a hastily-called "special session," lawmakers voted to curb the power of the incoming governor.
"[T]he seeds of McCrory's defeat really were planted by the Moral Monday movement [starting] in the summer of 2013, just months after McCrory took office," writes Tom Jensen in the Public Policy Polling online newsletter.
The Moral Monday movement is a coalition of civil rights groups, unions, and advocates for LGBTQ equality. It's led by the North Carolina NAACP; many view it as a model for resistance against Trumpism.
Pat McCrory ran for office as a "new kind" of Republican, a moderate.
"When McCrory became governor-elect four years ago, I sat down with him to discuss the 14-point moral agenda that a broad coalition of justice organizations had committed to pursue together," the Rev. William Barber, president of the North Carolina NAACP, recently wrote in an op ed for The Nation.
"McCrory told me, 'I'll meet with you once a month if you will promise not to criticize this administration in public.'" Barber writes that that was not good enough.
"We had already learned what every American must understand in the coming Trump years: democracy depends on everyday people standing together in public."
It soon became clear why McCrory wanted Barber to pledge silence. He was far from the "moderate" he had pretended to be during his campaign. In fact, he carried out Donald Trump-like programs way before Trump announced his candidacy.
In short order, among other things, McCrory attacked women's right to choose by sneaking anti-abortion legislation in a motorcycle safety bill, eliminated the Earned Income Tax Credit, and cut unemployment benefits. Furthermore, in a shocking example of ideologically-based cruelty, he denied Medicaid expansion to half a million North Carolinians.
"A majority of those who were denied access to health care were poor, white people in rural counties who had voted for McCrory," Barber explained in the op ed. "When a fellow Republican mayor from Belhaven reached out asking McCrory to help save the town's hospital, McCrory said there was nothing he could do."
What's more, McCrory engineered the passage of the most repressive anti-voter bill in the nation, which a court later ruled "targets African Americans with surgical precision."
Then came HB2, the so-called "bathroom" bill. Among other things, the bill blocked state agencies, including public schools, from permitting people to use bathrooms that match their gender identities. By the time part of the bill was modified, North Carolina had already lost hundreds of millions of dollars, because organizations across the U.S. cancelled conventions and sporting events that they were planning to hold in the state.
According to Barber, McCrory was "[hoping] to fracture our moral coalition" and was "confident that black religious voters could be split off from" gay rights activists.
McCrory's efforts failed.
Barber wrote, "We pointed out that…HB2 attempted to codify discrimination, denied all North Carolinians the right to challenge employment discrimination in state court, and overrode municipal living wage campaigns.
"That's why workers stood with preachers and LGBTQ activists stood with the business community to oppose the bill. This moral fusion organizing effort persuaded a majority of North Carolinians to [vote against McCrory]."
In fact, according to Barber, the Moral Monday movement began direct action and civil disobedience campaigns as soon as "McCrory's inability to stand up to the extremism" became clear.
For example, the NAACP sent organizers into all-white Belhaven to help people there fight to keep their hospital open.
And every Monday for almost three years, thousands – and sometimes tens of thousands – of people staged protest marches across the state.
"We took our stand in public," Barber wrote, "and we exposed the vulnerability of divide-and-conquer tactics to cross-racial, cross-class fusion coalition building."
Jensen, of Public Policy Polling, reports that Moral Mondays became a very popular protest movement.
"In August 2013 we found 49 percent of voters had a favorable opinion of the protesters to only 35 percent with an unfavorable opinion of them," Jensen writes. "And their message was resonating: 50 percent of voters in the state felt the state government was causing North Carolina national embarrassment."
Nevertheless, despite the fact that the defeat of McCrory shows North Carolina voters are fed up with Republicans stripping away their rights, this week McCrory called a surprise special session of the state legislature aimed at preventing his replacement from changing his policies.
For example, the legislature rammed through bills to cut Roy Cooper's authority to replace high ranking state employees appointed by McCrory, and to shift power from the Democratic-majority State Supreme Court to the Republican-majority Court of Appeals.
Worse still, the legislators voted to make state election boards "bi-partisan" to prevent Cooper from appointing the number of board members needed to reverse voter suppression measures.
The Republicans did not deny the purpose of these bills is to block Cooper. "I think, to be candid with you, that you will see the General Assembly look to reassert its constitutional authority in areas that may have been previously delegated to the executive branch," Rep. David Lewis (R) told reporters.
He added that "some of the stuff we're doing, obviously if the election results were different, we might not be moving quite as fast on."
McCrory himself may be heading to Washington, D.C. following his concession, as there are reports that Trump may save a spot for him in his administration. When all is said and done, however, McCrory's defeat remains a significant victory.
Jensen wrote that for "the progressive movement nationally in the era of Trump" there are important lessons to be learned from the Moral Monday coalition in North Carolina: "Push back hard from day one. Be visible. Capture the public's attention, no matter what you have to do to do it. Don't count on the media to do it itself because the media will let you down."
Jensen concludes, "The protesters in North Carolina, by making news in their own right week after week after week, forced sustained coverage of what was going on in Raleigh [the state capital]. And even though it was certainly a long game, with plenty more frustration in between, those efforts led to change at the polls 42 months after they really started."
Barber wrote, "Along with much of the rest of the country, North Carolina fell victim this year to the extremism exploited by Donald Trump. But we could not be deceived by the extremism we have endured under Pat McCrory.
"Though we know too well that America faces some tough days ahead, this moral victory should give all Americans reason to hope that we can revive the heart of our democracy and move forward together to a more perfect union."