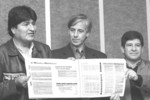 Bolivia's president-elect Evo Morales Aima, left, vice-president Alvaro Garcia Linera, center, and economist Carlos Villegas show an analysis their transition team performed inside governmental institutions of the departing government.
Morales, the farmers' leader and head of the Movimiento al Socialismo (MAS – Movement toward Socialism), was inaugurated as the first indigenous president of Bolivia in a boisterous and celebratory inaugural in La Paz, the nation's capital, Jan. 22.
The election of the 46-year-old Morales was a cause for great joy among Bolivia's indigenous population, and a cause for great distress for the Bush administration and the ultra-right.
"The 500 years of Indian resistance have not been in vain," Morales, an Aymara Indian, said in his inaugural speech. "From 500 years of resistance we pass to another 500 years in power." More than 60 percent of Bolivia's population considers itself indigenous.
Morales said the "free market economy" hasn't worked in Bolivia and is responsible for many of the country's problems, including chronic poverty. He also reached out for the support of broad sectors of Bolivian society, and warned against possible moves by the "North American Empire" to remove his government.